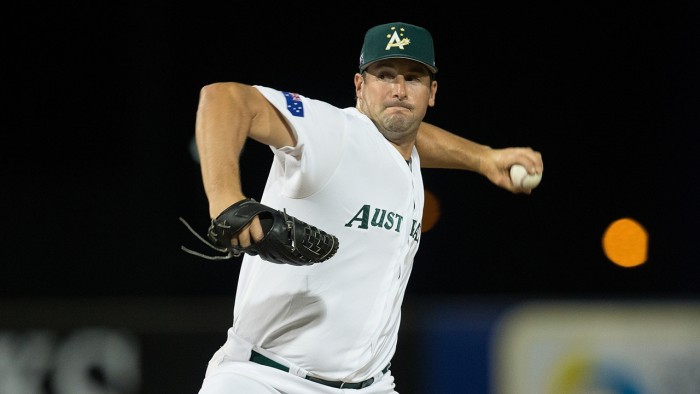 SYDNEY, Australia -- Australia scored three runs in the first inning to defeat South Africa in the World Baseball Classic Qualifier, 4-1. With the win at Blacktown International Sportspark, Australia will advance to the finals of the qualifier in hopes of making it to the 2017 World Baseball Classic.
"Our goal is to win, and the good thing is we've got our best pitcher going at the end," said Australian manager Jon Deeble. "Our programs in Australia are about pitching and defense, and that came to the floor tonight.
"Warwick [Saupold] was on a pitch count, so we had to get him out of there, but Ryan Rowland-Smith threw the ball as good as I've ever seen him throw it, and [Todd] Van Steensel was outstanding, too. And then [Ryan] Searle, who's had a good ABL, he continued his good work."
Logan Wade got the scoring started with an RBI double to left field, which allowed James Beresford to score. Sefan Welch singled to right fielder Brandon Bouillon and Wade crossed the plate. With Carl Michaels still on the mound, Trent Oeltjen knocked in Welch on a sacrifice fly to left. After the first inning, Australia held a 3-0 edge over South Africa.
Oeltjen went 1-for-2 with one walk and an RBI. Beresford and Wade combined for two hits, two RBI, two runs scored and two walks.
Michaels took the loss, but he found his way and made it 3.0 innings of work. The right-handed pitcher gave up three runs on five hits and two walks. Michaels, however, could not register a strikeout.
"That's the type of character [Michaels] that we hope our younger guys latch onto," said South Africa manager Alan Phillips. "He talks a lot to them. They look up to him a lot. He's been around. The reason why we pulled Carl as well was not because of the situation in the game, it was more the situation that comes Sunday. We're going to need someone, if everything goes well on our side."
South Africa got a run back on the board in the top of the third inning as Kyle Botha singled on a line drive to center off of Dean Jacobs. Anthony Phillips trotted in to score and it cut the lead of Australia to two runs. Anthony Phillips finished 2-for-4 with one runs scored, while his brother, Jonathan Phillips, went 0-for-4 at the dish.
While Warwick Saupold gave up the run, he went 3.0 innings and gave up just that run on three hits and one walk. The 26-year-old right-hander struck out three South Africans and picked up the victory.
The final run of the game was scored by Australia in the sixth inning. Beresford grounded out, however, it was enough to score David Kandilas and give the Aussies a 4-1 lead, which stuck to the final out.
Ryan Rowland-Smith and Todd Van Steensel pitched 5.0 innings and each recorded a hold due to their ability to toss scoreless baseball.
"I was able to command my fastball, and my little backdoor slider was good," said Rowland-Smith. "If I see something from these hitters, I am going to just keep attacking it and attacking it. That's where the experience comes in. I felt good tonight, and hopefully it is something I could build on."
Ryan Searle, 26, came in for the save and was successful. As a matter of fact, the right-handed pitcher struck out the side to end the event in fashion.
Australia, with the win, will play in the World Baseball Classic Qualifier championship agianst the winner of New Zealand and South Africa, who play on Satruday at 2:30 AM ET. The final game will be played on Saturday at 10:00 PM ET at Blacktown International Sportspark.