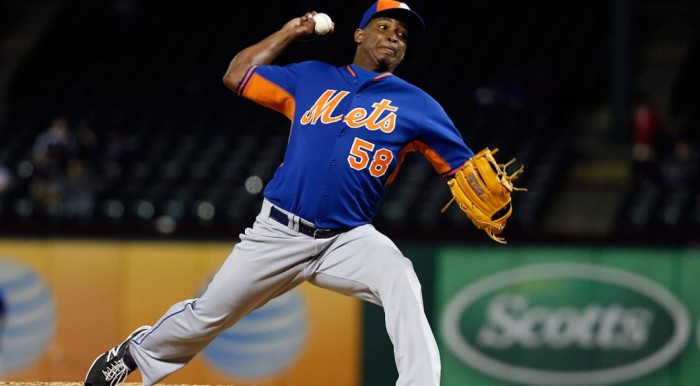 New York Mets right-hander Jenrry Mejia has been handed a lifetime suspension from Major League Baseball after testing positive for the third time using boldenone, according to the league.
Mejia becomes the first player to receive a lifetime ban for performance enhancing drugs as he used one in which athletes have used in the past to increase muscle mass. This was once popular for use in horse racing.
The 26-year-old was selected as the Mets closer in 2014 following a strong performance in Port St. Lucie during spring training. The success lasted until April, when he was suspended for using stanozolol which forced him to sit out 80 games.
This drug was one that was fairly popular for body builders. In a statement from Mejia at the time, he said, "I can honestly say I have no idea how a banned substance ended up in my system."
When he returned on July 12, Mejia appeared in only seven games for New York prior to being banned for the second time for 162 games, which had him slated to sit out for the start of the 2016 season.
Mets general manager Sandy Alderson said, "I think not surprisingly there's a tremendous amount of disappointment, I think to some extent, anger, to some extent, amazement that this could happen so soon after a previous suspension was completed. This is the consequence of making bad choices."
The Major League Baseball Players Association declined comment following the official announcement and a spokesman for Mejia's agents said the pitcher had no comment as well.
It is said that Mejia can apply to be reinstated in one year from now, however, must serve a two year sentence. Commissioner Rob Manfred will have the discretion, but there is no chance of Mejia coming back to baseball in the United States until the 2018 season.
Should his application be denied, which has a high possibility, Mejia could ask arbitrator of baseball to end the ban, claiming the penalty is without "just cause." The arbitrator cannot reduce the ban to less than two years.
No players in the minor league baseball organization have been handed lifetime suspensions, but current Texas Rangers outfielder Josh Hamilton was suspended back in 2003. It was just one of many suspensions, but the slugger was allowed to return each time after rehab.
Mejia was originally signed out of the Dominican Republic as an amateur free agent in 2007 and made his MLB debut three years later on April 7, 2010.
During his time active in 2014, Mejia saved 28 games in 31 attempts to go alongside a 3.68 ERA in 18 starts and 95 relief appearances. Going into the 2015 season, the plan was to have Mejia clean and healthy, but elbow inflammation got to him relatively early, urging the need for a stint on the disabled list. This kept him off the 2015 Opening Day roster against the Washington Nationals.
The reliever has received just $496,311 of his $2,595,000 salary from 2014 and will now get none of the $2.47 million salary he was suppose to earn this year.
Mets right-handed pitcher Jeurys Familia will likely take over the closing duties in 2016, as manager Terry Collins figures out the placement following spring physicals. The club is not going to add on another closer right away given the fact that they have other options to look at with left-handed pitchers Antonio Bastardo, Jerry Blevins and right-hander Addison Reed, who will all get opportunities to come out of different spots in the bullpen to see who is most suited for the closer position.