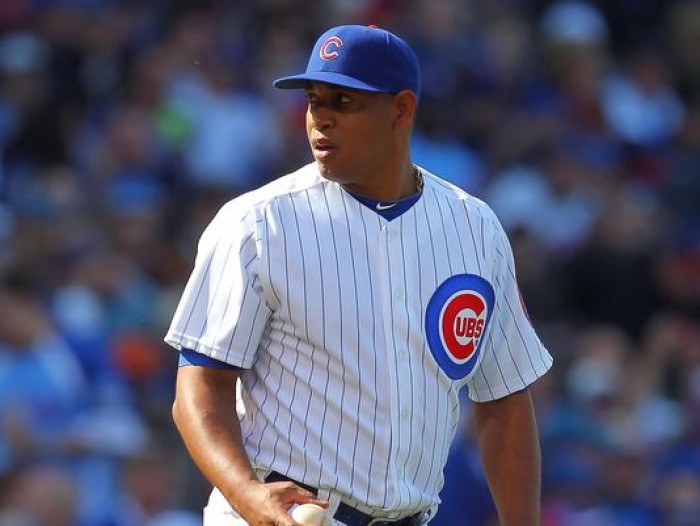 The Boston Red Sox made another transaction today, signing veteran reliever Carlos Marmol to a minor league deal. As of now, he will attend Red Sox Spring Training in Fort Myers as a non-roster invitee.
Marmol's Chicago Days Inconsistent
Marmol is best known for his years when he was the closer for the Chicago Cubs. Marmol closed for the Cubs from 2008-2013, and was selected to his only All Star Game in 2008. In 2008, Marmol served the majority of his time as a set-up man for Kerry Wood. However, Marmol stepped up whenever the Cubs needed him. Marmol finished the season with a 2.68 ERA, along with seven saves and 114 strikeouts.
Other than 2008, Marmol served as a below average closer in Chicago. His best season came in 2010, where he finished with a 2.55 ERA and 38 saves. However, Marmol had serious control issues, and it hurt him a lot on the mound. He held a 1.92 strikeout to walk ratio during his years in Chicago, along with a 6.1 walk per nine inning ratio. In 2009 and 2012, Marmol's walk per nine inning ratio was 7.9 and 7.3, respectively.
In 2013, Marmol had a terrible season. After 31 games with the Cubs, Marmol was designated for assignment. He had a 5.86 ERA, along with a 1.52 strike-out to walk ratio, blew three out of his five save opprotunites, and had a 6.8 walks per nine innings ratio. Marmol finished his Cubs career with 117 saves and 28 blown saves. The closer moved on to the Los Angeles Dodgers, and he finished the season with a strong 2.53 ERA, but his walk per nine inning ratio was still terrible, at 8.0.
Marmol Faces Uphill Climb After Rough Few Years
After his 2013 stint with the Dodgers, Marmol was not the same. In 2014, the Miami Marlins signed Marmol to a minor league contract. Marmol pitched in the majors, but was released again in May. Miami was the last time Marmol pitched in the majors. Marmol spent the rest of 2014 in the minors with the Cincinnati Reds, and some of last year with the Cleveland Indians.
In Boston, it is unlikely Marmol will make the major league team. The 33-year-old will need a strong spring, and will need to prove he can still pitch at a high level. It will be interesting to see what Marmol has left in his tank and to discover if we have seen the last of Marmol in a big-league uniform.