 Ned Yost and his Kansas City Royals are coming off a magical season, capturing their first World Series title since 1985. This year, Yost and GM Dayton Moore were entering their final years under contract with Kansas City. Today, both decided to stay put in Kansas City, signing contract extensions, the team announced. Yost signed a two year extension, while the terms on Moore's contract are still undisclosed. Owner David Glass was certainly pleased with his team's effort, and there would have been no reason to let either of them go. The Royals are coming off consecutive World Series appearances, and Moore and Yost were apart of both teams. Ned Yost is certainly happy to know he will be with Kansas City another two years.
"We're in a really peak period in Kansas City... we have great players. They are fun to be around," Yost said after signing his extension. "The support and belief we have in each other... that's what makes it fun."
Moore himself also had positive things to say about his manager.
"We are extremely delighted that Ned will remain our manager through at least the 2018 championship season. It's an absolute joy and honor to work alongside him."
Yost, Moore, And The Organization As A Whole Were Patient
The Royals had some of their worst years when Moore took over as General Manager in 2006. The Royals finished fifth in the AL Central in 2006, 2007, and 2010, while finishing fourth in 2008, 2009, and 2011. After finishing in third place in 2012, the Royals finished above .500 for the first time in the Dayton Moore era in 2013. There were obviously foreshadows of a great future, and the Royals had a terrific season in 2014, winning the pennant.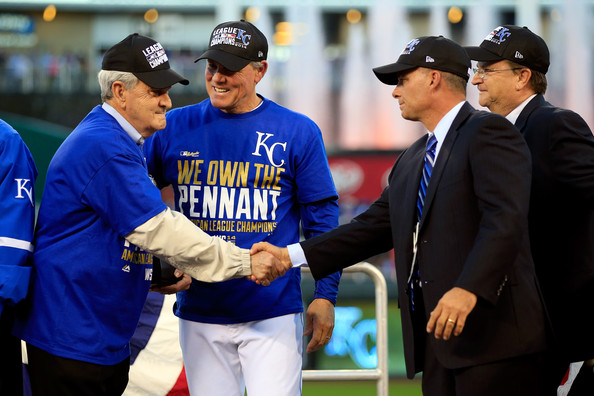 During the first six years of Moore's era, there were rumors he would get fired. However, the organization stayed patient, and it paid off. During 2006-2012, Moore acquired key players of his 2015 World Series team through draft as a result of high picks. Players such as Eric Hosmer, Mike Moustakas, Luke Hochevar, Danny Duffy, Jarrod Dyson, and Greg Holland were all drafted by Moore. Another big thing was that Moore made tremendous international free agent signings, as well as a key trade with the Milwaukee Brewers in 2008. Players to develop through the Kansas City system after being acquired via international signings included Yordano Ventura, Salvador Perez, and Kelvin Herrera. Lastly, in 2008, the 49-year-old GM made a sensational trade with the Brewers, picking up huge 2015 members Lorenzo Cain and Alcides Escobar, as well as others, for Zack Greinke, who only stayed in Milwaukee for a year and a half. The front office was patient with Moore, and it paid off.
Ned Yost joined the organization in 2008 and became manager midway through the 2010 season, filling in for Trey Hillman. Yost also dealt with rumors of being on the hot seat, but he overcame the rumors. Yost is 60 years old, and he may spend the rest of his career in Kansas City.
What About The Future?
The future is bright for Kansas City, as most of their players are very young.
The Royals signed outfielder Alex Gordon to a 4 year/$72 million contract this offseason, and he will be the highest paid on the team. He was a helpful piece last season, but this contract could come back to bite them. Ian Kennedy also signed a big deal with Kansas City, as he signed a 5 year/$70 million deal.
The Royals need to start thinking about extending Hosmer, Wade Davis, Herrera, Perez, Moustakas, Cain, and Escobar, as all of them can become free agents in either 2017 or 2018. There is no way they will be able to sign all of these players to extensions in just two offseasons, so some of those players could be traded in 2017. They also have two prospects in MLB.com's Top 100 Prospects, including SS Raul Adalberto Mondesi (37) and SP Kyle Zimmer (65).
Regardless, the Royals are in great shape for 2016. Their only big major losses were Alex Rios and Johnny Cueto, but the rest of the winning team is mostly all back.
Their rotation will be the biggest concern. Ventura needs to start dominating as an ace again, as he will look to lead their rotation along with Kennedy, Edinson Volquez, Jason Vargas, and Chris Young.
Yost will look to lead his team to another AL Central title, and we now know he will be leading for at least another two years.