As the baseball saying goes: if you have two closers, you really have no closers. After a plus bullpen throughout 2015 faltered late in their American League Division Series against (eventual) World Champion Kansas City Royals, one of the biggest acquisitions for the Houston Astros was a hard throwing relief pitcher. Enter Ken Giles formerly of the Philadelphia Phillies. Most pundits assumed (especially by the haul of prospects surrendered) that Giles would assume the closer role. Well, 2015 Astros closer Luke Gregerson is not so sure...
Evan Drellich of the Houston Chronicle posed the question to Gregerson shortly after pitchers arrived at the Astros Spring Training camp in Kissimmee, Florida, last week:
"How do you think I did last year?" Gregerson said. "I don't see any reasons things should change."
Statistically, he is correct. Gregerson notched 31 saves (in 36 opportunities), a respectable 10th in total saves in the American League with about a strikeout an inning, ERA near 3.10, and an impressively low 1.5 bases on balls per nine innings, best in the Astros bullpen and key for a closer.
Ken Giles notched 15 saves of his own (mostly after Jonathan Papelbon was dealt at the trade deadline) and has a much harder fastball and a career earned run average below 2.00. But not having been a full time closer going into any season, the Astros cannot be sure the younger Giles has the mentality to shake off a bad inning or big home run.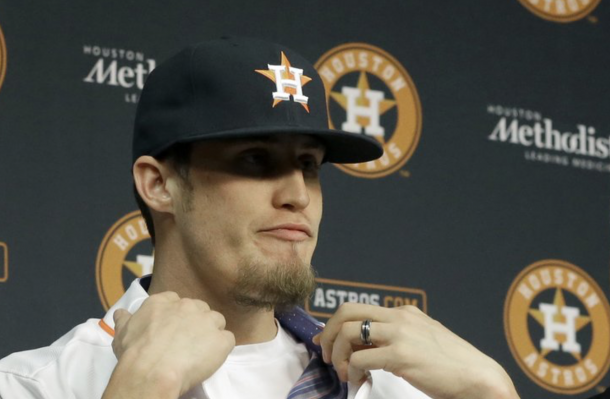 Which closer should the Astros go with?
So do the Astros go with bullpen by committee? That works especially well when you go through a stretch of winning close games and want to give a guy a night off, however undefined roles for the bullpen have been known to lead to poorer performance as the pitchers may not know when they will be called upon.
Even if the Astros declare a closer, that pitcher will be looking over his shoulder at every big hit or loss surrendered. Houston Astros manager A.J. Hinch will have to handle the delicate situation well, or else face the possibility of neither being as effective as they could be. That being said, if either can do the job and if they put their egos aside, it could be quite the two-headed monster in the late innings.