 After 11 successful seasons at the major league level, veteran infielder Maicer Izturis has officially announced his retirement from baseball, according to a report from Gregor Chrisholm of MLB.com on Friday morning.
'Mighty Mouse' hangs up the cleats
The news comes as a result of several injuries that the 35-year-old has endured over the past two seasons. This continues to do so as he currently sits on the 60-day DL.
The Toronto Blue Jays have since confirmed the announcement during a press conference with manager John Gibbons this morning at Florida Auto Exchange Stadium in Dunedin.
Izturis had agreed to return to Toronto on a minor league deal back in January. However, it he most likely was not going to be with the club come Opening Day. Darwin Barney had been added not long after Izturis' signing as the backup middle infielder to Devon Travis.
New York Mets veteran right-hander Bartolo Colon now stands alone as the last remainin Montreal Expos ball playe, holding a special spot in history pending the potential return of a team in the near future.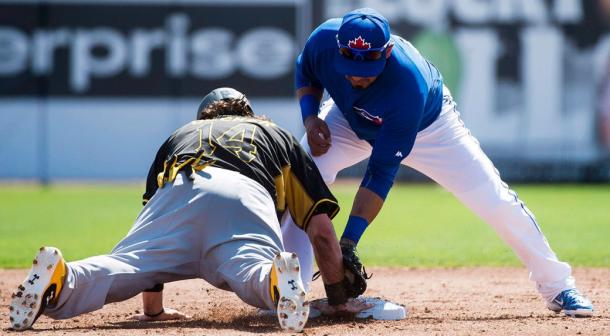 Izturis' history as a Big Leaguer
Izturis was signed by the Cleveland Indians as an amateur free agent back in 1998. However, he didn't stick around long as the club traded him to Montreal at the end of the 2003 season. In August of 2004, he made his Major League debut.
Most of his career had been spent with the Los Angeles Angels. There, he took on the role of being a utility infielder following a November trade that sent him to Southern California alongside Juan Rivera and Jose Guillen from Cleveland.
Retirement had been a long time coming for Izturis, who is the brother of one-time All-Star and Gold Glove recipient Cesar Izturis, as Maicer's knee and shoulder have put a bump in the road for what could have been a few years more.
The last time he played in a game was back on April 13, 2014 with the Blue Jays which would be the second Canadian ball club he has been with, giving him a feeling of comfort with familiar faces from his Expos days.
For his career, the Barquisimeto, Lara State, Venezuela native owns a slash line of .269/.331/.372 to go alongside 39 home runs and 334 RBI's in a total of 909 games played. Over this time span, he made 3350 plate appearances.
Toronto was back at it this afternoon as they played host to the Baltimore Orioles where they pulled out with a 4-3 victory after a strong first outing of the spring from returning LHP J.A. Happ.