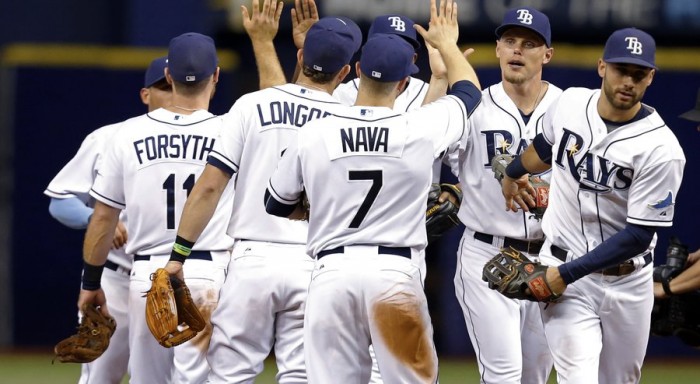 As Major League Baseball's youngest franchise competes in a division with a team as old as time itself (The New York Yankees), as well as the Baltimore Orioles, Toronto Blue Jays and the Boston Red Sox, the Tampa Bay Rays seem to be more of a dark horse in the 2016 regular season. However, are they poised for a playoff run?
On a team full of younger players (and Evan Longoria), the Tampa Bay Rays had more of a silent off-season - other than a few trades picking up Logan Morrison, Corey Dickerson, Steve Pearce, and Hank Conger. Be that as it may, the Boston Red Sox acquired former Rays ace, and arguably the greatest player in the history of the franchise, David Price via free agency, while the Yankees acquired Starlin Castro, and top relief pitcher Aroldis Chapman while the Orioles acquired Mark Trumbo.
With that being said, the Rays still might have the most complete team in the division. The Yankees have a sub-par rotation, and a rather below average lineup, while Boston has an overrated rotation, only having David Price, and Toronto is very similar to The Yankees in pitching, though they boast one of the top offenses in baseball.
Rays Rotation and Bullpen
Before we begin, the projected ESPN Rays rotation is as followed:
1. Chris Archer
2. Alex Cobb *DL*
3. Jake Odorizzi
4. Drew Smyly
5. Matt Moore
6. Erasmo Ramirez
Archer will take the mound Opening Day against the Toronto Blue Jays and is set to lead the rotation, a spot previously held by three franchise legends: Scott Kazmir, James Shields and David Price.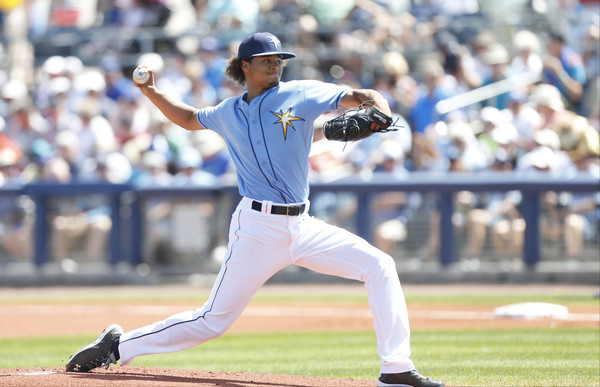 Being traded from the Chicago Cubs alongside Hak-Ju Lee, Sam Fuld, Brandon Guyer and Robinson Chirinos to the Rays, Archer has proven to be a plus. While they lost ace Matt Garza, the Rays may have gotten someone better in Chris Archer.
Racking 12 wins (and 32nd overall) in 2015 with a 3.23 ERA, Archer set the Rays' single season K record by absolutely demolishing the record set by Scott Kazmir in 2007. The 27 year old right hander was selected to his first All-Star game this past year, and was the first pitcher since 1900 with 10+ strikeouts and 0 BB in three straight starts. The Rays' have found their next Tony Saunders (there's a depressing story), their next James Shields, their next David Price in Chris Archer, and it'll be one heck of a ride to just kick back and enjoy.
With Drew Smyly projected to have a breakout year by ESPN, Marc Tompkin of the Tampa Bay Times is confident the Rays' will find a second ace in the 26 year old Smyly. However, as that is a rather bold statement and could easily be argued, we shouldn't underestimate the likes of Erasmo Ramirez or even Jake Odorrizi, but instead look forward to their campaigns as well. With the ace of the rotation, Alex Cobb returning from Tommy John and a healthy Matt Moore, Rays fans should expect huge things from the entire starting rotation.
Though closer Brad Boxberger led the league in saves last year, Boxberger is now on the disabled list along with Alex Cobb and projected to be out until May. With that being said, Rays fan's shouldn't really expect much out of their bullpen, other than possibly Alex Colome and Matt Andriese - expect the starters to pitch a lot of innings.
The Lineup
Much like the rotation, before we begin let's look at VAVEL USA's projected Rays' Opening Day starters:
SP: Chris Archer
RF: Corey Dickerson
LF: Mikie Mahtook
CF: "The Outlaw" Kevin Kiermaier
1B: Logan Morrison
2B: Logan Forsythe
3B: Evan Longoria
SS: Brad Miller/Tim Beckham
C: Curt Casasli
DH: James Loney
Logan Forsythe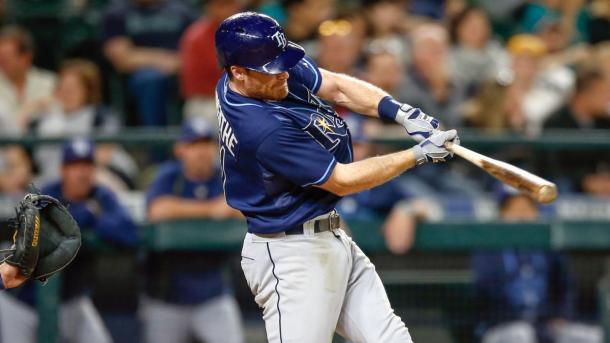 After winning the 2015 Tampa Bay Rays 2015 MVP, Rays fans have a lot more to look forward to than usual; this year in Logan Forsythe. In a trade that sent relievers Brad Boxberger and Matt Andriese alongside him, Forsythe was brought to Tampa from the San Diego Padres in 2014. Being utilized mainly as a valuable bench player, in 2014, Forsythe was projected to do the same in 2015. That was until Nick Franklin was put on the day-to-day disabled list towards the end of Spring Training.
Rays' manager Kevin Cash would proceed to take a risky chance on a career utility player and placing him on the Opening Day Roster. Though Nick Franklin's injury was unfortunate, it ended up being a blessing in disguise for the Rays, as Forsythe would bat .281 in 153 games in 2015, missing the final few games of the season on the disabled list.
In tweaking his mechanics and his plate discipline, Logan Forsythe would breakout not only offensively, but defensively, with only four errors on the year and some phenomenal plays. Logan Forsythe is on the verge of superstardom.
Kevin Kiermaier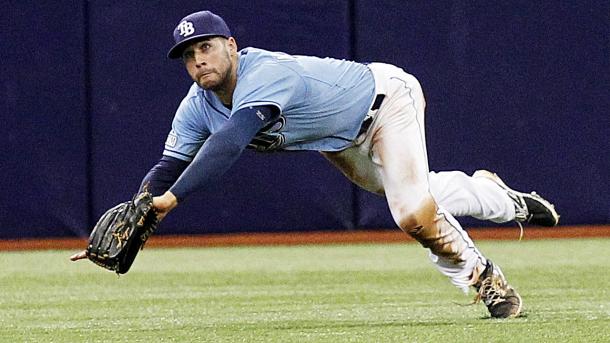 Nicknamed "The Outlaw" by Rays fans, Kevin Kiermaier's breakout year gets him ranked with some of the top centerfielder's in baseball, such us Andrew McCutchen, Mike Trout, and Bryce Harper. Defensively, he is the best current outfielder in all of the Major League's, as Kiermaier saved 42 defensive runs last year; the most defensive runs saved since the stat started being recorded.
With his athleticism, phenomenal catches and the ability to play all three sides of the outfield while knowing where he's at every instant of the ball game has made Kiermaier the best defensive outfielder in the league and the most popular Ray in a long while.
If he works on his bat a little more then he's the perfect player and everything that the Rays need. After beating out MLB Golden Boy and the face of baseball, Mike Trout, in Gold Glove voting, it's safe to say that the Rays are in for a treat this coming season in Kevin Kiermaier.
Evan Longoria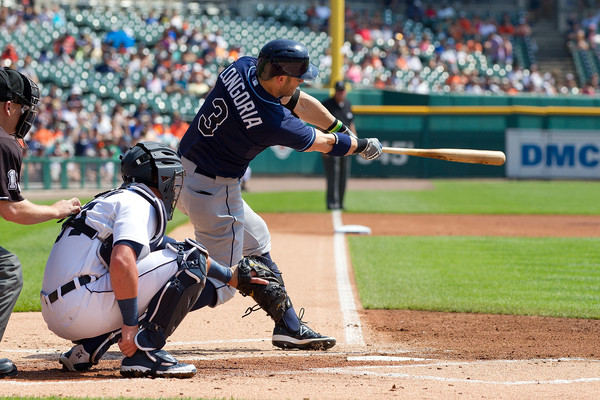 Up next we have the man who ranked #2 on VAVEL's Top 10 Tampa Bay Rays players of all time....Evan Longoria.
Leading the franchise records in HRs, doubles and RBIs, Evan Longoria will forever be associated with the Tampa Bay Rays. Drafted 3rd overall by the then-Devil Rays in 2006, before being called up in 2008 early on in the season when Willy Aybar was placed on the disabled list, and Longoria overtook his position full-time on a Rays team that would go onto The World Series.
Longoria would smash any franchise record put in front of him up until 2014 when nagging injuries caught up to him. Longoria would have another rocky year in 2015, when a rather inconsistent Rays' team that was under new management wouldn't get on base and Longoria would press the entire year. However, with Kiermaier and Forsythe coming into their own and the additions of LoMo and Dickerson, that shouldn't be the case this year.
The Rays have a solid lineup and an underrated rotation in a decent division. The Blue Jays and the Red Sox have dominant offenses but atrocious pitching. Boston doesn't have the David Ortiz, Jason Varitek, Coco Crisp, Dustin Pedroia offense anymore that can win with any rotation.
They have David Price, so they'll win probably fifteen more games than last year, which is assuming that Price doesn't get rocked in a division with the Rays, who know every trick up his sleeve. They're not a playoff caliber team.
The Yankees are a team to not count out, simply because it's the Yankees, but aren't a good team, especially with the absence of rookie sensation Greg Bird. Baltimore and Tampa are your darkhorses of baseball, and the two teams to watch out for.