 In the spring of 2017, baseball will host its fourth World Baseball Classic, a World Cup of baseball if you will, in which the best players in the world will represent their countries. Now as many know, baseball is America's pastime, and the game has been adopted by many nations throughout history. Baseball was introduced to Japan and other Asian markets during the Meiji Restoration, Negro League players introduced the game throughout Latin America, and baseball, or at least a variation of it, has been played in Europe for centuries. So even though baseball is typically identified as 'American' the game is revered by millions around the globe.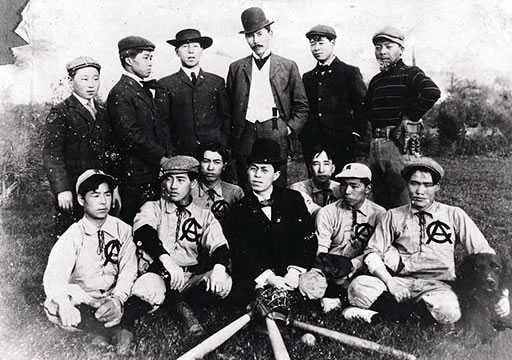 Not only is it not just an 'American' game based on practice, but in terms of competition, America has not fared so well. The U.S. team has never made a WBC final, nor a semi-final. Japan has dominated the tournament only to be outdone by Cuba in the last tournament. While Americans boast about the game and attribute as part of our history, America may no longer have the best baseball talent.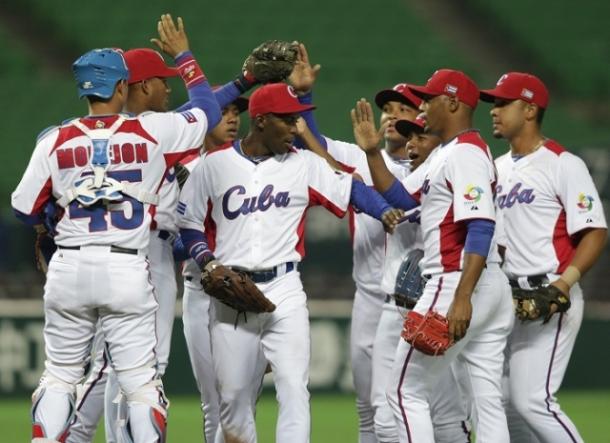 But in terms of all-time talent, no country can compare to America. But what the WBC has proven, is that you don't need to have the best collection of talent to win. A great team, mixed with good pitching, defense and timely hitting can win you a championship. But if you were to put together a great American team, or even the greatest team by baseball era, no team could compare to the Americans.
Right?
To make sure, I have assembled an all-time World Baseball Classic, choosing a select number of countries, and putting together their all-time teams. Now with some teams, I took some liberties, for example when it came to the European Pool, I took players from America who happen to have backgrounds from their ancestors' native lands. Although I did not take anyone way from an American team who rightfully deserved their spot. This way, we can discuss players we might not have been able to mention before.
This week I will reveal the European pool and in the following days I will reveal the following:

March 27th: Asia & Latin America Pool 1
March 30th: Latin America Pool 2 & American Pool 1
April 1st: American Pool 2
Would the Americans win the All-Time WBC? Or would a collection of either the greatest Dominicans, greatest Japanese, or greatest Cubans take it all. I leave it up to you to decide.
European Pool
Italy
1) Frank Catalanotto- CF
2) Jim Fregosi- SS
3) Paul Konerko- 1B
4) Jason Giambi- DH
5) Rocky Calavito- LF
6) Sal Bando- 3B
7) Tony Lazzeri- 2B
8) Joe Torre- C
9) Carl Furillo- RF
SP- Ralph Branca
SP- Andy Pettitte
SP- Chris Capuano
SP- Tom Candiotti
SP- Carl Pavano
CP- Jason Grilli
Strengths
"Why are there so many good dago ballplayers?"
"Because we take things personally."
Now I don't know if that is an exact quote from Billy Martin or something they took liberty with in ESPN's 'The Bronx is Burning'…but either way, Italian stubbornness is always something I have always found strength in.
But besides that this is a pretty good team. Granted only a handful of players on this team are actually hail from 'the boot', but the Italian-Americans provide enough punch to make the Italians contender in the European Pool. This team is loaded with players who can get on base, hit homers, and drive runs in.
Weakness
Aside from Ralph Branca and Andy Pettitte, there is not enough pitching wise to make the Italians a real threat.
Best Player: Andy Pettitte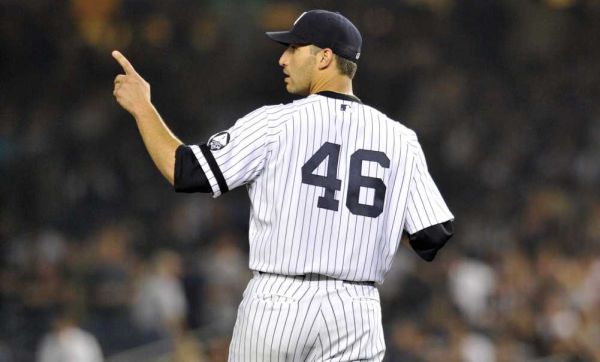 Pettitte was one of the most dependable pitchers of the 1990s & 2000s for the New York Yankees and Houston Astros. He spent a majority of his career in New York where he made my life a living hell. But from one Italian to another, its hard to find an Italian-American pitcher who was better.
Netherlands/Curacao
1) Xander Bogaerts- 2B
2) Andrelton Simmons- SS
3) Andruw Jones- CF
4) Randall Simon- 1B
5) Jonathon Schoop- 3B
6) Waldimir Balentien- RF
7) Hensley Meulens- DH
8) Bas Nooij- C
9) Roger Bernadina- LF
SP- Bert Blyleven
SP- Jair Jurjiens
SP- Diegomar Markwell
SP- Leon Boyd
SP- Kenneth Berkenbosch
CP- Kenley Janson
Strength
The Netherlands/Curacao team does have a lot of youth. Xander Bogaerts, Andrelton Simmons and Jeremy Schoop are some of the best young talents in the game and if they are able to realize their potential this team would be something special. But what I think is the most special, is a middle of the lineup that boasts Andruw Jones and Randall Simon. They won't exactly scare anyone from the American or Latin American pools but here in Europe it could be enough.
Weaknesses
However, outside of the handful of players we do know, there are a bunch of names you have never heard of. Curacao has most recently started to develop superstar level talent, but throughout history, it's not exactly a juggernaut.
Best Player: Andruw Jones
Even though Andruw Jones just recently retired, people forget just how good of a player he was. He was, above and beyond, the best defensive center fielder of the last quarter century. And it was Jones, who many experts believed, was the best of his era (which includes other greats like Ken Griffey Jr. and Torri Hunter) and possible the greatest of all-time (better than Willie Mays). It's hard to imagine a centerfielder who was better at defending the position than Andruw Jones.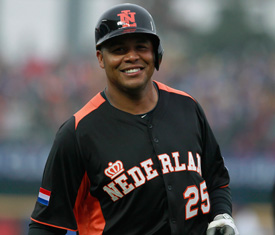 Canada
1) Pete Orr- 2B
2) George Wood- CF
3) Larry Walker- RF
4) Jason Bay- LF
5) Justin Morneau- 1B
6) Joey Votto- DH
7) Russell Martin- C
8) Corey Koskie- 3B
9) Frankie O'Rourke- SS
SP- Ferguson Jenkins
SP- Ryan Dempster
SP- Jeff Francis
SP- Rich Harden
SP- Jesse Crain
CP- Eric Gagne
Strengths
Oh Canada! The lineup certainly has a plethora of MLB talent lead by Larry Walker, Justin Morenau, and Joey Votto. But then you have a Russell Martin, a Jason Bay, and this team may not only be the best lineup in the European Pool but just may be the best team. Now granted Canada is not Europe, but the Frenchness should do the trick.
Weaknesses
Like the other teams in Europe the Canadians do not have enough pitching. Now Ferguson Jenkins is a hall of famer, and pitchers like Ryan Dempster and Rich Harden have had their successes in the professional baseball. However, if the Canadians were to escape the European Pool, they would have an uphill battle against any team from the Latin American or American Pools.
Best Player: Larry Walker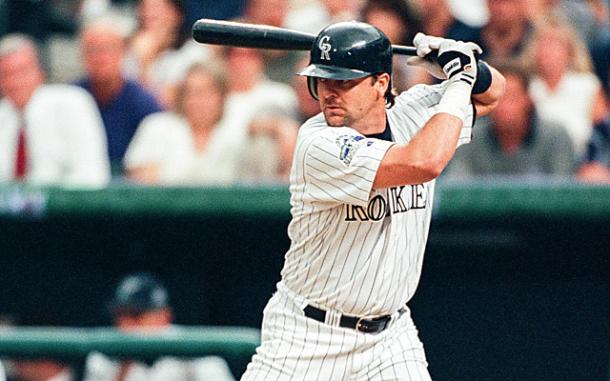 If Larry Walker had played in any other era in baseball history, I firmly believe he would be considered one of the greatest right fielders of all-time. There is no steroid suspension, whatsoever, that clouds his career, and throughout his career he was incredibly productive. He is a career .313 hitter, who averaged over 30 homers and 100 RBIs a season. He had a 10-year stretch where he had double digit steals. And he won the gold glove seven times! But playing in an era of Ken Griffey Jr., Tony Gwynn, Barry Bonds and Sammy Sosa, Larry Walker's greatness was not as celebrated. But for Canada, there was nobody better.