 Trevor Story started his Major League career off with a bang: he hit two homeruns in his debut. In doing so, he became the first player in National League history to hit two round-trippers in his debut (four American League rookies have done so before). Although him hitting two home runs in his first game was unanticipated, it didn't necessarily come out of the blue. Story torched pitchers this spring to the tune of a .340 batting average, and 6 homers.
Story is currently at the beginning of what will be a 'storied' MLB career
Story has a dynamic skill set that includes great raw power, as well as astute base running senses. These skills can set him up for a 20-20 or maybe even a 30-20 season in the near future. Speed and power is at a premium in today's MLB, with teams constantly on the lookout for players that fit that bill. It also helps that Story plays shortstop, one of the most demanding positions on the diamond, making it hard to get solid production out of that spot.
There has been a dearth of talent at the position the past few years, but we are now entering the age of the shortstop. An influx of young talent has come to the position, including players such as Carlos Correa, Xander Bogaerts, Francisco Lindor, and Corey Seager. It won't be long until Story joins the ranks of those players.
Once heralded as a top prospect, Story fell off of most people's radars after having subpar seasons in the minors, but he is about to regain that status. While there is a lot of good in his game, there are also some gaping flaws. In 2013, Story whiffed a total of 183 times in 130 minor league games. It will be hard for Story to cut down on his massive strikeout numbers with below average contact skills. Playing in the thin air of Coors Field, his batting average may see a bit of a jump, but his road numbers should not be too pretty.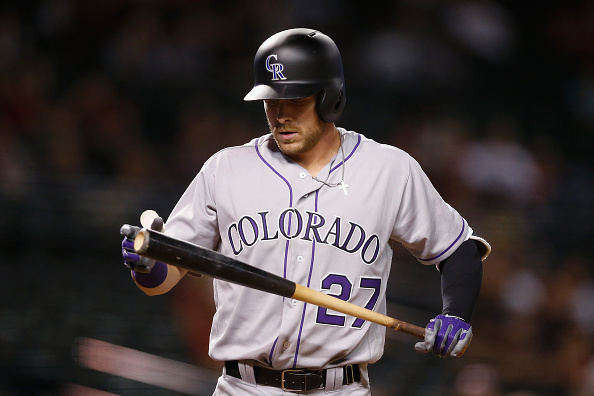 Story was named the Rockies' opening day shortstop because former All-Star, Jose Reyes, is missing time because of an injury. Reyes, owed $47 million by the Rockies over the next few years, recently saw his domestic violence charges against him dropped. Although the charges were dropped, Reyes is not yet in the clear as he is still under MLB Commissioner Rob Manfred's jurisdiction.
He could get anything up to an 81-game suspension for breaking the MLB's new Joint Domestic Violence, Sexual Assault, and Child Abuse Policy. Because of Reyes' career pedigree, he will likely take over the Rockies' shortstop position once he gets back. This could change however if Story continues to dominate and provide solid production. That could see Reyes slotting over to second base, a position he played earlier in his career for the Mets.
Story's comparisons to Tulowitzki
Trevor Story may be the second coming of the five-time All Star Tulowitzki. Both Tulowitzki and Story are shortstops who started their careers playing in Colorado. The similarities don't just stop there as they both have the rare mix of power and speed. The former Colorado shortstop, Tulowitzki, once had 20 steals in a season.
Although his speed is long gone now, Tulo came into the pros with good speed and average base-running senses. Story has the potential to gain over 20 steals this year. As for the power, Tulowitzki has been known as the MLB's top power option at the shortstop position. In his age 24 season, Tulo had 32 dingers: something Story can aspire to if he can continue to have games similar to that of last night.
Story is making a name for himself through his power skills, but some feel that may not last. However, as he showed in Spring Training, he has the raw power to send the occasional pitch out of the ball park. Whether he climbs to the level of Troy Tulowitzki or not, it will be exciting to see him progress.