 After losing the first two games against the Toronto Blue Jays, the Tampa Bay Rays were able to walk away with the win in game three.
Good Pitching Leads Way For Both Teams
The game featured good starting pitching from both teams. Jake Odorizzi went 5.2 innings giving up only one earned run with ten strikeouts. The one flaw for Odorizzi came on a throwing error that allowed Jose Bautista to score the first run.
For the Blue Jays, Aaron Sanchez was able to last seven innings giving up only one run and tallying eight strikeouts.
Home Runs Give Rays All the Runs They Need
All of the Rays runs came from home runs. Corey Dickerson got the Rays on the board in the fourth inning with a solo home run. Logan Forsythe had a tremendous night at the plate, hitting a single, double, and a two-run homerun. The home run ended up being the enough to seal the game.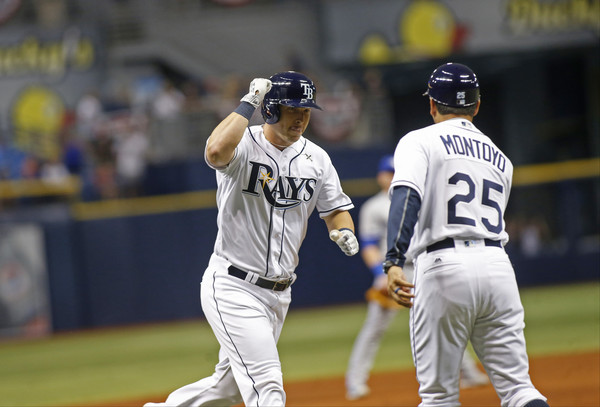 New Sliding Rule Enforced Late
With one out in the ninth and the bases loaded for the Blue Jays, Edwin Encarnacion hit a grounder to third that scored two runs, to put the Jays up 4-3. At least, that's what happened until the Rays challenged Bautista's slide into second. The Rays argued that Bautista's slide interfered with Forsythe's throw, which went flying over first baseman Steve Pearce. The call did get overturned and both runners were called out, ending the game and giving the Rays their first win of the season.
According to Brendan Kennedy via Twitter, Blue Jays manager John Gibbons responded when asked about the slide call after the game saying "Are we trying to turn the game into a joke?".
Bautista stated "I didn't think it was illegal to make contact let alone something so subtle and soft. I felt like I respected the rule and it's just disappointing and somewhat embarrassing to lose a MLB game with so much at stake." He continued by saying, " I think player safety should always be a big concern. I just don't see how my pay was unsafe."
With a rule this new, there will be a lot of "growing pains" throughout the season as both players and umpires adjust to the change.
What's Next
The Blue Jays and Rays will wrap up the four game series on Wednesday, April 6th. The game will start at 1:10 PM EST. J.A. Happ will get the start for the Jays while Matt Moore will hit the mound for the Rays.