 Veteran left hander Jon Lester tossed 7 innings of solid baseball while Dexter Fowler, Anthony Rizzo and Villanova alum Matt Szczur all accounted for a home run as the Chicago Cubs topped the Los Angeles Angels by a final score of 6-1.
Lester, 1-0, heaved 93 pitches Tuesday night, going 7 innings giving up only a run and four hits. Angels starter Andrew Heaney, 0-1, gave up four runs and seven hits in 6 innings, striking out 7. Chicago's bats kept Angels pitcher Andrew Heaney on his heels all night especially in the third inning before they worked his way to the bench in the 6th. Angels starter Garrett Richards ran into similar problems the night before and the Angels must have had a hard time swallowing what happened. The Angels didn't play all that bad; however the Cubs just executed everything right and got the job done the right way.
The turning point in this ball game without question came in the third inning, for the second consecutive night the No. 8 hitter went yard as Villanova Wildcat alum Matt Szczur made the most out of his first ever start, from that point on it was nothing but good ole Chicago Cubs hardnosed baseball. Cubs captain and first baseman Anthony Rizzo had a successful night to say the least, one homerun, double, single and a ground out, Rizzo's performance helped nail the coffin shut on the Angels. With the win the Cubs take the series opener against the Angels winning both games, Chicago is off for one day before they out to Arizona to take on the foes from the NL West in the Arizona Diamondbacks.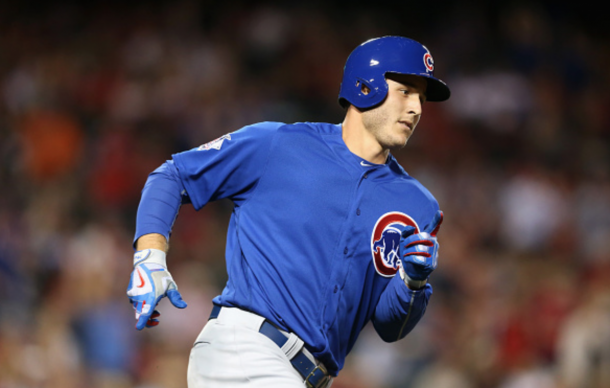 Box Score
Los Angeles Angles
| | | | | | | | | | |
| --- | --- | --- | --- | --- | --- | --- | --- | --- | --- |
| Batter | AB | R | H | RBI | BB | SO | LOB | AVG | OPS |
| 1. Yunel Escobar, 3B | 4 | 1 | 1 | 0 | 0 | 0 | 2 | .125 | .375 |
| 2. Craig Gentry, LF | 3 | 0 | 1 | 1 | 0 | 0 | 2 | .250 | .500 |
| -Daniel Nava, PH | 0 | 0 | 0 | 0 | 0 | 0 | 0 | .333 | .666 |
| -Geovany Soto, PH | 1 | 0 | 0 | 0 | 0 | 0 | 1 | .000 | .000 |
| -Ji-Man Choi, LF | 0 | 0 | 0 | 0 | 0 | 0 | 0 | .000 | .000 |
| 3. Mike Trout, CF | 4 | 0 | 0 | 0 | 0 | 1 | 1 | .000 | .000 |
| 4. Albert Pujols, DH | 4 | 0 | 0 | 0 | 0 | 1 | 1 | .000 | .000 |
| 5. C.J. Cron, 1B | 4 | 0 | 0 | 0 | 0 | 1 | 0 | .143 | .429 |
| 6. Kole Calhoun, RF | 3 | 0 | 0 | 0 | 0 | 1 | 0 | .167 | .334 |
| 7. Andrelton Simmons, SS | 3 | 0 | 0 | 0 | 0 | 0 | 0 | .000 | .000 |
| 8. Carlos Perez, C | 3 | 0 | 1 | 0 | 0 | 2 | 0 | .200 | .533 |
| 9. Johnny Giavotella, 2B | 3 | 0 | 1 | 0 | 0 | 0 | 0 | .167 | .334 |
| Totals | 32 | 1 | 4 | 1 | 0 | 6 | 7 | | |
Chicago Cubs
| | | | | | | | | | |
| --- | --- | --- | --- | --- | --- | --- | --- | --- | --- |
| Batter | AB | R | H | RBI | BB | SO | LOB | AVG | OPS |
| 1. Dexter Fowler, CF | 4 | 1 | 2 | 2 | 0 | 1 | 1 | .625 | 1.792 |
| 2. Jason Heyward, RF | 4 | 1 | 0 | 1 | 0 | 1 | 1 | .111 | .333 |
| 3. Kris Bryant, 3B | 4 | 0 | 0 | 0 | 0 | 1 | 1 | .000 | .222 |
| 4. Anthony Rizzo, 1B | 4 | 1 | 1 | 2 | 0 | 1 | 0 | .286 | 1.158 |
| 5. Ben Zobrist, 2B | 4 | 0 | 2 | 0 | 0 | 0 | 0 | .444 | .888 |
| 6. Jorge Soler, DH | 4 | 0 | 0 | 0 | 0 | 2 | 2 | .125 | .347 |
| 7. Addison Russell, SS | 4 | 0 | 0 | 0 | 0 | 2 | 1 | .000 | .125 |
| 8. Matt Szczur, LF | 4 | 2 | 2 | 1 | 0 | 1 | 0 | .600 | 2.000 |
| 9. David Ross, C | 4 | 1 | 2 | 0 | 0 | 0 | 1 | .500 | 1.250 |
| Totals | 36 | 6 | 9 | 6 | 0 | 9 | 7 | | |