 The Detroit Tigers were unable to complete the comeback on Sunday afternoon in Houston as they fell 5-4 to the Houston Astros. The Tigers found themselves trailing right out of the gate and were just simply never able to get a lead. The Tigers will now move on to Kansas City to face the Kansas City Royals starting Tuesday night.
In depth look at the game
Anibal Sanchez day was off to a rough start in the first inning when Jose Altuve led off with a home run. The Astros weren't done scoring in the first inning either. George Springer, who had a very good game for the Astros, scored on a wild pitch by Sanchez to make it 2-0. In the third inning, Springer hit a home run to left center field extending the Astros lead to 3-0. Jose Altuve also had a very good game for the Astros. In the fourth inning, Altuve singled scoring two runners making the Astros lead be 5-0. That would be all the runs the Astros needed in this one.
The Tigers were finally able to get on the board, in the 5th inning, with a home run by Jarrod Saltalamacchia. Saltalamacchia has been a great addition for the Tigers this season. Later in the fifth nnning, the Tigers were able to add another home run. Ian Kinsler hit a two run home run that scored Jose Iglesias which cut the Astros lead to 5-3. In the sixth inning, J.D. Martinez also hit a home run for the Tigers which cut the Astros lead to 5-4. The Tigers weren't able to score again and fell short 5-4.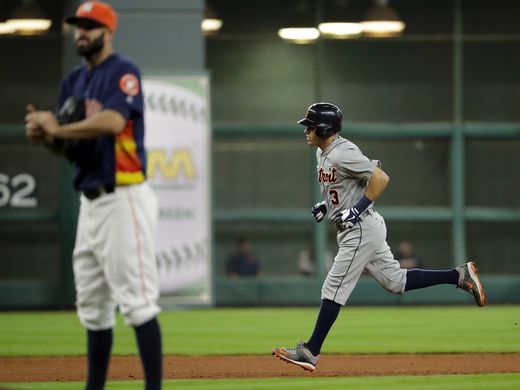 Saltalamacchia adds another home run
Jarrod Saltalamacchia hit a home run for the second consecutive game which puts him up to 4 home runs to the season along with 11 runs batted in. This brings a big decision for manager Brad Ausmus who to start day in and day out once the Tigers other catcher James McCann is healthy. He will have to try to make it so both of them get a decent amount of playing time. Both Saltalamacchia and McCann have shown that they can play well.
Off day for Tigers key players
It was a rough day for Tigers first baseman Miguel Cabrera as he went 0-4 on the day with one strikeout. Victor Martinez, Justin Upton, and Nick Castellanos all also had rough days at the plate.
Those three combined for two hits which one of those was from Martinez and the other was from Castellanos. Upton also when on to get ejected which hurt the Tigers late in the game. Run support for Anibal Sanchez was going to need to be there early and it just simply wasn't happening today as they couldn't get anything going until later in the game.