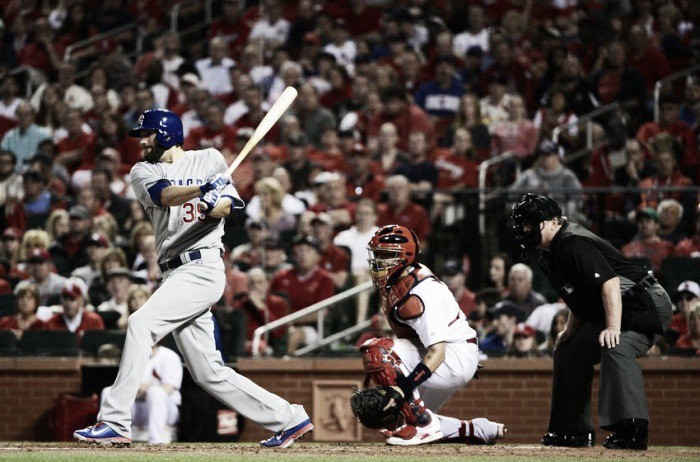 The Chicago Cubs continued to do what they've done all year Tuesday night: win. Monday night it was John Lackey getting the job done for the Cubs and Tuesday night it was Jason Hammel.
Hammel helps his own cause
The 33 year old, Jason Hammel helped himself in Tuesdays game as he hit a two-run single while striking out six batters over six innings of play giving the Chicago Cubs the 2-1 victory against rival St. Louis Cardinals. With the win the Cubs become the first team in all of major league baseball to reach 11 wins this season; Chicago's off to its best start since 1970.
Hammel, who in his last start had an RBI double, had the biggest hit in Tuesdays game which came in the fourth inning, the Cubs pitcher now has more RBIs than runs allowed this season; impressive to say the least. Hammel got a huge helping hand from right fielder Jason Heyward in the bottom of the fourth inning as well, St Louis had runners on first and third with only one out when Cardinals catcher Yadier Molina flied out to right. Holliday tried to score but it was the former Cardinal, Heyward, who fired a ball all the way to home plate just in time for Miguel Montero to apply the tag; Holliday was out and the inning was over.
St. Louis' starter Jaime Garcia had a pretty solid outing himself despite picking up the loss, Garcia went five innings and struck out seven. This being Garcia's first start since he's one hit shutout against NL Central opponent Milwaukee.
Cardinals come up short
So where did the Cardinals come up short for the second straight day against the Cubs?
A base running mistake perhaps costed the game for the redbirds in the second inning when Cardinals first baseman Matt Adams was caught trying to steal third just ahead of Yadier Molinas triple. St. Louis also struggled trying to bring in runners left on base as they were unable to get anything going in the fourth inning with runners stranded on second and third base with no outs, the Cardinals also wound up leaving two baserunners stranded in the seventh and eighth innings.
The biggest mistake of all for St. Louis on Tuesday night came late in the bottom of the ninth inning, with the potential game tying run on second base, Cubs closer Hector Rondon sent down pinch hitter Jedd Gyorko to give the Chicago Cubs their 11th win this season.