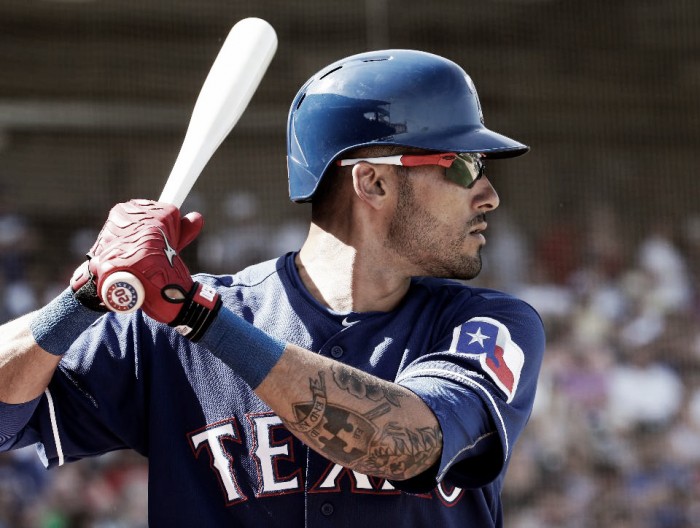 The Houston Astros continue to struggle against the Texas Rangers, extending their winless streak at Globe Life Park to ten games with a 7-4 defeat.
Reigning Cy Young, Dallas Keuchel (2-2), was heavily punished by the Rangers' lineup as he surrendered a career high 13 hits. A.J Griffin (2-0) looked solid on top of the mound as he managed to hold a very good hitting team to 2 earned runs. After a very succesful 2015 , the Houston Astros have had a rocky start to their season due to the lack of clutch hitting and the good starting pitching that characterized the Astros during the previous campaign.
Dallas not Dealing
Emotions rose early when George Springer continued his hot start as he doubled home José Altuve in the top of the first. The lead would not last long; Dallas Keuchel got two quick outs and then awarded back to back singles to Adrian Beltre and Prince Fielder. The acquisition of Ian Desmond to play left field was heavily criticized during the offseason, however the move paid off dividends when the former National crushed an elevated fastball for an opposite field three-run homer in his first at bat against Keuchel.
Elvis Andrus extended the Rangers' lead in the third with a soft drive triple to left field that a diving Colby Rasmus could not field correctly. Rasmus somehow redeemed himself with a solo homerun against Griffin in the top of the 4th looking to level the score. A.J had to work hard in most of the innings but he managed to contribute to the Rangers' fantastic starter's ERA by allowing two runs in six innings.
Colby Jack x2
Adrian Beltre went yard in the seventh off of Pat Neshek to collect his third moonshot of the season. Rasmus appeared to be the only productive player at the plate for the visitors as he yet again took an 0-2 pitch to deep left for a two-run jack in the eight. The Astros are just behind the Baltimore Orioles and the Colorado Rockies for the league lead in homeruns. The score would settle to a 4-7 when Shawn Tolleson collected another save for the Arlington team.
With Choo, Hamilton, Chirinos, and Darvish in the DL, the Texas Rangers have shown the A.L West that they have a deep roster and that they can cope with injuries. A.J Hinch´s pupils continue to have poor numbers with RISP. A tough start for the Astros who are now 5-11, whereas Texas enjoy a comfortable 10-6 atop their division. The visitors will now return to Minute Maid Park for a weekend three game series against the Boston Red Sox.
Coming up
The Rangers will depart from home and install themselves in the U.S Cellular Field to face a trifecta of in-form starting pitchers: José Quintana, Carlos Rodon and Mike Latos.