 After getting swept in the last series, the Texas Rangers won two out of three against the New York Yankees. Tonight, they got three runs and five hits off of CC Sabathia in a 3-2 victory.
The Rangers' starter, Martín Pérez, struggled through stretches of the game. He lasted six innings though and gave up just two earned runs on the night.
Yankees, Rangers go back and forth
Martín Pérez cruised through the opening inning as he struck out the side. But in the second, Pérez struggled a bit. Both Mark Teixeira and Alex Rodriguez walked to put Teixeira in scoring position. This brought Starlin Castro to the plate and on the first pitch of the at bat, he singled to bring home Teixeira.
The Rangers though, would strike back in the bottom of the inning. Ryan Rua singled as he connected on a 79 mph slider. Rougned Odor also singled but reached second on a poor throw from the Yankees' Brett Gardner. Then, with one out in the second, Hanser Alberto hit a bouncing ball back to CC Sabathia. As Sabathia threw Alberto out at first, Rua sprinted home to level the game at one. Odor tried to get to third but came off the bag and Chase Headley tagged him for the third out.
Texas continued to get quality at bats against Sabathia early in the ball game. Bryan Holaday, drew a four pitch walk in his first plate appearance against Sabathia. Holaday moved to second when Delano DeShields sacrificed him over. Adrian Beltre then hit a single to left, bringing in the go-ahead run.
Both sides continued to answer each other as the Yankees leveled the game once more in the top of the fourth. After Pérez got the first two batters of the inning out. With Rodriguez at the plate, Pérez left a fast ball near the middle of the plate and Rodriguez hit it out. This home run hit by Rodriguez was his 100th at Globe Life Park.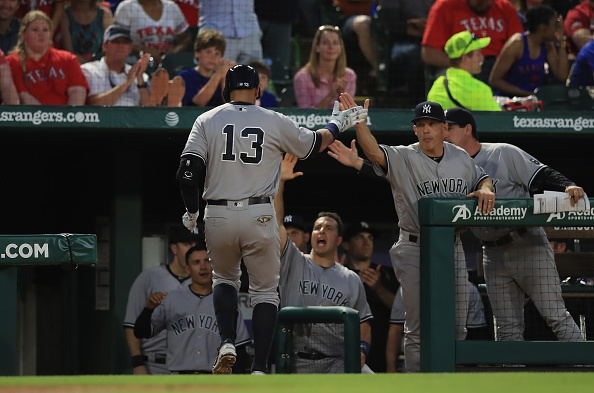 Pérez continued to struggle, giving up two more hits to Brian McCann and Castro. Luckily for the Rangers, their starter was able to get out of the jam on the next batter.
However, Elvis Andrus came through in the bottom of the sixth inning, as he hit his third triple of the season. Andrus slapped an 88 mph slider to the right center field wall. The ball got by Carlos Beltran allowing Odor to score from first base.
Coming up
Texas will welcome in the Los Angeles Angles this weekend, sending Colby Lewis to the mound. Meanwhile, the New York Yankees go back to the east coast to face their oldest foes. They travel to Fenway Park take on the Boston Red Sox.