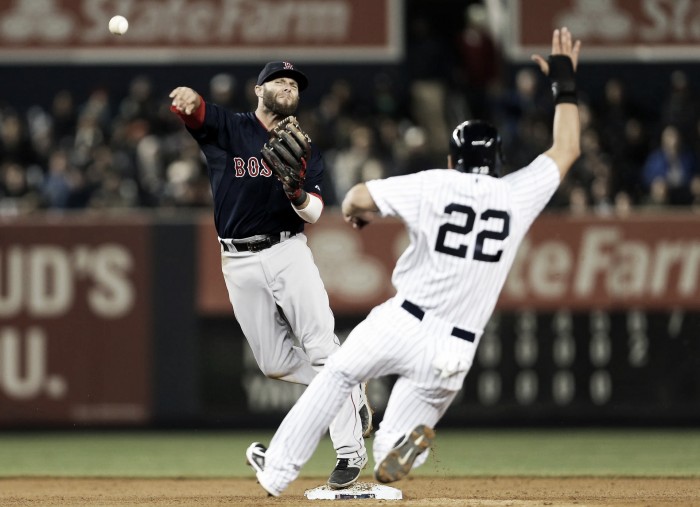 What a game, and what fun it was watching it. Hope you all had as much fun as I did. The rest of this series will be fun. This is Oliver Gold from VAVEL MLB, signing off.
What a terrific game this was. Just another classic Red Sox-Yankees game. After the Sox' bats disappeared for the first six innings, they really turned it on. This was arguably the greatest win of the year for the Red Sox, while this was an absolute crushing defeat for New York, as it is not often Betances will blow a game. David Ortiz is just something else, even in his last season.
The win for the Red Sox moves them to 13-10, while New York drops to 8-13. Koji Uehara gets his first win of the year, while Betances picked up his first loss. Kimbrel recorded his seventh save.
FINAL: Yankees 2, Red Sox 4. Ortiz's home run in the eighth led the way for the Red Sox. Red Sox pitchers retired final 13 batters for Yankees.
Top 9th, 3 out (2-4) Love that dirty water! Kimbrel strikes out McCann to end the game. Absolutely dominant.
Top 9th, 2 out (2-4) WHAT A PLAY! Terrific play by Bogaerts, who dives down to get A-Rod's scorching ground ball, and Ramirez makes a nice scoop at first. This team picked it up late today. McCann the last chance against Kimbrel.
Top 9th, 1 out (2-4) Kimbrel gets Teixeira to fly out to right on the first pitch. A-Rod standing in to boos from the Red Sox fans.
As expected, Craig Kimbrel will come out to attempt his seventh save. He has a 4.35 ERA.
Bottom 8th, 3 out (2-4) Betances gets Shaw to strike out. Teixeira, Rodriguez, McCann on for the Yankees' last chance.
Ortiz with his home run hit his 507th career bomb. His 1,120 extra base hit passed George Brett for 16th most of all time.
Bottom 8th, 2 out (2-4) Hanley Ramirez grounds out, and there are two away for Shaw.
Bottom 8th, 1 out (2-4) IT'S GONNNNEEEEEEE! OH BABY, BIG PAPI! Ortiz lines a first pitch breaking ball from Betances over the Green Monster, and just like that, Boston is ahead 4-2 just like that. Yankees fans can't wait to see this guy retire.
Bottom 8th, 1 out (2-2) Weird play there, but Bogaerts is credited with a single. It was a shot up the middle, but Castro fielded it very weirdly, and tried to bare hand it. He whiffed, and Xander is aboard for Ortiz.
Bottom 8th, 1 out (2-2) Pedroia hits a grounder to Castro, who retires him easily for the first out. The second baseman is now 0-4.
Betances staying out there for the Yankees. Kimbrel getting loose for Boston.
Top 8th, 3 out (2-2) Terrific inning for Koji, as he retires the Yankees in order after Beltran had a first pitch pop out. Boston has their best chance to do damage now, as Pedroia, Bogaerts, and Ortiz are coming up in the bottom of the eighth. Barnes and Uehara both retired the Yankees in order in 10 pitches.
Top 8th, 2 out (2-2) Boy, is that splitter filthy. Fools Brett Gardner, as he can't hold his swing from a pitch in the dirt. First K for Koji.
Top 8th, 1 out (2-2) Ellsbury slaps a ground ball to first base, and is easily retired for the first time of his night.
Koji Time! Koji Uehara comes out for the eighth to face the top of the Yankees order. Koji is 0-1 with a 3.86 ERA.
Bottom 7th, 3 out (2-2) Betts makes solid contact, but flies it in easy range for the speedy Ellsbury in center. Top of the order coming in for New York, and we'll see if Barnes is out there for another inning.
Tanaka's night is over. His final line- 6.2 innings, six hits, two runs, five strikeouts. Threw a lot of strikes. The dominant Dellin Betances is coming in for an early appearance. Betances has been filthy, giving up just one run in ten innings this season.
Bottom 7th, 2 out (2-2) TIE GAME!!! Bradley rips a first pitch fastball of the Green Monster, scoring both Shaw from second and Holt from first. Bradley goes to second with a double.
Bottom 7th, 2 out (2-0) HUGE strikeout for Tanaka. Gets Hanigan for the third time, sending up Bradley with 2 outs with two runners on.
Bottom 7th, 1 out (2-0) Another hit! Holt rips one by Headley. Sox have something going with one out. First time Boston has two runners on all game.
Bottom 7th, 1 out (2-0) Base hit! Shaw rips one opposite field down the line for a single, and almost gambled for a double. Fourth Red Sox hit.
Bottom 7th, 1 out (2-0) Hanley rips a liner on the first pitch, but right to Ellsbury. Story of the game so far for Boston.
Time to stretch, folks. Quick game considering the Red Sox and Yankees history!
Top 7th, 3 out (2-0) Great relief inning for Barnes. Gets the Yankees in order in just 10 pitches as Gregorius grounded out. Red Sox need offense, and will send Ramirez, Shaw, and Holt to the plate.
Top 7th, 2 out (2-0) Headley hits a ground ball right to Pedroia, who retires the hitter. Headley is 0-3.
Top 7th, 1 out (2-0) Castro hits a soft ground ball right back to Barnes, who makes the easy play to first. Good start for Barnes.
Matt Barnes comes in for Boston. Barnes is 1-1 with a 3.18 ERA in nine games. Owens final line- six innings, six hits, two runs, three walks, three strikeouts. A very respectable outing for Owens after getting roughed up against Houston. Tanaka- six innings, three hits, no walks, no runs, four strikeouts.
Bottom 6th, 3 out (2-0) Tanaka gets Ortiz to ground out to first, and Tanaka is now through six scoreless innings. He is at 88 pitches, while 60 of those have been strikes. Bottom three coming up for Yankees, who could be facing a new pitcher.
Matt Barnes and Junichi Tazawa throwing in the bullpen while Owens has his jacket on. Could be the end of the day for Owens.
Bottom 6th, 2 out (2-0) Base hit for Bogaerts. The Red Sox third hit of the day goes through the hole between third base and shortstop. Ortiz coming up, who can end Tanaka's gem in a second.
Bottom 6th, 2 out (2-0) Tanaka is dealing. Gets Pedroia to fly out quickly, and there are quickly two outs. Just threw his 80th pitch.
Bottom 6th, 1 out (2-0) Betts hammers a ground ball, but it is right at the shortstop Gregorius, who makes the play.
Top 6th, 3 out (2-0) Great inning for Owens. Gets the Yankees in order quickly, as McCann pops out. Decision time for manager John Farrell, as Owens is at 92 pitches through six. Top of the order coming up in Betts, Pedroia, Bogaerts.
Top 6th, 2 out (2-0) Rodriguez hits a hammered ground ball, but right to Bogaerts, who sets him down. Owens at 91 pitches, as this could be his last hitter faced.
Top 6th, 1 out (2-0) Strike three! Owens sets Teixeira down on strikes for his third strikeout. Owens' command still isn't there, but there was no contact on that pitch.
Bottom 5th, 3 out (2-0) Tanaka is pitching a gem, folks. He gets Bradley to ground to first on the first pitch. Through five innings, two hits, no runs, no walks, four strikeouts for Tanaka. He is throwing a high amount of strikes, as 52 of his 73 pitches have been strikes. Red Sox will look to figure out Tanaka their third time around. Rodriguez, McCann, Castro due up.
Bottom 5th, 2 out (2-0) Tanaka gets Hanigan on strikes for the second time. High fastball sets him down. Four strikeouts for Tanaka.
Bottom 5th, 1 out (2-0) Check swing there from Holt makes contact to third base, and Headley fields the ball and barely beats Holt at first.
Top 5th, 3 out (2-0) Owens gets out of it! Beltran pops out to Bogaerts, who makes the easy catch. Yankees leave runners on second and third, but score a run. Owens now has completed five innings and is at 80 pitches, allowing two runs, six hits, three walks, and striking out two batters. Yankees have struggled with men in scoring position all year long. Bottom three of the order headed up for Boston.
Top 5th, 2 out (2-0) Ball gets by Hanigan through the five hole, and the Yankees have two runners in scoring position with Beltran at the plate. Pitching coach Carl Willis comes out to the mound to settle down Owens. 2-1 count. Matt Barnes begins throwing in the bullpen for Boston.
Top 5th, 2 out (2-0) Brett Gardner! Gardner finds the whole between Ramirez and Pedroia, scoring Gregorius from second. Fourth baserunner of the inning for the Bronx Bombers.
Top 5th, 2 out (1-0) Ellsbury hits a little blooper that finds a hole between the shortstop and centerfielder. Bradley plays it on the hop, as Ellsbury reaches base for the third time tonight. Runners on first and second for New York.
Top 5th, 2 out (1-0) Up and in again to Ellsbury. The first pitch of the game was also up and in. Fenway crowd cheers again. No warning yet. Count 2-2.
Top 5th, 2 out (1-0) Gregorius drilled by a pitch up and in, nothing intentional. Control problems for Owens, but it hasn't hurt him too much. Ellsbury walks in hearing boos with two walks on the day.
Top 5th, 2 out (1-0) Double play! Fourth double play for the Red Sox tonight. Headley hit the ball right to Bogaerts near the base, so he tagged second base and threw it along to first for two.
Top 5th, 0 out (1-0) Castro laces single to left. Lead off runner for Yankees as Castro is 2-2.
Bottom 4th, 3 out (1-0) Shaw goes after the first pitch, but pops it up in the infield. Tanaka out of the inning after a one out single. Tanaka is shutting down the best offense in baseball so far this season, as he has four scoreless innings with just two hits allowed and three strikeouts.
Bottom 4th, 2 out (1-0) Tanaka gets his third strikeout against a swinging Hanley. Ramirez shows frustration.
Bottom 4th, 1 out (1-0) Infield hit for David Ortiz. Heard that one before? Well now you have. He hits it to the left side of the infield, beating the shift. Headley did get to the ball, but Ortiz ran it out well before the throw got there. The "speedy" Ortiz on first. Keep in mind he does have a stolen base on the season (the second baseman was not covering). Second hit for Boston.
Bottom 4th, 1 out (1-0) Xander Bogaerts hits a solid line drive, but hits it to the deepest part of the park in center. Ellsbury catches it on the warning track, bringing up Ortiz.
Top 4th, 3 out (1-0) McCann with a ground ball right to the right side of the field into the shift. As Pedroia played the ball, he nearly collided with Shaw, who was right next to him. Nonetheless, Owens recorded another shutout inning, who is having a solid outing so far, but unfortunately for him, Tanaka has been just a little better. Heart of the order coming up in Bogaerts, Ortiz, Ramirez.
Top 4th, 2 out (1-0) Rodriguez with a pop up this time, as Bradley rushes in from center to record the out.
Top 4th, 1 out (1-0) Teixeira heads over to first base after a four pitch walk. Second walk for Owens, all coming on four pitches. Rodriguez steps in to the box with boos with a runner on first.
Top 4th, 1 out (1-0) Beltran grounds out to Shaw again, and delivers a good throw.
Three hits so far from New York by Rodriguez, Castro, and Gardner. Hanley with only Red Sox hit. Both pitchers pitching well, other than Owens' mistake to A-Rod.
Bottom 3rd, 3 out (1-0) Quick inning for Tanaka, as he gets Pedroia to lift a pop up to the catcher McCann, who handles it easily. Heart of the order coming up with Beltran, Teixeira, and Rodriguez due up.
Bottom 3rd, 2 out (1-0) Mookie Betts hits a sharp ground ball right to Teixeira, who runs it easily over to first base for the out.
Bottom 3rd, 1 out (1-0) Tanaka gets Bradley swinging. Second K for Tanaka. Top of the order coming up for the Red Sox.
Top 3rd, 3 out (1-0) STRIKE HIM OUT THROW HIM OUT!!! Owens gets Gardner swinging on a high fastball, then Hanigan throws out the speedy Ellsbury at second base attempting to steal. Second strikeout for Owens. Bradley Jr., Betts, Pedroia coming up for Boston.
Top 3rd, 1 out (1-0) Owens walks Ellsbury for the second time, this time working the count full. Speed on first once again.
Top 3rd, 1 out (1-0) Owens began the at bat with two pitches way out of the strike zone, but gets Gregorius to pop out to Pedroia on a 3-1 count.
Bottom 2nd, 3 out (1-0) Hanigan draws an eight pitch at bat, but is down swinging. Tanaka's first strikeout. Gregorius, Ellsbury, Gardner due up.
Bottom 2nd, 2 out (1-0) Holt hits a low pitch there, and hits a ground ball right to the second baseman Castro. Holt one for his last 14.
Bottom 2nd, 1 out (1-0) Strange hit ball there, as Shaw slices a soft liner to third that Headley had to go all the way to foul ground for.
Bottom 2nd, 0 out (1-0) Passed ball by McCann, and the Red Sox have a runner on second base with nobody out.
Bottom 2nd, 0 out (1-0) Hanley Ramirez is getting hot. He now has a five game hitting streak as he hits a Tanaka splitter right up the middle. First hit for Boston.
Top 2nd, 3 out (1-0) BROCK HOLT! Headley hit a fly ball right to him in left field and Castro tried tagging from third, but Holt delivered a terrific toss to get Castro at home by a couple steps. Red Sox get out of the error and inning with just one run. Ramirez, Shaw, Holt heading up.
Top 2nd, 1 out (1-0) Rare play there. Jackie Bradley Jr. has been fantastic at center field throughout his career, but Castro hit a sharp liner right to him that he should have played on one hop, but misplayed it, and the ball went all the way to the center field fence. Castro advances all the way to third on the play. However, Bradley was not credited with an error, so credit Castro with a triple.
Top 2nd, 1 out (1-0) Good curveball from Owens catches McCann looking for strike three. Great bounce back after the homer. First strikeout for the southpaw.
Top 2nd, 0 out (1-0) THERE IT GOES! Alex Rodriguez hits home run 691! Crushed that one, well over the Green Monster in left field. Missed location from Owens.
Bottom 1st, 3 out (0-0) Ortiz grounds to shortstop, with Headley fielding the ball due to the shift. The throw was low, but gold glove first baseman Teixeira had no problem digging it out. Tanaka gets out of the inning, and Ortiz has to be mad about the low strike call. A-Rod, McCann, Castro due up for Yanks.
Bottom 1st, 2 out (0-0) Ortiz called for a low strike on a 3-1 count, as he started walking to first base. He immediately looked back at the umpire.
Bottom 1st, 2 out (0-0) Bad hop there, but Bogaerts will take it. He hits a dribbler to the third baseman Headley, who let the bad hop hit off his glove, heading to the outfield. Error on Headley, Ortiz coming up.
Bottom 1st, 2 out (0-0) Terrific play by the pitcher Tanaka! Pedroia laces a grounder right up the middle, but Tanaka recovers quickly and fields the grounder awkwardly, recording the out. Two outs on four pitches.
Bottom 1st, 1 out (0-0) Betts grounds out to shortstop Gregorius, who makes a nice play to record the out at first.
Top 1st, 3 out (0-0) Henry Owens gets out of it. Teixeira flies out to left fielder Brock Holt, who makes the catch to retire the side. Betts, Pedroia, Bogaerts coming up for Boston. Yankees strand two early runners.
Top 1st, 2 out (0-0) Double play! Beltran pulls a ground ball right to Travis Shaw, who throws to Pedroia who would turn the double play. Ellsbury advances to third on the play.
Top 1st, 0 out (0-0) Brett Gardner lays down a perfect bunt, and reaches first base without a throw from Pedroia with Gardner's speed. In steps Beltran with two fast runners on. Rough start for Owens.
Top 1st, 0 out (0-0) Terrible start for Henry Owens. He walks Ellsbury on four pitches, immediately putting speed on first base.
Top 1st, 0 out (0-0) Play ball! Jacoby Ellsbury stands in and nearly gets hit. Fenway fans cheer, as the pitch almost hit the former Red Sox centerfielder.
Just under 30 minutes until first pitch! Looks to be a cold night at Fenway, as the temperature now is just 48°F.
Yankees lineup: Ellsbury CF, Gardner LF, Beltran RF, Teixeira 1B, Rodriguez DH, McCann C, Castro 2B, Headley 3B, Gregorius SS, Tanaka RHP. No surprises.
Red Sox lineup: Betts RF, Pedroia 2B, Bogaerts SS, Ortiz DH, Ramirez 1B, Shaw 3B, Holt LF, Hanigan C, Bradley Jr. CF, Owens LHP. No surprises other than Hanigan starting over Christian Vazquez at catcher.
The Red Sox and Yankees, as everybody knows, have had a big rivalry for quite some time. While the Yankees have 27 rings, the Red Sox were held without a World Series from 1918 to 2004 due to the "Curse of the Bambino" (referencing the Red Sox selling Babe Ruth to the Yankees), until the Red Sox won the championship that season in a very dramatic way. In the ALCS, the Red Sox came back against the Yankees down 3-0, and remain the only team in the MLB to do that. From the 2004 ALCS, Aaron Boone's crushing home run in the 2003 ALCS, the curse, their historically long games, and multiple bench-clearing brawls along the way, many believe this rivalry is the best in sports. While the rivalry especially picked up steam in the early 2000's, the rivalry has died off a bit, but there is no doubt it will pick up again some time soon. Boston has incredible young talent, while New York has grown some young talent of their own, they always have the money to pick up the top free agent in the offseason. Tonight is the first game of 2016, and the Yankees lead the all time series 1,175-986. It'll be fun to see where the rivalry heads this season, and it all begins tonight.
New York, on the other hand, has a very aging offense. They have not been very successful so far this season, as they are 11th in the AL in batting average, 14th in runs, last in doubles, and 14th in slugging percentage. The Yankees may have not been looking for their offense to produce this season as much as Boston did, but their numbers so far are a bit disappointing. Starlin Castro has been the surprise leader so far of the Yankees offense, leading them in batting average (.289), second in home runs (3), first in RBIs (12), and first in doubles (4). While Boston has six players hitting above .265, New York only has one in Castro. Their next biggest contributor has been Carlos Beltran. Beltran is hitting .263 and leads the Yankees in home runs with four. Brian McCann, Alex Rodriguez, and Mark Teixeira each have three home runs, but all of their averages remain under .260. Rodriguez has had his worst start to his career with his average being just .190. Former Red Sox player Jacoby Ellsbury has also had a disappointing start, hitting just .241. Brett Gardner, a 2015 all-star, is hitting .254. New York needs to pick up their offense soon, and it would be a good time to get it going against their long time rival, the Boston Red Sox.
Switching over to offense, the Red Sox have had the best offense in the American League so far this season. Boston is first in the AL in batting average, runs, hits, doubles, triples, RBIs, stolen bases, OBP, and OPS, while they are also second in slugging percentage. It is truly remarkable that they lead all of those categories, and some of those are by a very large margin. What is interesting, however, is though they lead all of those team stats, they are dead last in the AL in home runs. The Red Sox were predicted to have a very good offense, but these numbers are well better than expected. Surprisingly, Dustin Pedroia has been the leader of the offense so far. The second baseman is hitting .337 with three home runs and 13 RBIs, including a monster game on Wednesday where he hit two home runs including a grand slam. Travis Shaw has also been sensational, hitting .312 with 15 RBIs. David Ortiz has also had a very successful final season so far, hitting .296 with three home runs and 16 RBIs. Mookie Betts leads the Sox in home runs with four, while he is also hitting .270. Hanley Ramirez and Xander Bogaerts have also hit very well, both hitting above .280. This entire lineup has been sensational thus far, and will look to keep it going against the Yankees' ace tonight.
New York has had a bit rougher start to their season. They sit at 8-12, while they are 3-5 on the road, and are currently in last place in the AL East. They just finished a three game series in Arlington against the Texas Rangers, where they only took the first game of the series. The Yankees are of course waiting for Aroldis Chapman to return from his 30 game suspension. They are 20 games into the season, so Chapman will be eligible to return May 9 against the defending champion Kansas City Royals. Once he is back, their bullpen could be the best in baseball, including three of the top in the game with Dellin Betances, Andrew Miller, and Chapman.
Boston just finished a four game series with the Atlanta Braves. The first two games were played at Turner Field in Atlanta, while the last two were played at Fenway Park. Boston took the first three of the series, but dropped the last game at home. The Red Sox now sit at 12-10, but are 7-3 on the road compared to 5-7 at Fenway.
New York will send Masahiro Tanaka to the mound. Tanaka was set to become the Yankees ace to begin the season, and he has pitched solid so far this year. The Japan native is 1-0 with a 2.92 ERA through four starts so far in his 2016 campaign. Tanaka is known for his nasty splitter, and will look to use it against a tough Red Sox lineup tonight.
The Red Sox will send second-year southpaw Henry Owens to the mound. Owens was believed to be a top prospect in the organization for some time, but has struggled the past two years reaching his potential. Before the 2015 season, Owens was ranked the #19 prospect in all of baseball, according to MLB.com. Owens drew some comparisons to former Red Sox ace, Jon Lester. He began the season in AAA, and was called up before Sunday's game against the Houston Astros. There is certainly still time left for Owens, as he is still just 23. In his first game against the Astros, Owens got roughed up, lasting just 3 1/3 innings giving up three runs and five hits. The California based southpaw is known to rely on strikeouts, and will look to do more of the same against a tough Yankees lineup.
Welcome to VAVEL MLB's LIVE coverage of the 2016 MLB Regular Season game between the New York Yankees and Boston Red Sox. I'm Oliver Gold, and I'll be providing minute-to-minute updates, commentary, and results of the game. The game starts at 7:10 pm ET, and there will be coverage pregame, mid-game, and postgame.