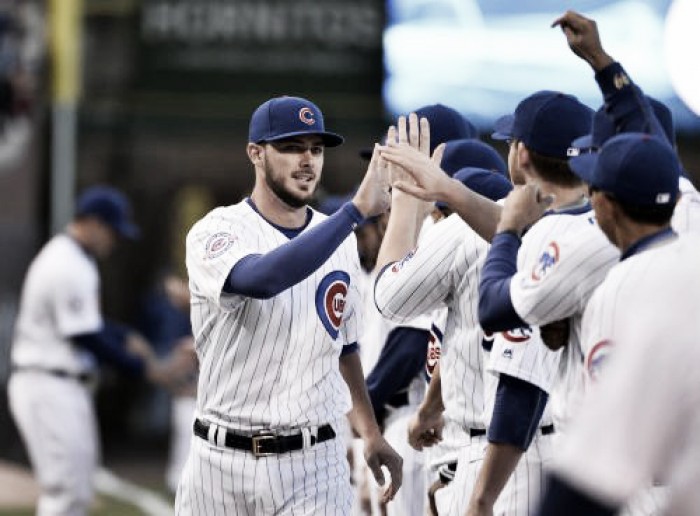 Just a few days after Chicago Cubs catcher Miguel Montero gets sent to the DL, Cubs all-star third baseman Kris Bryant ends up spraining his ankle. This will be a big blow to the Cubs as Bryant is one of the most exciting young players in the entire game.
How the injury occurred
The 24-year old injured himself in Thursdays series finale against the Milwaukee Brewers, as Bryant rounded second base he appeared to have twisted his ankle, an MRI later on after the game would indeed show that the 2015 NL Rookie of the Year did in fact sprain his ankle. Reports say that the sprain is mild and that he most likely will not be placed on the DL.
Maddon said of his injury that, ""didn't see any hitch in his giddy-up. I just saw a very good turn."
Options for Maddon
With there being no time table as to when Bryant will return this leaves options open for Cubs manager Joe Maddon, more playing time will be dished out to a few more players such as Tommy La Stella, Matt Szczur, Javier Baez and Jorge Soler.
Due to Bryant's injury the Cubs will send out Javier Baez to fill the void left by Bryant at third base and Jorge Soler will occupy left field in Friday's series opener against the Atlanta Braves.
The Cubs slugger might miss the entire three game home stand against Major League Baseball's worst team the Atlanta Braves; as of right now however that's pure speculation. The series against Atlanta begins on Friday and wraps up on Sunday before Chicago heads to Pittsburgh for a three game road trip at PNC Park.
This season so far
So far this season Bryant has a .289 batting average as well as a .372 on base percentage (OPS), four home runs and 15 RBI's through 21 games played.