 Entering the season, the Boston Red Sox offense had a lot of pressure to produce. After back-to-back last place seasons, the Red Sox were in desperate need for their offense to be one of the best in the league once again, just as they were in their championship season in 2013.
This year, the Red Sox have had a spectacular offense, and that continued once again on Monday night. The Red Sox defeated the Oakland Athletics on Monday by a final score of 14-7. Boston improves to 19-13 while the Athletics fall to 14-19.
Although tonight was not his best start, Clay Buchholz got the win for Boston. Sonny Gray struggled once again and picked up his fourth loss of the season while his ERA fell to 6.00. The struggles come after Gray's dominant 2015, where he went 14-7 with a 2.73 ERA.
Oakland jumps out to early lead
In the beginning of the game, it was Oakland who jumped out to the early lead. All season long, Buchholz has done poorly in the opening inning, including his last start where he gave up a first inning two-run home run to Jose Abreu.
The early struggles would hurt the right-hander once again tonight. Coco Crisp began the night with a walk, then was followed by Jed Lowrie, who would hit a single to bring the ex-Red Sox center fielder to third base. Josh Reddick would bring Crisp home on an RBI groundout, but would get out of the inning without any further damage.
In the second, the offense would continue to produce for Oakland. Following Danny Valencia's leadoff single, Yonder Alonso would follow with a double, advancing Valencia to third base. Josh Phegley then produced an RBI groundout. Alonso would eventually come around to score on a Coco Crisp RBI single.
In the bottom of the inning, Boston would score their first run of the night as Travis Shaw would score on a wild pitch following his leadoff double. However, Oakland would answer right back. Khris Davis connected with a one-out home run, a shot that gave the Athletics a 4-1 lead at the time.
Buchholz would not allow a run the next two innings, and would depart after five innings yielding six hits, four runs, two walks, and struck out two.
Red Sox offense turns in on during middle innings
However, from that point on, it was all Red Sox ever since. The Red Sox scored a remarkable 12 runs during the fourth through sixth innings.
This output all got started in the fourth, where Shaw would follow a David Ortiz double and Hanley Ramirez single with a double, plating Ortiz. Jackie Bradley Jr. would come up with one out, and stay hot. He drove both Ramirez and Shaw home while extending his hitting streak to 15 games.
The inning would still not yet be over as Boston tacked on three more runs during the fourth, good for six during the inning. With two outs and Bradley on second, Mookie Betts would crawl out of his recent slump with a double, scoring Bradley. Dustin Pedroia would follow with a single, bringing home the speedy Betts.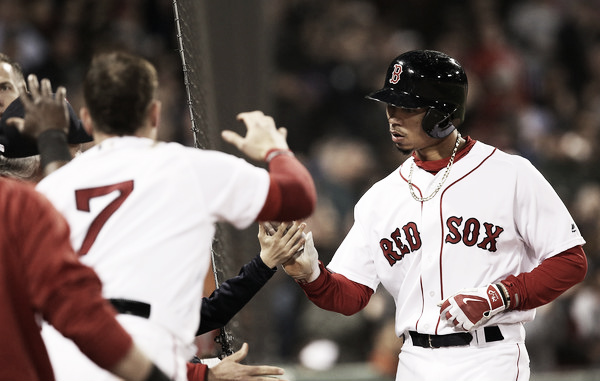 Gray departed after walking Xander Bogaerts and finished just 3.1 innings allowing eight hits, seven runs, two walks, and only struck out two. Gray has been a huge disappointment this season, as the former Vanderbilt pitcher was poised to break out as one of the best pitchers in the league this season. Although Gray was finished, the Red Sox offense was not. Ortiz would also produce again as he would bring home Pedroia with his second double of the inning.
In the fifth inning, Boston would pick up right where they left off against Fernando Rodriguez, as Brock Holt took the righty deep. It was Holt's third home run of the season, and already has more home runs than he did during his 2015 all-star season, where he hit two.
The sixth inning came, and that was the inning where the Red Sox really broke it open. Bogaerts, Ramirez, and Holt would all reach base, bringing up the red-hot Bradley. Although the 26-year-old is not known for his power, he had just enough of it to take a John Axford pitch over the right field fence for his first career grand slam. Bradley's average raised to .303, and his six RBIs were one short of his seven that set a career high in 2015. Oakland would score a pair of runs in the ninth and a run in the seventh, but Boston hung on to grab the opening game of their home stand.
Up Next
The two teams play again on Tuesday night, as Sean O'Sullivan will make a spot start against Sean Manaea.