Not everyone is granted a happy ending.
More often that not, they usually don't happen. For Matt Bush, he's hoping for a happy ending to cap off what has been a 12-year road filled with turmoil, pain, and doubt.
At 30-years-old and a former number one overall draft pick, Matt Bush had to wait 12 years before making his Major League debut. Bush has pitched in 3.2 innings since being called up on May 13 and with a top tier fastball and a slider rivaling that of New York Mets' star Noah Syndergaard, Bush appears to hold the future in his own hands.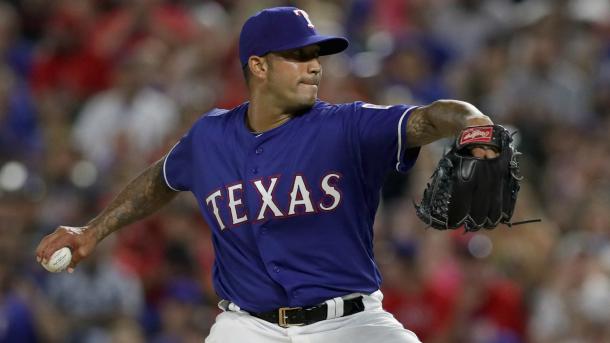 But it wasn't that long ago that Bush was a name associated with several "what if?" athletes such as Vince Young, Brian Bosworth and Greg Oden.
It's a story that Bush isn't proud of. But it's a story that is necessary to understand just how fast everything can turn bad.
No such thing as a sure thing
Bush wasn't always a fireballer. He could pop the glove from time to time, averaging 94 miles per hour with his fastball at Mission Bay High School in San Diego, California. He was a shortstop and defense was his foremost priority, but that didn't mean he couldn't hit. His senior year, he owned a .450 average with 11 homers and 35 runs batted in, but it was his defense and arm strength that made Major League scouts mouths water.
By many, the 18-year-old was considered one of the most complete five-tool players to ever come out of high school. And with the first pick in the 2004 draft, the San Diego Padres drafted the hometown kid who grew up just 10 miles from PETCO Park. He became the first shortstop drafted first overall since the Seattle Mariners selected Alex Rodriguez in the 1993 MLB draft, going ahead of future All-Stars Justin Verlander, Jered Weaver, Billy Butler and Huston Street.
"I'm sitting in English class, and I told the teacher, 'Watch, check out the Internet, I'm about to be the first overall draft pick,'" Bush said. "And then, bam, it happened that way just like that. The next thing you know, the news is coming to my school, and a few days later I'm coming to class, and my head coach says, 'What're you doing here? You don't need to be here.'"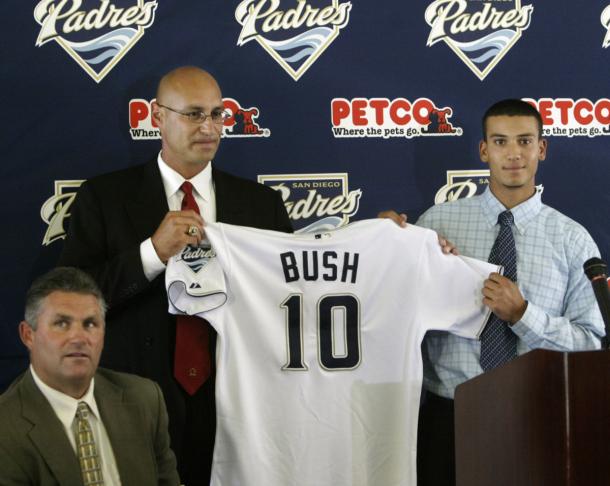 But with all the talent and all the optimism shared by the Padres' front office and fans, Bush would never see the show in a San Diego uniform.
He hit .192 in just under 100 at-bats in rookie ball and started his professional career with a suspension. Bush was charged with one felony and three misdemeanor charges after an altercation outside a nightclub near the Padres' training base in Peoria, Arizona, on June 20, 2004.
The first of what would be several off the field issues that would only diminish the value of the up-and-coming star.
"You know, I'd have days where I'd go to the field and I'd have every intention of going back to my house, having a good meal, resting, being a professional and the next thing you know I'm stopping off and buying drinks and drinking without the intention of ever wanting to do it," Bush said. "I ended up drinking more and more after telling myself, 'I'm just going to have one or two drinks.' The next thing you know, I'm all the way drunk and I can't even remember how many I had. And that's when I knew, yeah, I am definitely. This isn't just a problem. I'm an alcoholic."
Bush continued to struggle and failed to provide any consistency while in the minors. In 2005, he hit .221 in over 400 at bats at the Single-A level and was dealt a tough hand after breaking his ankle during spring training of 2006, requiring him to miss over half the season.
In 2007, the low results continued, forcing the Padres to convert Bush back into a pitcher, something he had not done regularly since his days at Mission Bay. At 98 miles per hour, Bush's fastball looked similar to his high school days and after a couple of strong outings to start the season, things finally began to look up.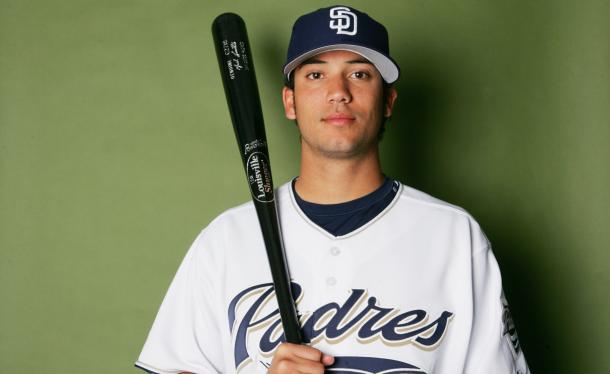 Another injury would end those promising hopes. A torn ligament in his pitching elbow forced Bush to miss the rest of the season and ultimately led to Tommy John surgery.
More Legal Troubles
Growing up a Padre fan, it's not a stretch to say Matt Bush wanted to stay in San Diego. And as the number one pick, it's even more likely that he expected to get his shot within a year or two of playing in the minors.
On February 10, 2009, Bush was traded to the Toronto Blue Jays in part for his performance, but even more so for his trouble with the law.
Caught on video camera, Bush was recorded at a high school in San Diego physically assaulting a high school lacrosse athlete with a golf club. The witness said that while beating up the young man, Bush repeatedly yelled, "I'm Matt f****** Bush!". The incident ultimately led to his trade to Toronto in which he was forced to sign a "zero tolerance" agreement.
The agreement was broken less than a month later when assault and battery charges against Bush surfaced from a woman at a party in Florida. Bush was released from Toronto in what appeared to be another wasted opportunity.
The Tampa Bay Rays took a chance on the 24-year-old in 2010. He pitched in relief for one injury-plagued season for their Class-A team and was even added to the Rays' 40-man roster. Bush reached their Double-A team with the Montgomery Biscuits of the Southern League, appearing as a key reliever and time-to-time closer, and was even promoted to Triple-A at the end of the 2010-2011 campaign.
But in what continues to be a two-steps-forward-one-step-back journey, legal issues prohibited Bush from seeing his number called.
On March 22, 2012, Matt Bush's life changed forever.
Bush was arrested and charged with two counts of DUI with property damage, one count of DUI with serious bodily injury, one count of leaving the scene of an accident with an injury, one count of driving with a suspended license, and two counts of leaving the scene of an accident with damage to property. While driving, Bush hit a 72-year-old motorcyclist and ran over the elderly man's head while fleeing from the scene. The victim, Tony Tufano, survived the ordeal thanks to his helmet, according to witnesses, saving Bush from a manslaughter charge.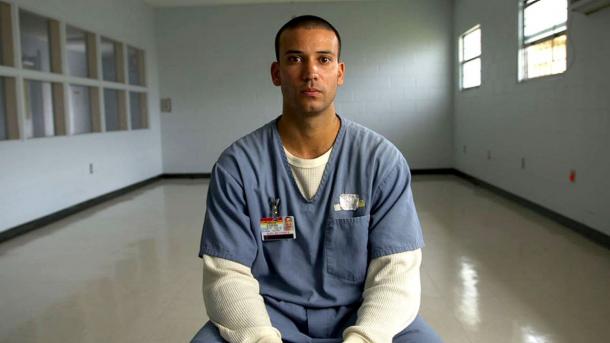 "I was speeding, passing cars, driving recklessly, and then I remember hitting the bike Mr. Tufano was driving. I can remember slightly nudging his back tire, which caused his bike to go out of control and I remember seeing him fly off the bike and I believe the bike shot under the car," Bush said. "It didn't seem real. But it was, and I realized that at that point, my life was over. You're done, you're over with."
Bush was arrested just three miles from the incident and was found after getting kicked out of a strip club with a blood alcohol content of .18, more than double the legal limit in Florida.
Bush reached a deal with prosecutors on December 18, 2012 that resulted in a sentence of 51-months in jail. Bush had gone from desired draft pick, to minor league dweller, to convict, all before his 27th birthday.
Redemption and a 100-mile per hour fastball
On October 30, 2015, a day before Halloween, Bush was released from a prison in Jasper, Florida and like a kid changing into his or her favorite costume, Bush traded in his DC #C07392 uniform number for civilian clothing.
Less than two months later, the Texas Rangers, who have had their own experiences dealing with players with checkered pasts, decided to give the infamous Bush a shot. Bush took a job at a local Golden Corral while living at a halfway house upon release. It was in that parking lot, dressed in sweats, sneakers and a GPS ankle tracking monitor while still throwing over 95 miles per hour, that a Rangers' employee saw a glimmer of the former player that used to be Matt Bush.
"A highly unusual scouting process, to say the least," Jon Daniels, Rangers' general manager said.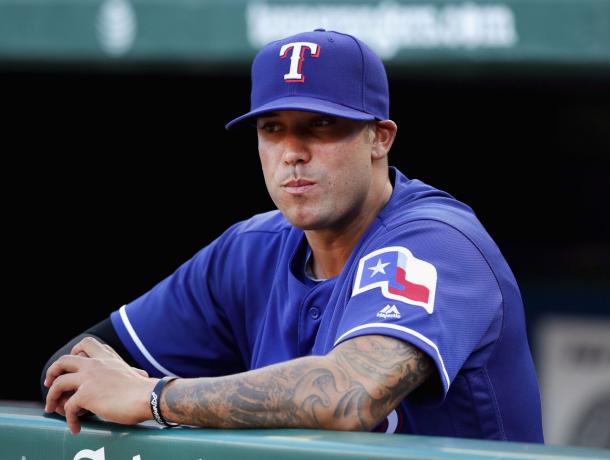 Bush has been solid for the Rangers through his first three games in the show. He's recorded a win through 3.2 innings and has struck out four batters, including two of four batters he faced in his last outing against the Oakland Athletics on May 17. What's even more impressive is he has yet to allow a hit.
In his debut, Bush had the daunting task of facing the heart of one of the toughest lineups in baseball. Against his former team, the Blue Jays, Bush struck out reigning American League Most Valuable Player Josh Donaldson and forced sluggers Jose Bautista and Edwin Encarnacion into popups for a perfect 1-2-3 inning.
Impressive to say the least.
But the biggest challenge facing Bush is himself.
As part of his deal with the Rangers, Bush is under another "zero tolerance" agreement, as well as remain under the supervision of his father, who lives with him and takes him to his 12-step meetings.
"Take baseball out of it, he's an alcoholic," Daniels said. "There's going to be that element to his life regardless of his occupation. He's continuing the process day to day. We have a support network here and he has one. Knock on wood, everything's been very good."
The road is long, but the alternative could mean something far worse than his ability to play the game he loves and adores.
"My past has been full of mistakes," Bush said. "I have to understand that I'm an alcoholic and that I can't be around that. I can't control myself when I am. But the past is also the past and the mistakes were made when I was younger. I feel like I'm more aware of my situation now."