It appears as if leaving the confines of Fenway Park has proven to be the instigator in slowing down a Boston Red Sox (24-16) offense that could not be contained just a few short days ago.
After being trounced, 8-4, by the Kansas City Royals (20-19) in the first game of a three-game set on Tuesday night, the Red Sox mustered just two runs, their lowest scoring total since May 7, in a 3-2 loss to the defending World Series winners on Wednesday afternoon in the first game of a day-night doubleheader.
Wasting a tremendous rebound start from knuckleballer Steven Wright (L, 3-4), who lasted eight innings on the mound while relinquishing just three runs on five hits, striking out six and walking just one, Boston mustered just two runs on five hits in 5.2 innings against Royals starter Ian Kennedy, who fanned nine batters while giving up just a single walk.
Kansas City garnered a porous five hits throughout the ballgame, but jumped on the board quite early against Wright, who struggled in the first inning of the ballgame.
Shortstop Alcides Escobar (2-for-4, run) led off the game with a single, and following a strikeout by center fielder Lorenzo Cain, first baseman Eric Hosmer (1-for-3, two RBI, run) lifted a towering shot 440 feet over the center field wall for his eighth home run of the season and second in as many days, putting Kansas City up 2-0.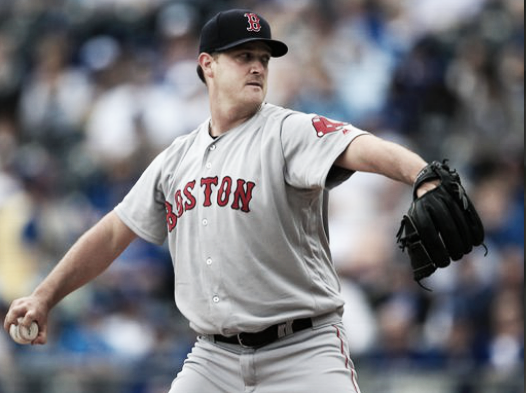 Wright calmed down quickly after his rocky first, facing just 12 batters over the ensuing four innings. However, Kennedy was dealing throughout his first turn through the Red Sox lineup, allowing just one hit through the first three innings while striking out the side in a perfect third inning.
Boston's bats finally showed glimpses of the torrid pace of last week's 6-1 home stand in the fourth inning, however, with second baseman Dustin Pedroia (1-for-3, run) leading off the inning with a double followed by a single by shortstop Xander Bogaerts (2-for-4).
Designated hitter David Ortiz (3-for-4, RBI) then proceeded to lace a Kennedy offering into right-center for an RBI single, his 34th RBI of the season, good for second-best in the MLB.
Consecutive strikeouts by first baseman Travis Shaw and third baseman Josh Rutledge combined with a groundout by center fielder Jackie Bradley Jr. (who extended his MLB-leading hitting streak to 23 games with a ninth-inning single) concluded the rally, however, keeping the Royals in the lead.
This advantage would not last long, though, as Red Sox left fielder Chris Young, filling in for the slumping Brock Holt, proceeded to lead off the fifth inning by jumping on a high fastball from Kennedy, depositing it 412 feet into the left field seats for his first home run of the season, tying the ballgame up at two runs apiece.
The score would remain tied until the bottom of the sixth inning, when Royals right fielder Jerome Dyson kicked off the stanza by ripping a triple to deep right, coming in to score on a Cain sacrifice fly with one down for the go-ahead tally.
Boston threatened in the top of the eighth inning against reliever Kelvin Herrera (H, 10), with Bogaerts and Ortiz chopping consecutive one-out singles.
However, Bogaerts was thrown out at third base on a bullet by Dyson attempting to scamper from first to third on the Ortiz single, ending the chance of a tying run.
Royals closer Wade Davis worked a scoreless ninth inning, sealing his ninth save of the season while allowing just a harmless single to Bradley Jr., sending Kansas City into the nightcap of the doubleheader with the momentum in their favor.