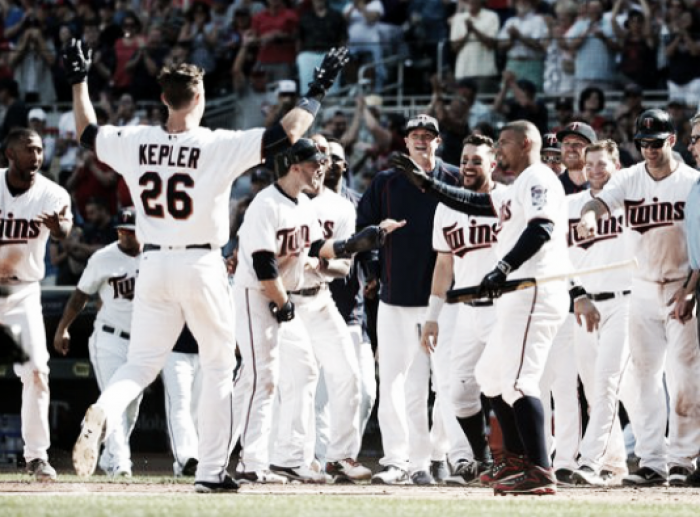 Minnesota Twins right fielder Max Kepler has not exactly had a breeze with opposing pitching in his first 48 at-bats of 2016, hitting a cool .208 with 17 strikeouts in 20 appearances this season.
However, the tumultuous memories of the 23-year-old's performance so far this season quickly faded in the 10th inning of the Twins 7-4 victory over the Boston Red Sox. On Sunday, the German native clocked his first career home run, a walk-off three-run big fly, to send his team joyously to the clubhouse having avoided a sweep at the hands of a team that had throttled them in the first two matchups of the series.
Twins walk-off with emphatic win in 10th inning
With Red Sox reliever Matt Barnes (L, 2-3) firing in the 10th, Minnesota first baseman Joe Mauer earned a leadoff walk before advancing to second on a sacrifice by designated hitter Trevor Plouffe and moved to third on a single by second baseman Brian Dozier.
Boston brought the infield in, which included sending right fielder Mookie Betts in from the outfield as well to cut down the game-winning run. However, their defensive alignment did not matter, as Kepler smoked an 0-2 fastball from Barnes 428 feet into right center to give his team the victory.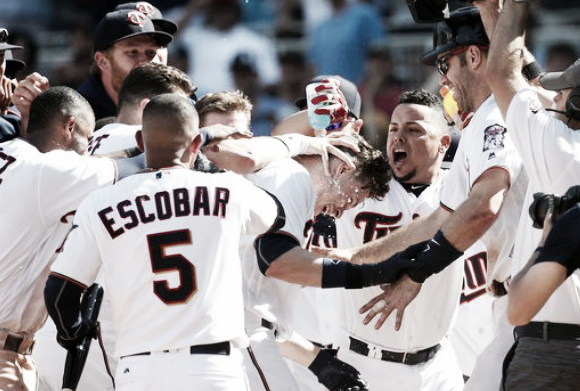 With the loss, the Red Sox (36-26) remained tied with the Baltimore Orioles for first place in the AL East while the Twins improved their underwhelming mark to 19-43, worst in the American League.
Pat Dean impresses, Red Sox defense does not
Minnesota left-hander Pat Dean was masterful in 6.1 innings of work against a juggernaut of an offense which had plated 23 runs in the first two games of the series, allowing just three hits and one run while striking out four and walking three, receiving the no-decision.
For Boston, starter Rick Porcello yielded just one earned run on five hits and a pair of walks in seven strong innings of work while striking out five.
However, he was plagued by a tandem of errors by usually-stout shortstop Xander Bogaerts, which increased his run count to four on the afternoon.
Despite his defensive struggle, Bogaerts was one of a pair of Red Sox to record two hits on the afternoon, going 2-for-5 with an RBI while surging left fielder Chris Young went 2-for-5 with a solo home run off of Dean in the fifth inning.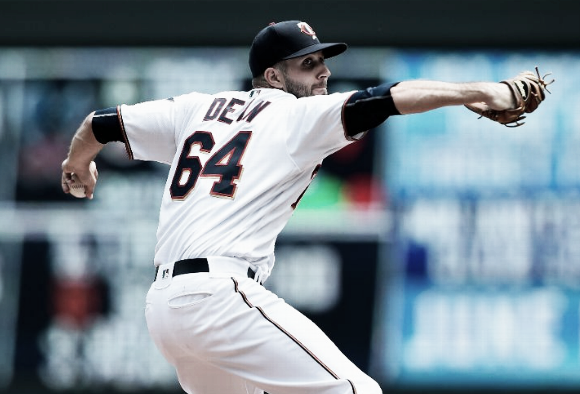 For Minnesota, Mauer went 1-for-4 with an RBI and two runs to increase his streak of reaching base to 24 consecutive games while shortstop Eduardo Escobar garnered two hits to accompany his RBI and a run.
Twins build early advantage against Rick Porcello
The Twins jumped on Porcello immediately out of the gate with third baseman Eduardo Nuñez reaching on a single and stealing second base to begin the game.
Nuñez then proceeded to take third on a groundout by left fielder Robbie Grossman before scoring on an RBI groundout by Mauer to give his team a 1-0 advantage.
Minnesota doubled their advantage one inning later, as Escobar recorded the first of his two hits on the day with a one-out single before moving to third on an error by Bogaerts on what should have been a fielder's choice hit into by catcher Juan Centeno.
Then, lightning-quick center fielder Byron Buxton managed to beat out a potential double-play ball to keep the inning alive, scoring Escobar for an RBI groundout.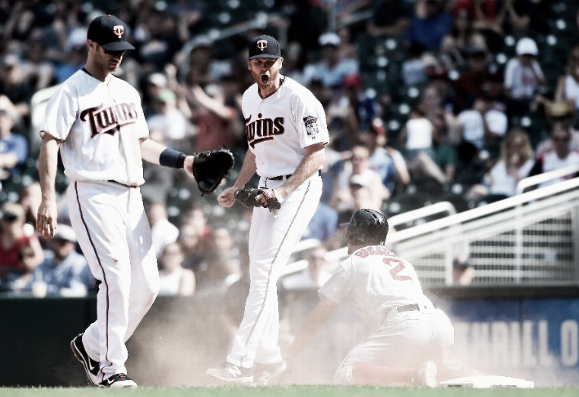 Young smacked his sixth home run of the season, a 398-foot shot to left field, with one down in the fifth inning to cut the Twins lead in half, however, more poor defense by Bogaerts cost Porcello once again in the bottom of the sixth inning.
After Grossman walked and Mauer singled to lead off the inning, Porcello retired consecutive batters on a pair of flyouts and appeared to be out of the inning when Kepler hit a grounder to Bogaerts with two down.
However, when Bogaerts' plan to flip to second base for the forceout was thwarted when Dustin Pedroia failed to reach the base in time, he short-armed the throw to first baseman Hanley Ramirez, the ball bouncing short of the bag and glancing off of Ramirez' glove to score Grossman.
Following the error, Escobar deposited a Porcello offering into right center for a two-out RBI single, bringing the Twins lead to 4-1.
Red Sox manage to erase deficit, but fall in finish
Unfortunately for the much-maligned Twins, the advantage would not remain intact. Facing reliever Brandon Kintzler in the top of the eighth, Boston pinch-hitter Marco Hernandez walked followed by consecutive singles by Betts and Pedroia to load the bases with none retired.
Bogaerts proceeded to slice a potential double-play ball to third, however, Nuñez overthrew Dozier at second base for his eighth error of the season, allowing both Hernandez and Betts to score while Pedroia advanced to third.
Reliever Fernando Abad forced Red Sox designated hitter David Ortiz to ground into a double play on the ensuing at-bat, however, Pedroia scored to knot the game at four apiece.
Ortiz had an opportunity to give Boston the advantage in the 10th inning as Bogaerts slid into first base headfirst for a two-out infield single before stealing second.
However, reliever Michael Tonkin (W, 2-2), fanned the Big Papi with a 96-mph outside fastball on a 2-2 count to keep the game tied heading into the deciding bottom of the stanza.