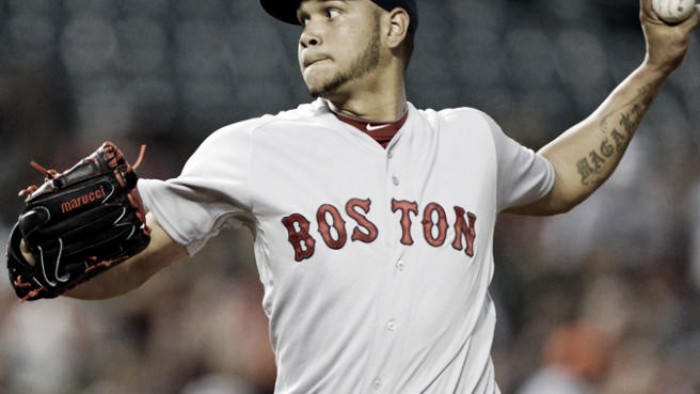 When lefty Eduardo Rodriguez came back from a prolonged stint on the disabled list, Boston Red Sox fans were eager for "E-Rod" to quickly reclaim the magic of last year's rookie season. They expected the southpaw to settle in as a numbe two in the rotation, creating a solid lefty-lefty punch at the top of their rotation in David Price and Rodriguez. Following a 6-inning, 2 run performance, those thoughts were enhanced. The thoughts of a rotation that could include Price, Rodriguez, a dazzling Steven Wright, and a consistent Rick Porcello was mouth-watering.
Then Rodriguez struggled for two games, and most people wrote him off. Some people called his 2015 run a fluke, others said the Red Sox brought him back too fast, and others simply said Rodriguez was not the answer.
Pretty harsh for two bad starts.
However, this is the same fan base that showered boos upon the Red Sox administration when Price struggled, accumulating a 7.06 ERA in his first four starts, a full point higher than Rodriguez's current mark. Rodriguez is in a tough place to make a turnaround on a disappoinint start to his 2016 campaign, but he certainly has the stuff to do it.
The Red Sox will hope he can regain some of his former magic by facing the Baltimore Orioles on Thursday, a team he has fared well against in the past. In four career starts against the Birds, Rodriguez has allowed two or less runs in three of them. With the exception of one outing in which he was rocked by Baltimore, Rodriguez has a 1.56 ERA against the Orioles. Needing a win to claim the series and the division lead, the Red Sox will hope Rodriguez, still working his way back from a knee injury that has evidently taken some of his power away on the mound, can do enough to keep them in the game so their prolific offense can do some damage.
The Pitching Matchup: E-Rod vs. Tyler Wilson
The pitching matchup on Thursday features a lot of talent that has thus far produced underwhelming results. Wilson, a tenth round pick out of Virginia, has flashed his potential, transitioning from a long reliever to starter for Baltimore this season. He has hovered around the par for his starts, producing decent, but not jaw-dropping, numbers. That can be good enough for a team like the Orioles, who have plenty of firepower to back up mediocre pitching.
However, recently, Wilson has been pretty terrible, with consecutive terrible starts. He has given up ten earned runs over 9 2/3 innings in that span. He hasn't produced a really above-average start since May 11, when he spun a seven inning, two run outing against the lowly Minnesota Twins. He has appeared in two games, one of them a start, against the Red Sox and has fared decently. His relief appearance was virtually blemish-free, a 3-inning scoreless outing in a 4-2 loss. He also went 6 2/3 innings of three-run ball against the Red Sox as recently as May 30, taking the loss on the day. It was another decent, but not great start for Tyler Wilson, as has been the story of his season.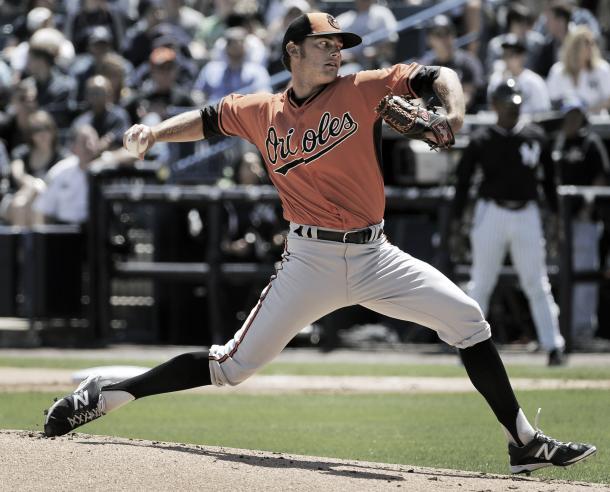 If Wilson continues with his average starts, and the Red Sox can chip away for 4-5 runs over six innings or so, Rodriguez need only produce a performance like his first of the year to give the Red Sox a good chance to win. To do this, Rodriguez will need to trust his slider, which he has used less than 5% of the time in his first three starts. He needs to avoid the long ball, which has plagued him in his past two outings. If he can keep his fastball down and away from the powerful Orioles, and mix in his effective changeup and slider, the Red Sox should be in good shape.
The Offense: Atale of two booming offenses
With the type of pitching on the mound, and the lethal offenses they are presented with, this game could potentially become a slugfest, if both starters pitch like they have in their recent starts. The Boston Red Sox are known for their relentless offense. From youngsters Mookie Betts, Xander Bogaerts, Jackie Bradley Jr., Travis Shaw, and Christian Vazquez, to their veterans in Dustin Pedroia, Chris Young, Hanley Ramirez, and the seemingly ageless David Ortiz, this lineup mashes up and down the lineup.
Bogaerts leads the league in hits, Ortiz leads the league in OPS and inhabits the leaderboard in many other categories. Bradley is a speedster who provides not only sparkling defense but also a power threat. Mookie Betts can turn on a fastball like nobody else, and is a threat to do everything. He can hit home runs, steal bases, and probably pitch if you asked him to. Vazquez is reliable behind the plate and has a penchant for getting timely hits. Ramirez and Shaw are both seemingly breaking out of slumps. Shaw hits well at Fenway, and Ramirez blasted a three-run shot in Wednesday's 6-4 win over Baltimore. Pedroia remains a steady and productive leader in the Red Sox clubhouse, doing his part offensively while providing a veteran leadership in a group of youngsters that are tearing the league up.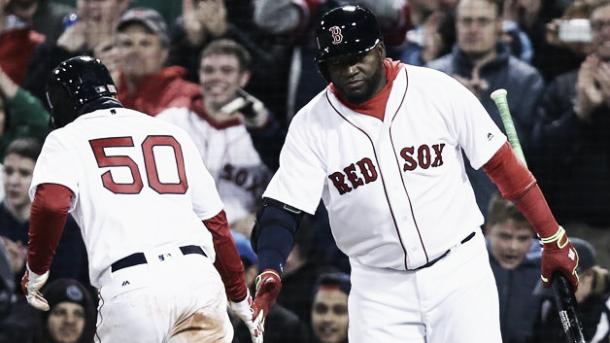 The Orioles can't necessarily match the depth of the Red Sox, but they can certainly mash with the best of them. With Chris Davis, Manny Machado, Adam Jones, Matt Witers, Jonathan Schoop, and MLB home-run leader Mark Trumbo, these Orioles are a threat to go deep up and down the lineup. They don't match the Sox in depth and hitting for average - the Red Sox have four hitters over .300 compared to Baltimore's two - but they have a consistent barrage of home-run threats. And in a hitter friendly park like Fenway, that can spell trouble, especially with the recent struggles of Rodriguez. Trumbo has 20 home runs on the season, and home runs by Machado, Schoop, and Jones have accounted for their five runs in the two games of this series. The Orioles will hope Rodriguez continues giving up the long ball, because that could lead them to victory. The Red Sox will hope Rodriguez keeps the ball down, giving their offense a chance to propel the team into the division lead.