 Atlanta Braves left fielder Matt Kemp has been placed on the 10-day disabled list after suffering a strain on his right hamstring.
The injury occurred on Friday during the Braves 5-4 loss to the Pittsburgh Pirates. Kemp made a diving catch in the outfield in the fifth inning and came up injured after singling in the sixth.
The 32-year-old has been one of the Braves' few sources of offense in the four games he played before the injury. Kemp had eight hits in 16 plate appearances and hit two home runs. Atlanta will miss his production after starting the season with a 1-6 record, getting swept by the Pirates and losing to the Miami Marlins over their past four games. Kemp is the only Braves player with multiple home runs this season, outside of first baseman Freddie Freeman, and leads the team with four RBIs.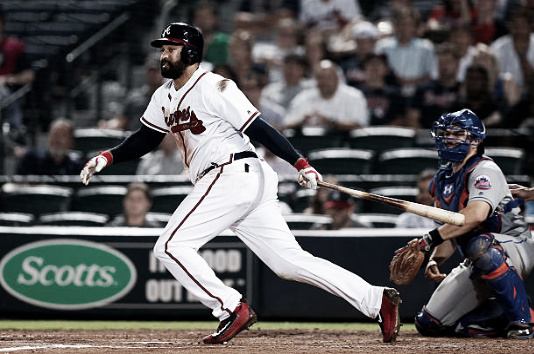 Roster Changes
The Braves played Jace Peterson in left field for two games in Pittsburgh after Kemp's injury and selected Emilio Bonifacio to start in the position for their Tuesday loss against Miami. It appears that Peterson is the likely candidate to fill left field for most of the games Kemp remains on the DL.
Infielder Johan Carmago was recalled from the Gwinnett Braves (Triple-A) on Tuesday to take Kemp's spot on the active roster.
Past Injury Issues
Kemp has faced injury problems in the past when he was with the Los Angeles Dodgers, straining his left hamstring in 2012 and his right one in 2013. The last three seasons, however, he has played in 150 games or more for the San Diego Padres and Atlanta.
Kemp's move to the disabled list was announced retroactive to April 8, making April 18 the earliest date for him to return to the active roster. After reportedly taking batting practice on Sunday, the team decided to place him on the DL out of precaution.