The addition of the second wild-card slot into the MLB playoffs can have the problematic effect of making everyone believe they are in contention. Teams that are several games below the .500 mark at the trade deadline become buyers because they are 'only' six or seven games back of the coveted second wild card spot.
It's made it difficult to rebuild because some teams sell off their rebuilding produce to chase the vague notion of a playoff spot. In 2017, the Detroit Tigers are one such team in that predicament. At 39-49, the Tigers have been well below .500 all season, and they show little signs of turning things around. Yet, miraculously, they are only 6.5 games back of the Yankees for the second wild card. The Tigers need to remain firm and realize that this is a good year to forfeit their shot at the playoffs and build stock for the future.
What they have
The Tigers have a host of veterans that could please contenders at the deadline in Ian Kinsler, Alex Avila, Victor Martinez, JD Martinez, Miguel Cabrera, and Justin Verlander. Whether they sell all of those pieces remains to be seen, but the Tigers could reap considerable profit from this year's deadline if they make the right moves.
The Tigers have a barrage of veterans that plenty of contenders would love to see in their lineup down the stretch. With second baseman Ian Kinsler and catcher Alex Avila slated to be free agents next year, as well as outfielder JD Martinez, Detroit finds themselves in a perfect situation. Rather than risk their future on the hope that their veterans suddenly start finding ways to win games, they can sell off those veterans and build themselves back up to compete with the new American League powerhouses like the Houston Astros, the Boston Red Sox, the New York Yankees, and the Cleveland Indians. Here are the four moves that they will make at the deadline to build towards that future.
The Trades
Trade 1 - Trade Victor Martinez to the Royals for C Meibry Viloria and SS Nicky Lopez
Victor Martinez has underperformed this season, compared to his usual success, but he has a long and successful track record that includes a sensational postseason career. With the Royals on the fringe of a postseason berth and just a few games out of the division lead, Martinez is a perfect fit. The Royals have struggled to get production from their corner outfielders and their designated hitter, so Martinez could fix one of those problems right here.
Meanwhile, the Tigers address a few needs with their return from the Royals. The upper echelons of Detroit's farm system is loaded with pitchers and outfielders. With Avila likely on the move, the Tigers acquire another backstop for the future in Viloria, the Royals' #13 prospect. They also grab a shortstop whom they can groom to replace Jose Iglesias if they decide not to extend the flashy infielder.
Viloria flashes more potential than Lopez, but Lopez has put up better numbers than the catcher thus far, hitting .299 this season, including .317 since his promotion to Double-A. Viloria was batting to the tune of a .244 average, but he boasts a plethora of average to above-average tools, and his defense has shown great improvement.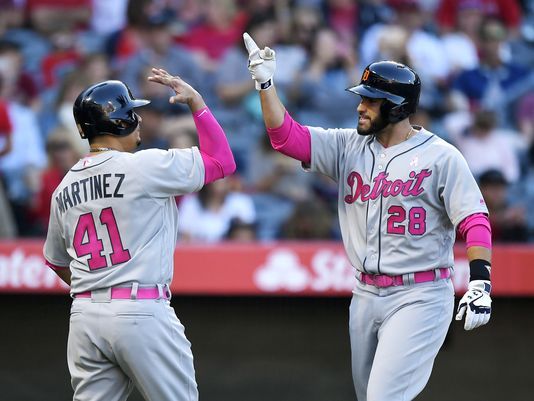 Trade 2 - Trade Alex Avila & JD Martinez to Twins for 1B Lewin Diaz, 3B Jose Miranda, 2B Luis Arraez
In reality, this trade won't likely happen. The Twins will be among the group of 'careful buyers' that should include the Yankees and Brewers at the deadline. Ahead of schedule in their rebuild, the Twins will be careful not to sell away their future, but if they can acquire a few pieces to challenge the Indians for the division title, they will try to do so at a minimal cost. In this hypothetical trade, the Twins give up three Top-30 prospects, but in exchange, they get an outfielder in JD Martinez who is hitting close to .300 this season, and Avila, one of the game's most dependable catchers for years.
He and Martinez both boast .298 batting averages, while combining for 25 home runs. Avila also has a .420 on-base percentage. He would be a significant upgrade at catcher for the Twins, where Jason Castro squats behind the plate, hitting just .219 with a measly .311 batting average. Backup Chris Gimenez has been no better with a .202 mark, while the pair has combined for eleven home runs, equaling Avila's total for the year. Defensively, Avila provides a small upgrade, having caught 10 of 30 runners stealing, compared to Minnesota's combined tandem of 17/61.
Martinez also fits one of Minnesota's needs. Entering the season, the idea was to give center fielder Byron Buxton a year to adjust to major league pitching as a regular starter, before the Twins actually were contenders. Now, with the Twins in the thick of the playoff chase, they cannot afford Buxton's lackluster .218 batting average. While sitting him in favor of Martinez would mean Max Kepler or Eddie Rosario would have to play center, JD Martinez could be the difference maker for this offense, making them a formidable lineup of hitters one through nine.
Rosario and Kepler have each played a dozen or so games in center, so the territory isn't foreign to them. And, with the Twins having already addressed their pitching issues courtesy of the Phillies earlier in this series of trade deadline previews, this patches up the holes in their offense they desperately need to fix.
Meanwhile, the Tigers continue to shore up their infield in the farm system, picking up three young prospects who could reach Detroit by 2019 or 2020. Diaz is the prize of the trio, but all three have intriguing potential. Diaz has plus power and has hit .274 this year. Arraez is injured right now, but he mashed his way to a .385 average in the early going before his injury. He's subpar defensively, but he could simply rake his way to the big leagues.
Having hit .303 with four home runs in just seventeen games thus far this season, Miranda rounds out a promising trio of prospects that Detroit snags in this trade. It does not wreck Minnesota's future, but it is an excellent trade on both sides.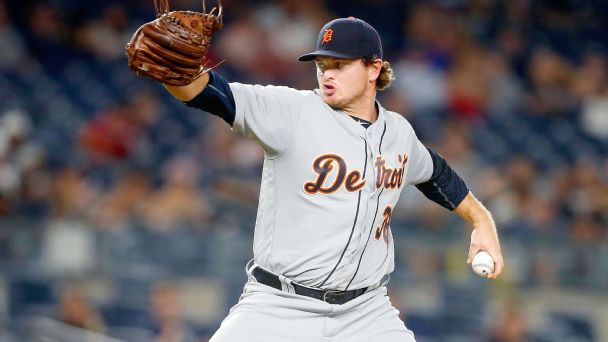 Trade 3 - Trade Justin Wilson to Yankees for 2B Nick Solak & LHP Ian Clarkin
The Yankees have two main concerns at the deadline and that is a top-of-the-rotation starter and a bullpen arm. With the recent struggles of Aroldis Chapman and the inconsistency of Dellin Betances, the Yankees could use a shutdown arm in relief.
Wilson, under control through 2018, provides the Yankees with this arm, while they give the Tigers a second baseman plus a southpaw, always a valuable commodity in any farm system.
Solak and Clarkin are both currently in Advanced Single-A putting up strong numbers; Solak is hitting .305 while Clarkin has cruised to a 2.62 through 12 starts and 65 ⅓ innings. Neither of them was considered ta top prospect initially, ranked #17 and #18 in the Yankees' system at the beginning of the season, but their strong seasons have improved their stock exponentially, and they address some needs in the Detroit farm system.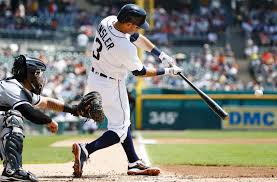 Trade 4 - Trade Ian Kinsler to Rays for RHP Drew Smith and OF/1B Joe McCarthy
Detroit swings veteran second baseman Ian Kinsler for a right-handed pitcher and a strong bat that can play corner outfield or first base. Kinsler has hit just .240 this season, but he provides a veteran second baseman to the Rays, who are quite weak at the position with Brad Miller hitting just over the Mendoza Line at .204. Injured backup Daniel Robertson provides little relief when healthy, rapping out just a .224 average. Neither player has much power, so they provide very little to the Rays' offense.
The Rays could very well be a postseason team, but a trade for Kinsler, a career .291 hitter in the postseason, would help significantly. Meanwhile, the Rays surrender Drew Smith, a low-level reliever who has put up excellent numbers (1.79 ERA this season) and McCarthy a strong bat out of the University of Virginia. McCarthy has hit .293 while drawing 55 walks for a .406 on-base percentage. Neither player figures to be ready until 2019 or 2020, giving the Tigers more time to work on their rebuild.
It may be a tough pill for Detroit to take. A perennial contender, they may have to finally succumb and sell off those pieces. But, if they make the right moves, they could find that rebuild being much shorter than it might be.