 The New York Mets rallied to take the opening game of their three-game series against the Philadelphia Phillies with a 3-1 victory. After being shut down by Philadelphia ace Jake Arrieta for 7.1 innings, Mesoraco and Conforto connected for home runs in the ninth inning to lift New York (19-17) to just their second win in ten games.
Mets lefty Steven Matz nearly matched Arrieta pitch for pitch, going five superb innings, allowing just a solo home run by Odubel Herrera. The bullpen combination of Seth Lugo, Paul Sewald, A.J. Ramos and Jeurys Familia held the Phillies (22-16) scoreless the remaining four innings.
Brilliant Arrieta shuts Mets down for first seven plus innings
Arrieta was masterful, limiting New York to five hits and two walks over 7 ¹/₃ shutout innings. The veteran right-hander did not allow a runner to reach third base and was barely challenged.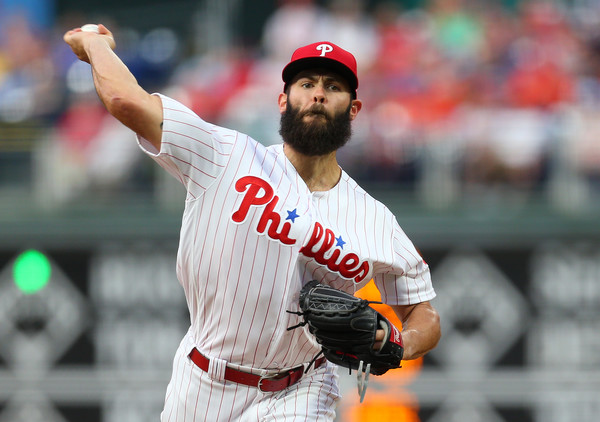 Conforto somewhat disagreed: "I actually felt like we put a lot of good quality at-bats together today, hit some balls hard, they just weren't hitting the grass. That being said, Jake threw great. We had to grind this one out."
The one rally New York had off of the former Cy Young Award winner was snuffed out by bad baserunning. Jose Reyes was picked off first base by Arrieta for the final out after delivering a two-out single. Conforto walked leading off the inning, but was erased when Mesoraco hit into a double play.
Matz impressive in five innings of work
Matz gave New York a chance by allowing one run on five hits and four walks, with a hit batter, over five innings. The lefty was removed at 95 pitches, after leaving the bases loaded in the fifth without a run scoring.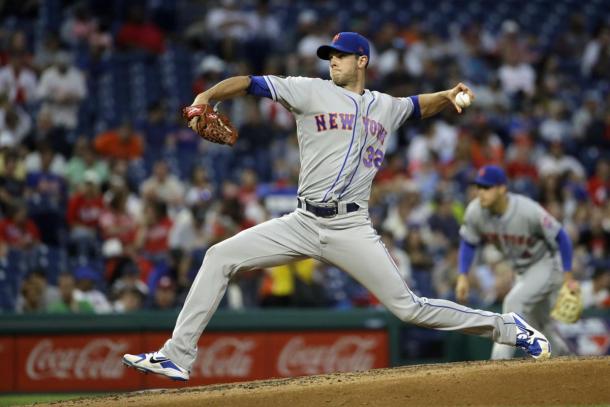 "The biggest thing was make a pitch when it mattered," he said after the game. "That's really what was the difference. My fastball command really wasnt't there today and it just caught up to me in that fifth inning, but I was able to get out of it."
Herrera's solo homer with two outs in the first accounted for the Phillies' only run of the night. That fifth inning was the turning point in the game. Matz walked two batters — including Arrieta — and plunked Rhys Hoskins to load the bases. He retired Carlos Santana for the final out, keeping New York in the game.
Conforto, Mesoraco tag Phillies' bullpen for homers to lift Mets to win
The Mets trailed 1-0 and appeared headed to the .500 mark for the first time this season, but Wilmer Flores hit a one-out single against Philadelphia reliever Hector Neris in the top of the ninth. Conforto launched an 0-1 pitch from Neris toward the right-field corner that hooked foul, just missing a go-ahead homer.
"It's like getting punched in the stomach a little bit. But you are still in the at-bat, you've just got to keep doing what you can to help the team. Take a deep breath, see the next pitch and try to do something positive with it."
Two pitches later, the outfielder launched into the right-field mezzanine at Citizens Bank Park. Mesoraco hit the next pitch for his first homer since joining the Mets earlier in the week week from the Cincinnati Reds to provide New York with an insurance run.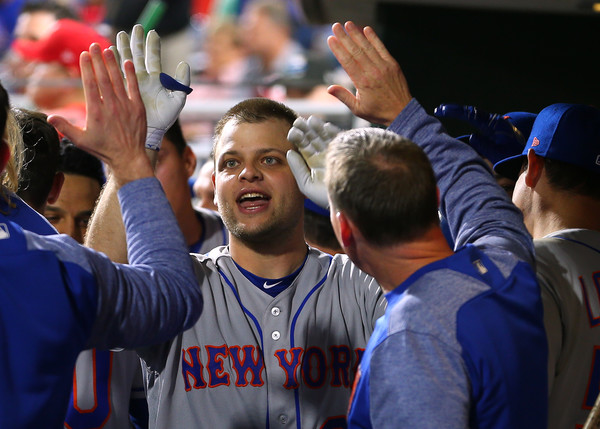 "We have a long way to go — it's one game, one inning of one game, but our pitchers did a great job and Conforto was swinging great all day," said Mets manager Mickey Callaway.
"We haven't had that jubilation feeling in a long time".
Up next
Noah Syndergaard (2-1, 3.09 ERA) takes the mound for the Mets on Saturday right. Zach Eflin (1-0, 0.71 ERA) will start for the Phillies. First pitch is scheduled for 7:05ET.