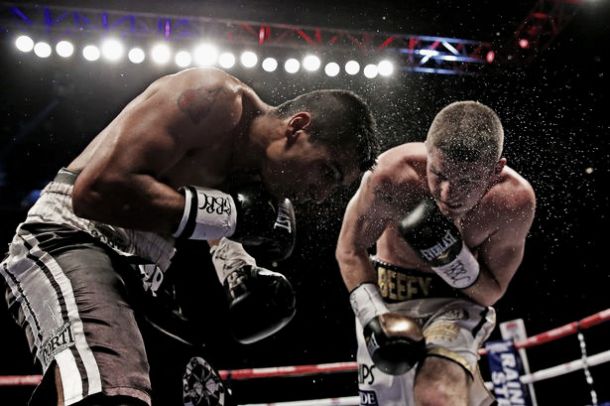 Liam 'Beefy' Smith (20-0) has added the WBO Intercontinental Light-Middleweight title to his name Saturday night at the Echo Arena in Liverpool, England.
The Liverpool native knocked down WBO Latino Welterweight champion David Ezequiel Romero four times before the in ring referee called off the fight in the seventh round, deeming the Argentine Romero unfit to continue.
Smith started the fight on the front foot with a whole arsenal of different punches. Romero did his best to push back his opponent, and it looked like it'd be close; some big uppercuts from Smith in the second round put the momentum in his corner.
Romero struggled to get back into the fight after Smith landed a big body blow to knock the Argentine to the canvas.
The 22-year-old was clearly shaken up as he struggled to get up. More body blows landed from Smith put him in total control.
A spearing left uppercut to the jaw put Romero down again in the fifth round.
Smith, 26, was putting on a clinical for his hometown crowd as he knocked down his opponent for a third time and for the second in the round.
Romero fought through the pain, but some aggressive body blows and uppercuts from Smith were too much to handle as he was knocked down for a fourth time in the sixth round.
Another powerful uppercut to Romero's jaw, dazing the fighter, was enough for the ref to call it off and give Smith with the win.
Although it wasn't an impressive fight from Romero, it was impressive how he continued to fight back and Smith took notice.
"I give him all the credit in the world. He just kept on getting up," Smith said of his opponent after his win.