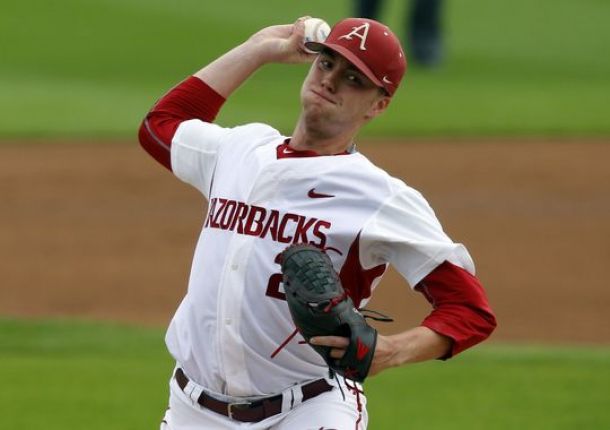 NCAA baseball has just as good of a tournament as their basketball but right now it just doesn't get as much attention. Regionals began on Friday, March 29 and there are 32 games on that day and then the games continue as teams begin to be eliminated on Saturday and over the rest of the weekend until only 16 teams remain.
Right now everyone is fighting for their lives in the double elimination Regionals. One of the first games was between the Oral Roberts Golden Eagles and the Arkansas Razorbacks, with both teams traveling a short distance to Stillwater, Oklahoma.
Catcher Matt Whatley got things going quickly for the Golden Eagles. He started with a single up the middle and then stole second base. Second baseman Matt Brandy would also get a single in the inning to advance Whatley. Whatley would then score when the Designated Hitter, Anthony Sequeira, doubled to left center and put Brandy on third. Audie Afenir would then hit a sacrifice fly to right field to score Brandy and the Golden Eagles had an early two run lead.
The Razorbacks got their first run of the game in the bottom of the third when shortstop Michael Bernal singled and stole second. Catcher Tucker Pennell followed up with an RBI single to score Bernal. Bernal followed up with an RBI single to score Second baseman Rick Nomura in the bottom of the fifth inning. But instead of tying the game the Golden Eagles had added an insurance run in the top of the fifth inning when Whatley score on a Brandy RBI yet again.
The true damage would happen though in the bottom of the sixth inning. The Razorbacks punched four runs across the plate featuring back to back doubles by both Andrew Benintendi and Tyler Spoon to get the first three runs in and Spoon would score a few batters later when Nomura would get the RBI.
Clark Eagan would add some much needed insurance runs back in the bottom of the eighth when he hit a triple to get Benintendi and Spoon their second runs of the game and the Razorbacks would lead 8-3.
Sequeira made it interesting though when he hit the lone Home Run of the game for a 3 run blast to right-center field. But there were already two outs and Afenir would fly out to end the game. The final score of the game was Arkansas 8, Oral Roberts 6.