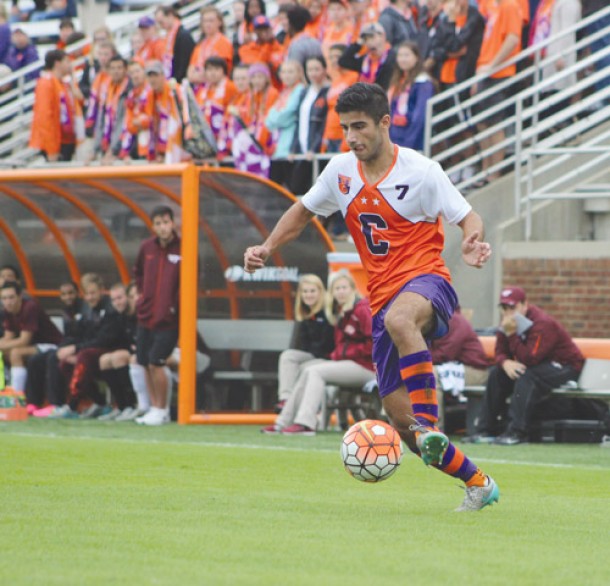 The initial 48 teams in the NCAA soccer tournament has whittled down to a Sweet Sixteen. Led by the top four seeds, Wake Forest, Clemson, Georgetown, and Akron, the Round of 16 will kick-off this weekend, with one game on Saturday and the rest on Sunday. Let's preview each team and matchup that will be seen this weekend.
1. Wake Forest - 16-2-2
Road to the Tournament: Wake Forest has been a power since the start of the year. They started the season by winning their first five games, and they have stayed consistent; the Demon Deacons have lost just two games. WF garnered the #1 seed in the ACC tournament but fell in the semifinals, 1-0 to Notre Dame. Their resume boasted several impressive wins - including victories against #4 Akron and #5 North Carolina, which gave Wake Forest the #1 overall seed.
In the Tournament: Being the top overall seed, the Demon Deacons were given a bye in the first round before being matched up with Charlotte, whom Wake Forest topped 1-0. It was a competitive game that saw Wake Forest outshot for the first time all season. It was their first NCAA Tournament win since 2013.
Players to Watch: Jack Harrison and Jon Bakero lead the Demon Deacons with eight goals apiece. Bakero netted the winner against Charlotte in the 83rd minute. Harrison also leads the team with 11 assists. Alec Ferrell has been superb in goal for Wake Forest this season, putting up 13 wins for the Demon Deacons. He allows, on average, 0.62 goals per game. Ferrell also has a very competent backup in Andrew Harris who has allowed one goal in four games and recorded three wins for Wake Forest.
16. Indiana - 13-4-3
Road to the Tournament: Indiana hardly looked like a national power when they started 1-3-1 in Big 10 play. However, they ended the season with three straight conference victories, and took eventual Big 10 champion Maryland to penalty kicks in the semifinals. The Hoosiers lacked a signature win during the regular season, but their strong finish in the tough Big 10, which had four teams qualify for the NCAA tournament, garnered the sixteenth seed.
In the Tournament: Like most teams that remain in the tournament, Indiana earned a first-round bye and needed one victory to advance. The Hoosiers largely dominated the UConn Huskies but netted only one goal in the 38th minute for a 1-0 victories. Indiana outshot UConn 16-7 and held the edge in corner kicks, 7-2.
Players to Watch: Femi Hollinger-Janzen leads the Hoosiers with his eight goals while Tanner Thompson leads the team with nine assists. The duo anchors Indiana's offense while the defense is anchored by goalie Colin Webb, whom has pitched ten shutouts on his way to a Goals Against Average (GAA) of 0.71.
Wake Forest-Indiana Prediction: Wake Forest 2-0
Wake Forest has multiple goal-scoring threats and Indiana's Colin Webb has looked good because of his defense. His actual save percentage is barely 75%. Also, Wake Forest has several wins over top ten opponents (Akron, UNC, Notre Dame) while Indiana lacks any kind of impressive victory. Wake Forest should be heavy favorites in this game.
2. Clemson - 16-2-2
Road to the Tournament: The defending ACC champs put together a very strong regular season campaign, dropping just one decision and ending with eight straight wins and a 12-game unbeaten streak. Their best wins are two victories over the Boston College Eagles, who also have made the Round of 16, and one win over #6 Syracuse - though the Tigers did lose once to the Orange as well. Wins over then-ranked Duke, Brown, and North Carolina State also stand out on Clemson's schedule. The Tigers lost to Syracuse in the ACC semifinals, snapping a 12-0-1 run.
In the Tournament: Ranked 2nd overall, Clemson has played just one tournament game, and they cruised past Elon, the same team responsible for Wake Forest's first lost, 5-2. Clemson dominated throughout the game.
Players to Watch: T.J. Casner leads the team with a whopping ten goals, including two in their victory over Elon, while Iman Mafi has recorded eight assists. Goalie Andrew Tarbell has put up solid numbers with a 0.74 GAA and an .817 save percentage.
15. UC Santa Barbara
Road to the Tournament: UCSB got off to a fairly inconspicuous start, going 4-3-1 in September. However, the Gauchos heated up in October, compiling a 7-2-1 record which propelled them into the Big West Tournament. UCSB took down UC Davis in the semifinals before losing to Cal State Fullerton in the championship. UCSB garnered the #15 overall seed in the NCAA tournament.
In the Tournament: UCSB has played just a single game in the NCAA tournament. They largely dominated South Carolina but a strong defensive performance from the Gamecocks forced the game into overtime before UCSB pulled out a 1-0 overtime victory.
Players to Watch: Nick Depuy leads all Santa Barbara scorers easily with an amazing 15 goals. Geoffrey Acheampong has recorded ten assists, to go along with a trio of goals. It will be interesting to see who starts in goal for the Gauchos against Clemson in the Sweet 16. The Gauchos started Justin Vom Steeg, a freshman, for most of the season but inserted Brandon Berke into the lineup against South Carolina. Neither goalie has done particularly well with Vom Steeg putting up a 1.15 GAA and a .728 save percentage while Berke put up even less impressive numbers - 1.33 GAA and a .545 save percentage, in limited appearances throughout the year.
Clemson-USCB prediction: Clemson 4-1
The Tigers shouldn't have much of a problem as their offensive strength matches up perfectly with UC Santa Barbara's weak defense. The Tigers hold an edge over the Gauchos at most positions and should be able to cruise to the quarterfinals, barring a UCSB shocker.
3. Georgetown - 16-2-2
Road to Tournament: The Hoyas got off to a startling 0-2-1 start and have since ripped off a seventeen game unbeaten streak, and are currently riding a fourteen game winning streak. The Hoyas have several big wins, including victories over #10 Maryland and #12 Creighton. The Hoyas won the Big East tournament with a double overtime 2-1 victory over Creighton.
In the Tournament: The Hoyas have played one game and dominated Hofstra, 3-0 in the Round of 32. They outshot the Pride 20-10 and led the battle of corner kicks 8-0.
Players to Watch: Brandon Allen leads the offense with twelve goals, as well as seven assists, and Alex Muyl has recorded 10 assists while tallying six goals himself. J.T. Marcinkowski has led the Hoyas in goal, compiling a .808 save percentage 0.68 GAA. He has pitched nine shutouts on the year and is the anchor of the Georgetown defense.
Boston College - 11-7-1
Road to the Tournament: The Eagles are one of the surprise teams in the Round of 16. The Eagles lost a whopping seven games, a very large amount for one of the top sixteen teams in the country. Their best win is a 2-1 victory in the season finale over eventual ACC champion Syracuse, 2-1. They also have recorded impressive victories over UConn, Brown, and Southern Methodist. They haven't competed well with the top teams - they lost 5-0 to Wake Forest and exited the ACC tournament after a 3-0 quarterfinal loss to Clemson.
In the Tournament: Boston College is one of two teams remaining that have already played a pair of games in the NCAA tournament. The Eagles edged Vermont 1-0 in the first round before travelling down to South Florida to take on the #14 Bulls. Pulling off one of the biggest upsets of the tournament this year, the Eagles surprised the Bulls 2-1 in overtime, outshooting USF 17-5, with eight shots on net, compared to USF's one.
Players to Watch: The Eagles are led by Simon Enstrom (9 goals) and Zeiko Lewis (5 goals and 8 assists). BC does not have a high-powered offense, having scored only 29 goals on the year. Alex Kapp and Cedric Saladin have split time in goal for the Eagles. Saladin appeared in more games but Kapp has put up better numbers. Kapp has started both NCAA games and will likely start against the Hoyas. He has a 1.00 GAA and a .757 save percentage.
Georgetown-Boston College prediction: Georgetown 1-0
Boston College's briefly surprising run will come to an end here. The Eagles don't have the skill to take down the Hoyas. They don't boast an exciting offense and their defense isn't too great either. The Hoyas will be expecting a challenge after the Eagles took down USF and should be able to find the net at least once for a Sweet 16 win.
#4. Akron - 16-3-2
Road to the Tournament: The Zips put together a solid regular-season campaign, including a a win over #3 Georgetown - they were the last team to defeat Georgetown this season. The Zips also had wins over Santa Clara and UC Santa Barbara. They toppled West Virginia and then Buffalo to take the Mid-American Conference Championship.
In the Tournament: In their lone game of the tournament, Akron had no problem dispatching of Rutgers, defeating the Scarlet Knights 6-1. The Zips opened up a 5-0 halftime lead and outshot Rutgers 25-10.
Players to Watch: Richie Laryea leads a high-powered Akron offense with 11 goals while four other players have recorded at least seven goals. Adam Najem has scored nine goals and tallied 10 assists. Jake Fenlason has pitched 8 shutouts in goal for the Zips. His GAA is 1.20 and his save percentage is .766%.
Southern Methodist University - 15-2-4
Road to the Tournament: The Mustangs enjoyed a very good regular season but played a weak schedule in the AAC conference. Their best win was a 1-0 triumph over the UConn Huskies. They made it to the conference finals before falling in penalty kicks.
In the Tournament: SMU is another team that has had to play two games to get to the Sweet 16. They cruised past Utah Valley 2-0 in their tournament opener before going to Denver to take on the #13 Pioneers. SMU kept the game scoreless through regulation despite being outshot 14-9 and then capitalized with a golden goal in overtime to upset Denver 1-0.
Players to Watch: Mauro Cichero is easily the Mustangs' biggest threat. Having tallied ten goals and nine assists, Cichero is the only player on the team more than five goals and more than five assists. Jared Rice has scored only once but he will be a factor in setting up goals - he led the team with 10 assists. Goalie Michael Nelson has a 0.94 GAA and a .794 save percentage and he has thrown nine shutouts.
Akron-Southern Methodist prediction: SMU 3-2 OT
This is an upset pick. The Mustangs have a better defense than Akron and their offense is timely enough to pull off upsets - as they demonstrated in Denver. Akron certainly can win this game, soccer fans around the country should remain on upset watch.
Check back later for the second half of this Round of 16 preview.