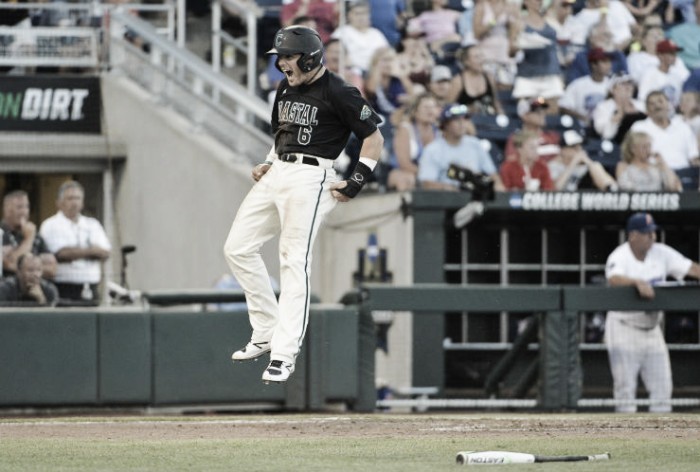 In their opening game of the 2016 College World Series, the Florida Gators fell short to Coastal Carolina, 2-1. This would see the Gators face elimination if they lose their next game. The opener could have gone to Logan Shore, the Gators main man on the mound. But instead went to Coastal's Andrew Beckwith, who pitched a complete game.The win would send the Gators to the losers bracket, and have Florida chomping up their opponent for a desperate win to stay alive.
For Shore, he allowed two runs and five hits, giving him his first loss in over a year. The second hit, had to have hurt the most, as Buddy Reed would add to Shores' continuing nightmare evening. Reed would misplay a deep fly ball to the warning track, seeing him crash into the wall, producing an RBI triple, that would end up giving Coastal their winning run. Dane Dunning and Shaun Anderson would help the Gators defense get through the rest of the ballgame unscathed, but the damage was already done.
Beckwiths' complete night
As for Beckwith, he ended the night giving up seven hits, all turning out to be singles, except for Deacon Liput's double in the fifth inning, setting up Florida's only run on the night. Beckwith pitched a complete game, going without any more trouble, and produced multiple grounders time and time again with a submarine delivery that had Florida dumbfounded, and unable to connect with the ball correctly. No Gator on the team had more than one hit; Nor did one get walked, as Beckwith would hammer the zone and stayed ahead in the pitch count on every hitter.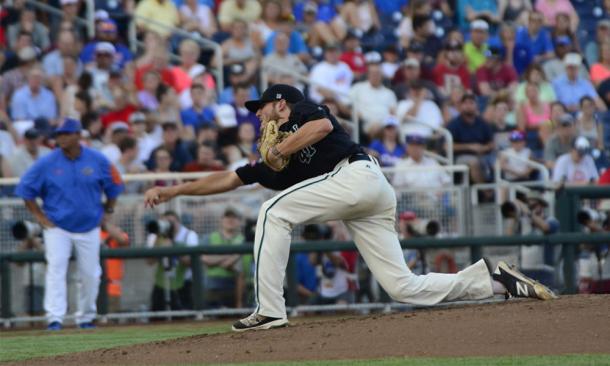 If there is any good news out of this game for the Gators, it would be that Florida had already faced a similar situation, just one week ago, after a shutout loss against rivals Florida State Seminoles, in the Gainesville Super Regional.
The Gators turned to Shore as their savior for the Coastal Carolina game, after the defeat by the Seminoles. Florida will not have Shore on Tuesday, instead now turning their hopes to Alex Faedo, or A.J. Puk -- who served as a reliever, then hitting a batter, and being pulled-- to get the job done in a similar way Shore blanked the Noles.
The Gators will go against a Texas Tech University team that won the Big 12 Conference in 2016. This will be a challenge for the top-ranked Gators. But now, the Gators' margin for errors, has now disappeared.
"A lot of things didn't go our way," head coach Gary Gilmore said of Coastal Carolina. "Everything I tried to get us to do (offensively) backfired. Thank goodness Beck picked us up and out infield defense was very good."