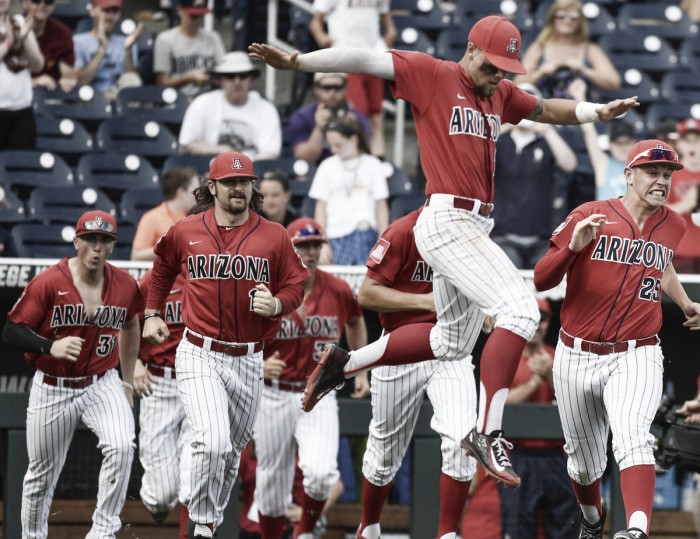 The Arizona Wildcats have clinched a spot in the College World Series Finals with a 5-1 over the Oklahoma State Cowboys. Arizona is now 6-0 in elimination games this postseason.
Arizona's Bobby Dalbec got another shot against the Cowboys, five days after losing to Oklahoma State 1-0. Dalbec gave Arizona another fantastic outing, pitching seven innings, allowing four hits, struck out six, while giving up just one run.
Oklahoma State Sent their ace Thomas Hatch to the mound. For Hatch, this would be his shortest outing of the season, lasting just two innings and allowed four runs.
Arizona Offense Continues to Dominate
Arizona got their offense going early. Cody Ramer started off the bottom of the first with a double and then proceeded to steal third. Zach Gibbons drove him in on a groundout to second, giving the Wildcats a 1-0 lead.
Ryan Aguilar followed up with a double and advanced to third on a wild pitch. Jared Oliva drove in Aguilar home on a sac fly making the score 2-0.
Arizona's offense continued in the second. Kyle Lewis wound up at second after a walk and a sac bunt by Cesar Salazar. Louis Boyd doubled down the left field line scoring Lewis, stretching the lead to 3-0.
Two batters later, Gibbons smacked a double of his own into right center, scoring Boyd and giving Arizona a 4-0 lead.
Oklahoma State got a run back in the third. Jon Littell staredt the inning off with a single. Dalbec struck out the next batter he faced. Corey Hassel smashed a double to right field, advancing Littell to third. J.R. Davis hit a sac fly scoring Littell. Dalbec got out of the inning, ending the threat.
Arizona tacked on one more run in the fourth. Boyd reached second on a throwing error. Two batters later, Gibbons singled through the left side scoring the run.
Kevin Ginkel took over on the mound in the eighth for Arizona. Ginkel threw a perfect 1-2-3 eighth inning and allowed a couple of baserunners in the ninth. With two outs, Alfonso Rivas took the mound from left field to try and finish the game. Rivas got Colin Simpson to strike out to end the game.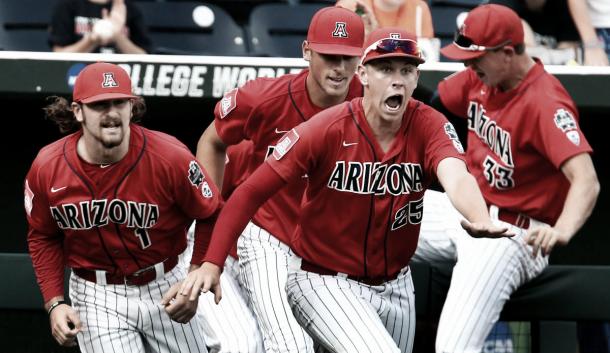 Kelly Presnell/ Arizona Daily Star
Cowboys Aces Couldn't Slow Down Wildcats Bats
Thomas Hatch, Trey Cobb, and Tyler Buffett (considered to be the Aces of Oklahoma State) couldn't slow down the Wildcats offense. The three combined to surrender five runs on nine hits, walking three and five strike outs. Hatch's 26 inning scoreless streak came to an end in the first.
Onto the College World Series Finals
The Wildcats will now play the winner the Coastal Carolina game in a best of three series starting on Monday night.