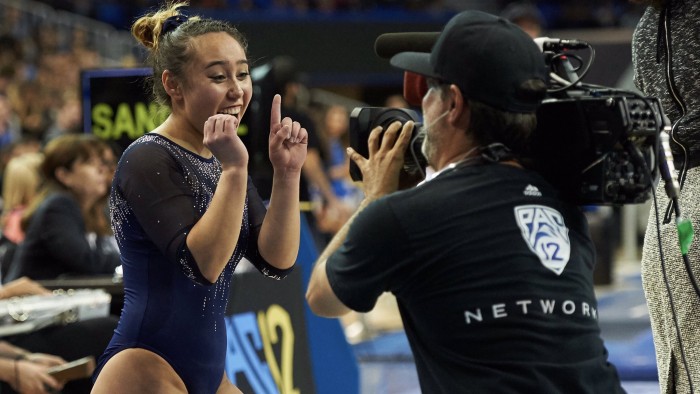 Semifinal one was headlined by the Oklahoma Sooners and UCLA Bruins, two of the more star-studded teams in the country with Maggie Nichols and Madison Kocian respectfully.
Both would finish with incredible 9.87 average scores and were quite dominant across the board in every event. The race for third, however, came down to the final rotation, where the Washington Huskies, Denver Pioneers, and Utah Utes were battling for the third and final spot in the finals tomorrow.
After a thrilling final rotation, the Utes would finish strong on floor, just edging out Washington and Denver to qualify for tomorrow's finals.
Coming in first place overall on the event was Oklahoma, with a score of 197.725, while the Bruins came in second at 197.5. Utah would come in third coming in at 197.05, followed by the Huskies (196.5652), Pioneers (196.4750) and the Oregon State Beavers (196.3625).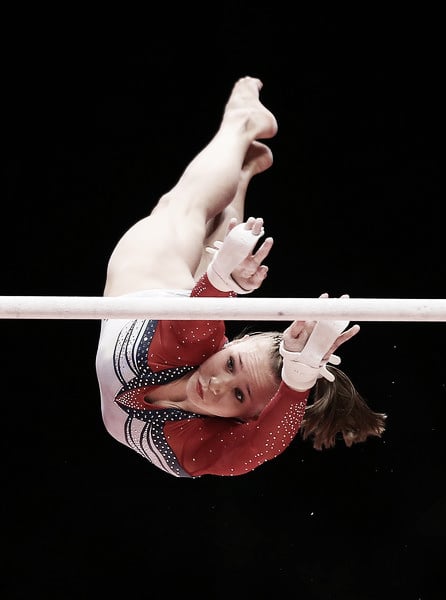 Individual Standouts:
There were several standouts throughout the afternoon including Madison Kocian, Kyla Ross and Katelyn Ohashi of UCLA, Maggie Nichols and Stefani Catour of Oklahoma, MyKayla Skinner and MaKenna Merrell of Utah and Maddie Karr of Denver all helped their teams put up great scores.
The individual leaders for each event were:
Vault- MyKayla Skinner/Chayse Capps/AJ Jackson/Maggie Nichols (all tied at 9.9)
Uneven Bars- Kyla Ross/Maggie Nichols/Nicole Lehrmann (all tied at 9.95)
Balance Beam- Kyla Ross
Floor- MyKayla Skinner
Also putting up impressive scores of 9.9 or over on different events include Stefani Catour on bars, Katelyn Ohashi, MyKayla Skinner, Madeline Gardiner, MaKenna Merrell, Silvia Colussi-Pelaez, and Stefani Catour on beam, and Madison Kocian, Maggie Nichols, AJ Jackson, Angi Cipra, Hallie Mossett, Baely Rowe, Kaytianna McMillan and MaKenna Merrell on floor.
The leaders in the all around were MyKayla Skinner who finished with a 39.6125 at the top of the leader board, followed by Kyla Ross (39.5750), Madison Kocian (39.55), Maddie Karr (39.475) and Baely Rowe (39.4).
What happens next?
For the top three teams in Oklahoma, UCLA, and Utah, they will have a meet tomorrow against the top three teams from the second semi-final later tonight to determine the national champions. In what is expected to be a great National Championship, the Sooners and Bruins are more likely than the Utes to come out on top, but anything is possible in the sport of gymnastics.
Key names to look out for include Kocian as always, as well as Kyla Ross and Katelyn Ohashi from UCLA, who both turned in solid performances this afternoon.
Maggie Nichols will look to hold off UCLA, along with Stefani Catour and the rest of the Oklahoma Sooners squad, who look to win back to back national titles.
Also, MyKayla Skinner should definitely not be forgotten after being a top qualifier on vault and floor today and looking to build on that in the championships for Utah tomorrow.