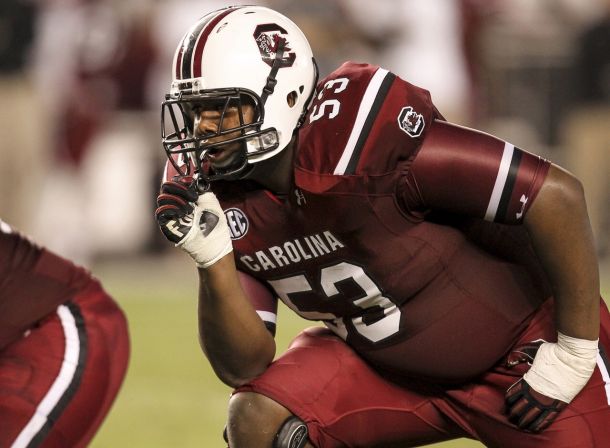 The Detroit Lions finished off the draft selecting South Carolina Offensive Tackle Corey Robinson, another SEC offensive lineman the Detroit Lions seem to love. There were reports that four teams had interest in signing him as an undrafted free agent before the Lions selected him 240th overall.
Robinson is a pure right tackle who is extremely slow, even for an offensive lineman at 5.30 at the Combine in Indianapolis. He does move well and is agile for his size, and uses his arm length quite well also. He struggles with moves going inside, however, as he is better at directing speed rushers outside, opening up the inside line, protecting the pocket.
The Lions also added some interesting undrafted free agents from all across the United States as well to join their strong draft class. Here's a position by position breakdown of the undrafted free agents the Lions have signed.
Quarterback:
Brandon Bridge from Southern Alabama and Anthony Boone from Duke are both mobile quarterbacks, who have the ability to make plays with their arm and legs. While neither one is likely to make the roster due to the Lions full quarterback room, either or both quarterbacks have the potential to make the practice squad out of training camp.
Running Back:
Rasheed Williams from Alfred State has signed with the Lions, joining draft selection Ameer Abdullah as rookie running backs headed into training camp. In an interview done before the draft on nfldraftdiamonds.com he compared himself to Reggie Bush when asked, as saying that they both have the ability to make people miss and have similar size. He said that his biggest weakness is blocking, but the Lions will trust their fifth round fullback pick to do that for them instead.
Zach Zenner also signed with the Lions from South Dakota State, as he went surprisingly undrafted. A Joique Bell-like back, who has a solid ability to truck over defenders, is a workhorse back, and is extremely smart on the field as well. He also employs a solid stiff arm, elite break tackling skills and good hands out of the backfield. He has a good chance to at least make the practice squad, and should somebody get hurt possibly make the team out of camp. He had a 4.60 40 yard dash time at the combine.
Wide Receiver:
The Lions did not draft a wide receiver for the first time since 2006, the year before they drafted Calvin Johnson number two overall. They immediately recognized their need at the position after the draft however, quickly locking up Vernon Johnson from Texas A&M Commerce who was actually projected as a fifth round selection, and Marcus Beaureum from Tiffin, another small school kid with speed. Both players had very productive collegiate careers for their schools, and have the chance to make the roster due to the lack of depth the Lions have at the position.
Tight End:
Despite the Lions depth at Tight End heading into this year's draft, the Lions still brought in Casey Pierce from Kent State. It is unlikely he makes the 53 man roster unless an injury occurs, but he could make the practice squad due to his pass protection, as he got noticed by scouts while facing off against Ohio State Defensive End Joey Bosa.
Offensive Line:
The Lions really focused on offensive line during the draft itself, trading for Manny Ramirez, and selecting Guard Laken Tomlinson in the first round 28th overall before adding Robinson in the seventh round, so the Lions didn't need any offensive lineman in UDFA, however they are still bringing in Torrian Wilson from the University of Central Florida, the main offensive lineman for Blake Bortles and Storm Johnson in college. Al Bond, an offensive guard as well from Memphis also signed with the Lions. He had one of the worst forty yard dashes ever recorded amongst offensive lineman at only 5.57, and was given a 50% chance of making an NFL Roster. He is effective against the bull rush, but does not stay engaged long, which could pose problems for him at the NFL level.
Defensive Line:
The Lions added Gabe Wright from Auburn in the fourth round of the draft, but still have yet to announce bringing in an Undrafted Free Agent.
Linebacker:
About five minutes after the last pick was made by the Arizona Cardinals, the Lions immediately announced the signing of Kevin Snyder of Rutgers, as he appeared to be the Lions top target after the draft. He had an impressive 40 yard dash time at Rutgers pro day posting a 4.54, faster than most running backs. He has played all three linebacker positions in college as well as long snapper. He was also named to the All-Academic Big Ten First Team as well, meaning the Lions are adding another smart player.
Secondary:
After the Lions drafted Alex Carter and Quandre Diggs, two corners from Stanford and Texas respectively, the Lions didn't feel the need to add any corners in undrafted free agency, but added safety Brian Suite from Utah State to the mix after not selecting a safety this season. He has done well forcing turnovers in the Mountain West, forcing and recovering fumbles, as well as adding some interceptions as well. He should be given the opportunity to make the roster due to the Lions lack of depth at safety behind starters James Ihedigbo and Glover Quinn.
Two more safeties signed later on as well. Isaiah Johnson, a safety from Georgia Tech and Nathan Lindsey from Fort Hays State signed with the Lions. Johnson was quite productive in college, including setting a Georgia Tech school record for tackles with 283. He had a fast forty yard time of 4.55 at his pro day, which impressed multiple teams. Nathan Lindsey is a former Inkster High School Safety. Not much is known about him due to his small school status, but he has decent size and the ability to force fumbles, interceptions and kick return. He should be interesting to watch under more publicity in Lions camp.
Kicker and Punter:
Kyle Brindza, a Plymouth native from Notre Dame who played at both kicker and punter the last seven years at Plymouth High School and Notre Dame was also a top target for the Lions after they brought him in for a local workout. He was extremely productive as a freshman and sophomore before he had a drop off in production likely due to poor long snapping play on field goal attempts. He will compete with Prater for the starting job, and should either punter Sam Martin or Prater go down with injury, he could start for the Lions next season. At the least, he should be able to crack the practice squad this year, after being one of the most productive kickers in college.