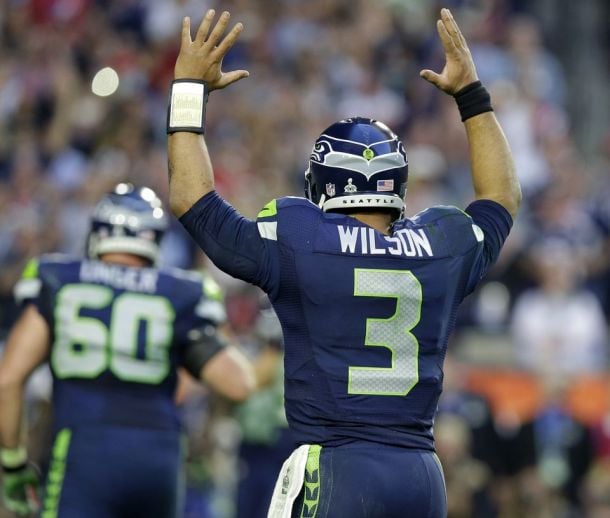 Paying a quarterback that is elite as Russell Wilson is probably unfamiliar to Seattle Seahawks fans. Yes, Matthew Hasselbeck had a lot of success during his tenure in Seattle, but Wilson is on another level. He has helped lead this Seattle team to three straight playoff appearances, including two straight Super Bowls. This offseason Wilson is finally eligible to negotiate a contract extension, after being arguably the most underpaid player in the league due to being drafted in 3rd round. Many, including yours truly, thought these negotiations would be quick and Wilson would be willing to take a team friendly deal. Neither has been the case.
Neither side can seem to agree on the right number. Danny O'Neil of 710 ESPN recently reported that both sides were "tens of millions apart" and negotiations were going to be slow. Wilson feels like he deserves to be the highest paid QB in the league, asking for over 24 million over four years, which would put him above both Aaron Rodgers and Peyton Manning. Seattle currently is not willing to go over $20 million a year, making the statement that they don't think Wilson is ready to make top-tier money. There have been various reports on how close the two sides actually are. Some have said it's very close, others have said that it's so far away that it's almost like they haven't started discussions yet.
So what does this all mean? It could mean that Russell is completely willing to play out his rookie deal at $1.5 Million next year, as CBS Sport's Jason La Canfora reported. Could it mean that Seattle is willing let Wilson walk? Possibly, but not very likely. Pete Carroll goes against the grain a lot in the NFL, but this would be unheard of. To let a QB of Wilson's talent walk would be a very unpopular move. Yours truly thinks John Schneider, coming from Green Bay, realizes that and that's why he won't even address it when asked.
To win in this league you need a QB, and this writer seriously doubt Seattle wants to go through what they did post-Hasselbeck and pre-Wilson. What numbers should Seahawks fans expect? Spotrac projects Wilson receiving around 110 Million over five years. Seattle has tended to give their players shorter term extensions, so a better projection would be around 88 Million over four years with about 50 million guaranteed. This deal will get done, it's now just a matter of how much and when.