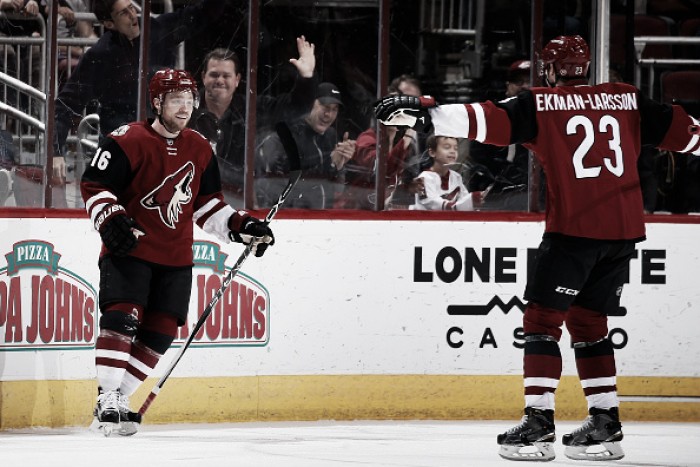 Three candidates from the Arizona Coyotes were in the running for a NHL award at the annual event held in Las Vegas -- who was awarded an expansion franchise today.
Norris Trophy goes to
Drew Doughty (1254 points) of the Los Angeles Kings actually pulled an upset by besting Erik Karlsson (1020 points) of the Ottawa Senators by a 234 point margin. Brett Burns of the San Jose Sharks finished a distant third with 619 points.
What was an even larger surprise was how low in the voting that Oliver Ekman-Larsson of the Coyotes finished. He came in with a paltry 30 points. He received two third place votes, two fourth place votes, and 14 fifth place votes. The point system is: 10-7-5-3-1.
That placed the talented All-Star defenseman in ninth place overall. Last season he finished 17th, with 19 points.
Is the voting system flawed?
The voting system doesn't seem too scientific. For instance, OEL had 55 points in 75 games, while Doughty had only 51 points in all 82 games. When you research it further, Karlsson surpassed Doughty by 31 points. Burns outdid him by 24 points.
Could the voters have taken into consideration that Doughty just missed being selected twice before without winning?
Of course.
Ekman-Larsson will get there eventually
For OEL, he is improving and moving up in the voting, but the fact that he is such a valuable player for the Yotes, will eventually gain him more recognition for winning the award.
That and the fact that if the Coyotes continue to improve their record, and make the playoffs, it will put OEL in the limelight a little more, thus thrusting his chances to gain much deserved recognition.
With the signing of Alex Goligoski, some of the pressure of being the go-to guy on the blue-line may be lifted a bit for Ekman-Larsson. Whether that will push him up further in the voting to take home his first Norris Trophy is yet to be seen.
Calder Trophy winner is
It wasn't too close in the voting here. The Chicago Blackhawks' Artemi Panarin (1258 points) won by 303 points over the Philadelphia Flyers' Shayne Gostisbehere (955 points).
The obvious award winner in this category should have been Connor McDavid (858 points) of the Edmonton Oilers. If he hadn't been put on the shelf with an unfortunate clavicle injury causing him to miss half of the season, he would have run away with it. His 1.07 points per game was the best by any rookie, but because he only played 45 games, it destroyed his chances.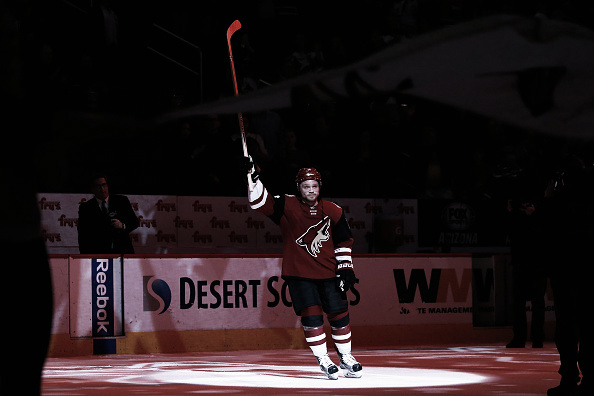 Max Domi was in the running
Max Domi, the rookie sensation of the Coyotes finished sixth with 92 points. He received two second place votes, two third place votes, 12 fourth place votes, and 32 fifth place votes.
Domi finished with 18 goals, 34 assists in his inaugural NHL season, winning the hearts of many Coyotes' fans, and the attention of hockey fans everywhere.
The future of the Arizona Coyotes success could very well be resting on Domi's shoulders, but he takes the responsibility in a mature manner, well beyond his 21 years.
His speed, stick handling and gritty play (which he inherited from his father Tie) are traits one doesn't see often in a rookie.
He had some stiff competition, and many question the validity of even allowing Panarin in the voting since he played in the KHL for nine seasons, and is 24 years old. Make no mistake, he is a heck of a hockey player, and he also had the gift of playing alongside some excellent teammates. That factor alone helped him shine and win the award.
Domi does it all
Max Domi's future in the NHL is already becoming quite evident. He's a gifted player who sticks up for his teammates, and doesn't allow the burden of having Type-1 diabetes slow him down. He's quite the ambassador off the ice, and represents the team with dignity and courage.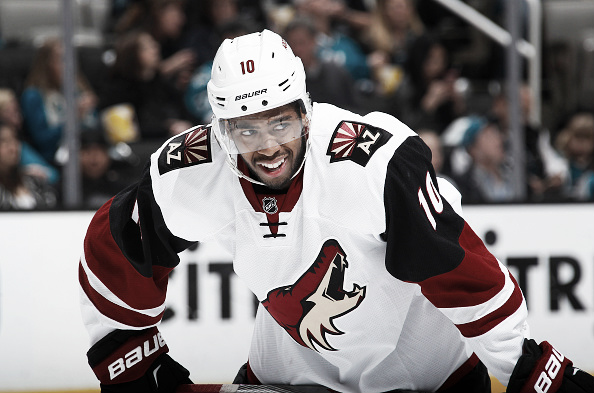 Anthony Duclair was pretty well ignored
It just doesn't make any sense why Anthony Duclair received just one fifth place vote. When you consider that he collected 20 goals, 24 assists in his first full NHL season, that should have meant more than one lousy vote. The kid is lightning fast, very deceptive, and crashes the net with the best of them.
When you look that he scored eight less points than his buddy Domi, it makes one wonder just how does this scoring system work?
In any respect, Duclair is a sure 30 goal scorer in the next year or two, and will be a fixture on the Coyotes' forward line.
All three Coyotes are winners
Ekman-Larsson, Domi, and Duclair may have not won an award, but they play an integral part in the future of the Arizona Coyotes.
They make the game exciting to watch, and for this writer rewarding to cover.