Over the last few weeks, the surging Boston Bruins (38-27-6 third place in the Atlantic Division), are 12-4-0 since Bruce Cassidy took over as coach and have been looking over their shoulders at the surprising Toronto Maple Leafs (32-23-15 fourth place in the Atlantic Division). The two teams continue fighting for their playoff lives and positioning.
Coming into tonight's face-to-face matchup at the Air Canada Centre, the Bruins are still smarting from a 7-4 loss to the Edmonton Oilers on Thursday.
"We lost the game. That's the way we look at it. I'm not going to sum up the road trip. We lost this game. We won (Wednesday at Calgary). We won on Monday (at Vancouver). Our goal is to go into Toronto and play well," said Cassidy.
While the Maple Leafs, wearing their St. Pat's tribute jerseys, lost a heartbreaking 2-1 overtime home loss to the Chicago Blackhawks on Saturday.
"Every day you talk about how big the game is, but that's what we're going to do right until the end, obviously," said Maple Leafs coach Mike Babcock. "You can tell by looking at it. That's a huge point for us (Saturday), an absolutely huge point, but we've got to keep getting better."
Bruins and Leafs Start Off Deadlock
This year, the Leafs lead the season series 3-0 against the Bruins.
Despite that advantage, Bruins right winger David Backes ripped in his 16th of the season past Leafs' Frederik Andersen (28-15-0-14 with a 2.67 GAA) on a great slide pass from left winger Brad Marchand at 7:26 of the first period giving Boston a 1-0 lead.
Skating 4-on-4, Boston goalie Tuukka Rask (33-17-0-4 with a 2.32 GAA) made a huge stop on defenseman Morgan Rielly's initial backhand but couldn't clear the puck and Rielly weaved into the slot and tallied his 6th of the season. The puck went off his knee while sliding on the ice assisted by centerman Mitch Marner and left winger James Van Riemsdyk to tie the game at 1-1. This was Rielly's third goal in his last five games.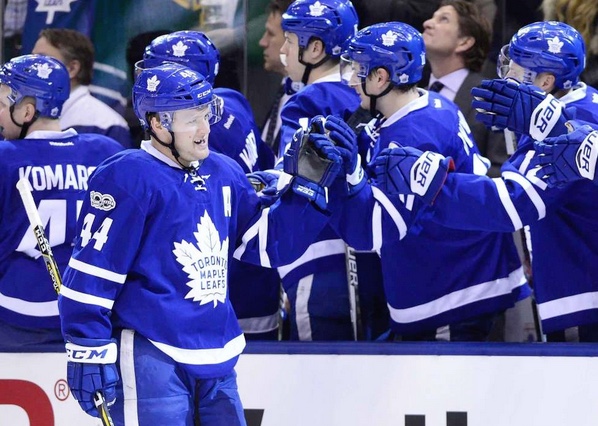 After 20 minutes of play which featured fast-paced chippy action, the Leafs outshot the Bruins 11-8 and lead in takeaways, but the two teams remained deadlocked on the scoreboard at one apiece.
The second period featured some wide-open end-to-end action. Rask brought his "A" game tonight. Thus far, he's stopped 20-of-21 shots including all 10 shots he faced in the second period. The Bruins lead in hits by a 17-14 margin as well as in face-win percentage 54 percent to 46 percent. Following 40 minutes of play between old-time rivals and original six teams, with both the clock and the scoreboard not working, they remained knotted at one.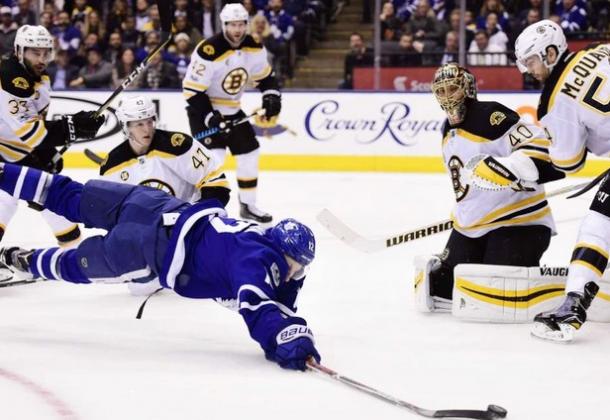 Leafs Gain Momentum
During the third period, the refs allowed the players to play. At 17:06 with Dominic Moore whistled for a minor penalty for interference against Nikita Soshnikov, Tyler Bozak scored his 17th goal of the season assisted by Van Riemsdyk and defenseman Nikita Zaitsev, giving the Leafs a 2-1 lead.
Then 44 second later, centerman William Nylander dropped his 19th of the season into an empty goal at 18:47 to put Toronto ahead 3-1.
Centerman Nazem Kadri trying to chip the puck out of his defensive zone collected his 29th of the season into an empty goal. Oddly enough, Kadri's last two goals, last one against the Philadelphia Flyers, have both been empty netters.
However, with just nine seconds left and the Leafs' defensive fourth line on the ice, the Bruins tallied a goal from centerman Dominic Moore his 11th assisted by centerman Noel Acciari.
Andersen continued his dominance over the Bruins as he has never lost to the Bruins in his career.

Playoff Race
With the 4-2 win, Toronto won the season series 4-0, all in regulation, but more importantly moved within one point of Boston for third place and put themselves three points ahead of the New York Islanders and four points ahead of Tampa Bay Lightning in the wild-card race.