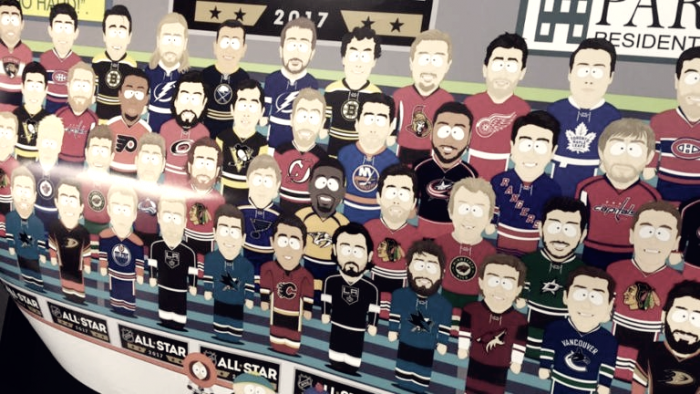 The new 2017/18 season began on Wednesday, October 4, 2017, and is now eight weeks old. Let's take a look at some photos and catch up with what happened this eighth week of NHL regular season action.
Here's NHL comic captions – Week 8 of the 2017/18 season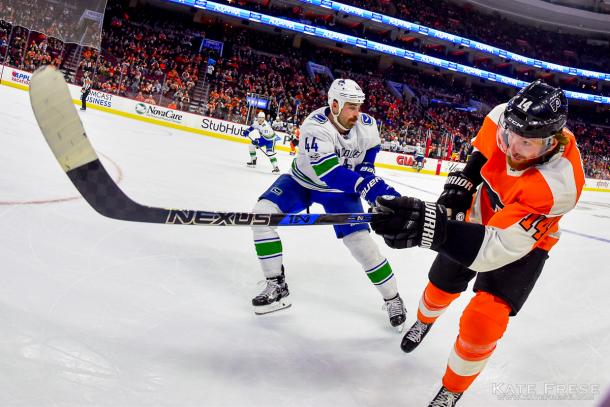 "I certainly hope Nexus pays me my endorsement fee for advertising their stick on this shot." Sean Couturier, center -Philadelphia Flyers
The Vancouver Canucks dominated this game with the Sedin brothers and rookie sensation Brock Boeser leading the way. Both Henrik Sedin and Daniel Sedin collected two assists, while Boeser had two goals.
Boeser now has 13 goals, 12 assists for 25 points and leads another favorite Clayton Keller of the Arizona Coyotes who has 21 points with 11 goals and 10 assists for the coveted Calder Trophy awarded to the best rookie.
The Philadelphia Flyers, on the other hand, are in a terrible tailspin losing nine straight games including four in overtime, and one in a shootout. They may be looking to find some firepower to help their ailing offense.
They rank 25th in the NHL in goals scored with 2.69 goals scored per game. The Flyers may be looking for someone like Anthony Duclair of the Coyotes to supplement their lack of scoring.
Duclair could be available in the trade market according to Sportsnet's Nick Kypreos.
---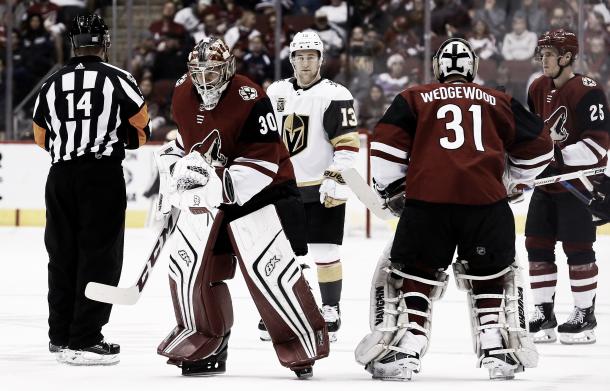 "What do you mean we can't have two goalies in the game at once? We just gave up three goals in 1:42... give us a break!" Scott Wedgewood, goalie - Arizona Coyotes
One thing the Arizona Coyotes haven't received much of this 2017/18 season is breaks... the good kind. They lost for the third time this season to the upstart Vegas Golden Knights 4-2 on November 25, 2017.
Three quick goals (including a shorthanded goal) in less than two minutes will destroy any team's confidence, but the Coyotes always seem to fight back against the odds.
With starter Antti Raanta on the shelf with yet another injury newly acquired netminder, Scott Wedgewood has filled in admirably.
After allowing those three goals, Oliver Ekman-Larsson scored a quick goal at the :21mark to start the third period. Then Brendan Perlini made it a game at 10:35, but the Coyotes failed to cash in on a two-man advantage power play, deciding their fate.
It marked the second time this season that the Golden Knights have won five straight games. To say they are the surprise of the season is like saying it's cool outside in Phoenix during the month of June.
---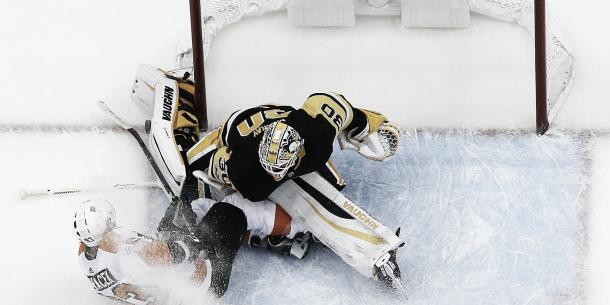 "I got news for you Jakub... neither you or the puck is getting by me." Matt Murray, goalie - Pittsburgh Penguins
As if the Pittsburgh Penguins haven't enough goalie drama, now Matt Murray is injured after trying to stop Jakub Voracek on a breakaway.
It seemed like Voracek lost an edge and went crashing into Murray causing the injury. He will be out indefinitely adding to the woes of the Penguins.
Luckily for Pittsburgh, they were able to come away with a victory which merely shows that they are the Stanley Cup defending champs. Who else would get the overtime winner than Sid the kid?
Sidney Crosby scored his 10th goal at 1:48 of the overtime to ice the game. It's what he does, and he does it very well.
---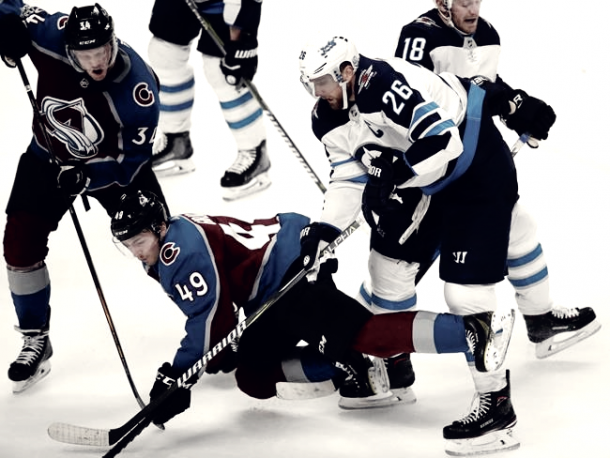 "I tried to warn Sam NOT to attempt to get by Wheeler... I mean he's 6'5", 225lbs. I wouldn't even go there." Bryan Little, center - Winnipeg Jets
The Winnipeg Jets are another surprise team this season. With the share of the Western Conference lead with the St. Louis Blues as of this writing, they have a 16-6-4 record.
Leading the way for them is Mark Scheifele who has 13 goals, 19 assists in 26 games. Captain Blake Wheeler isn't far behind with six goals and 25 assists which ties him for second in the NHL with helpers.
Then, you have a Patrik Laine with 12 goals, and eight assists helping this offensively talented squad. The Jets rank fourth in the league with a 3.38 goals per game average.
Let's just say with all their weapons they are not easy to stop. Their 0.692 winning percentage puts them right behind the Tampa Bay Lightning who are dominating this season with an 18-6-2 record.
The Jets have taken off, and now it's just a question of who can ground them. They have talent and are showing it thus far this season.
What are your impressions of the eighth week in the NHL? Let us know in the comments sections below.