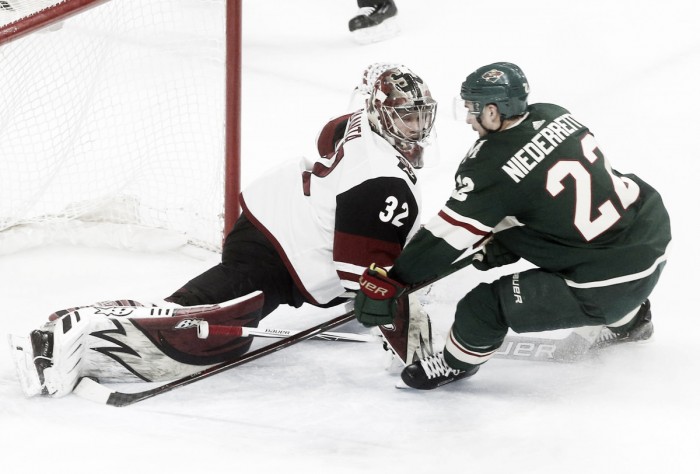 The Arizona Coyotes are becoming more and more of an enigma this season. After falling behind 3-0, they had a fantastic comeback uncharacteristic of their past performances this season.
First period
The Coyotes AGAIN... gave up a late goal when Eric Staal was wide open in front of the net just after Antti Raanta made a spectacular save. Nobody picked up the most dangerous scorer on the Minnesota Wild, and he made no mistake about it.
1-0, Wild.
Second-period action
The Wild came out and extended their lead to 3-0 with goals by Matt Cullen and Mike Reilly just 4:05 apart. It was not a good start of the period for the Coyotes who were still licking their wounds from a tough loss in Winnipeg where they came on late only to lost 4-3 on Tuesday night.
Then, Nick Cousins who has been hot of late, scored just a minute or so later to get the Yotes on the board. He took an excellent pass from Alex Goligoski who broke down the left side, and Cousins buried a whistling wrister by Devan Dubnyk to cut the lead to 3-1.
Third-period comeback
Instead of always being the team who gives up the lead and allows the other team back in the game, the roles were reversed in this third period.
An unlikely hero in Kevin Connauton fired home his third goal in four games at the 8:02 mark to bring the Arizona club to within one goal.
This goal like Cousins' goal was set up beautifully by Derek Stepan (five points in his last five games) breaking in on the right wing. He sent a perfect pass to Connauton's stick in the left circle and Kevin found the net past a screened Dubnyk.
Brendan Perlini made sure Dubnyk saw little if anything of the path the shot took, and he was there in case of a rebound.
Plays like these are exactly what the Coyotes have NOT been doing, and when you shoot the puck on net, anything can happen. They have been hesitant lately of doing that, and losses have resulted.
They had 40 shots on goal, and that shows this theory works.
The real hero was again Nick Cousins who got the game-tying goal with Raanta pulled to get the extra attacker. It was his second goal of the game. Here's his reaction after the game:
Overtime drama
Being on the road and grabbing a point in a game where you were down by three goals is fine, but for once the Coyotes were hungry for that extra point.
Antti Raanta kept them in the overtime with a beautiful save where he stopped a 2-on-1, and then dived out into the slot to swap away the rebound.
That set up the drama of Clayton Keller scoring his first goal since New Year's Eve against the Anaheim Ducks.
He couldn't have chosen a better time to plant his 15th goal of the campaign in the net.
So, to recap, Stepan has two assists, Connauton a goal and an assist, and Cousins had two goals. That's a good effort from three players who actually made the comeback possible.
That should provide good momentum for the Desert Dogs going forward. They play 14 of their next 18 games at home, and while their home record isn't anything to brag about they have an opportunity to move out of the cellar of the NHL standings.
They are only five points behind the Buffalo Sabres, and at this point in this disappointing season, it's a goal to attempt to make happen.
They have looked as if they were ready to turn the corner several times lately, and this comeback victory may be just what they need to push them over the hump.
And, cardiac Cousins may be just the guy to help in that task. Give him the puck! He has a 13.8 shooting percentage.
Connauton can be the hero as well... this team needs more heroes.