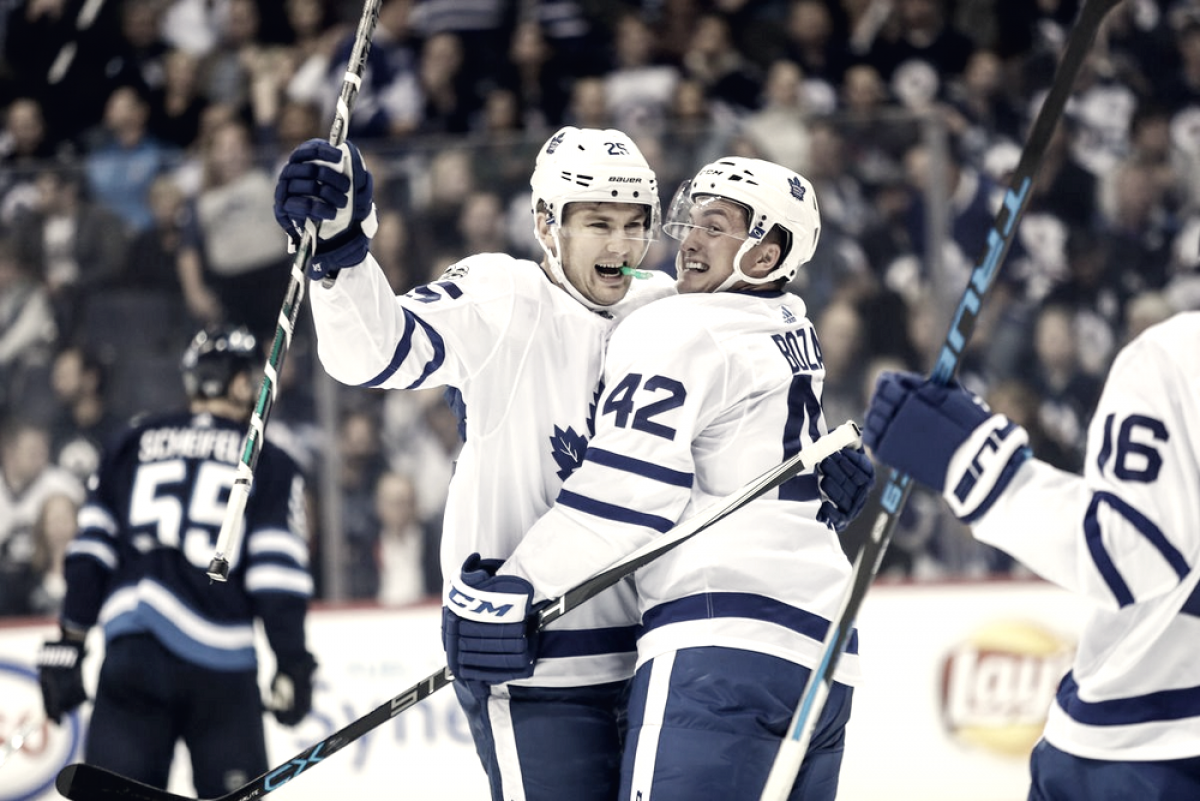 With the February 26th trade deadline approaching, the Toronto Maple Leafs find themselves in an unusual position. For over a decade, the Leafs have reached the deadline at best in a precarious playoff spot, but normally firmly on the outside and clearly defined as sellers at the deadline.
But this year is different.
With around a quarter of the season left to play, the Leafs have all-but clinched a playoff spot, with home-ice advantage and even the President's Trophy not out of the question.
For the first time since before the 2004/2005 lockout, Toronto may be looking to buy at the trade deadline.
So with uncharted waters ahead, what can be expected from Lou Lamoriello, Brendan Shanahan, and the rest of the crew tasked with bringing the Stanley Cup back to Toronto for the first time in over half a century?
The Shanaplan and the unexpected position
When considering the Leafs' plan of attack, it is important to understand the context of Toronto's resurgence.
It's important to understand that this was not supposed to happen. At least not this soon.
Brendan Shanahan was hired as President of the Toronto Maple Leafs in April 2014, a year-removed from Toronto's then-lone post-lockout playoff appearance and following a massive late-season implosion that saw the team fall from second in the division to out of the playoffs over the final months of the season.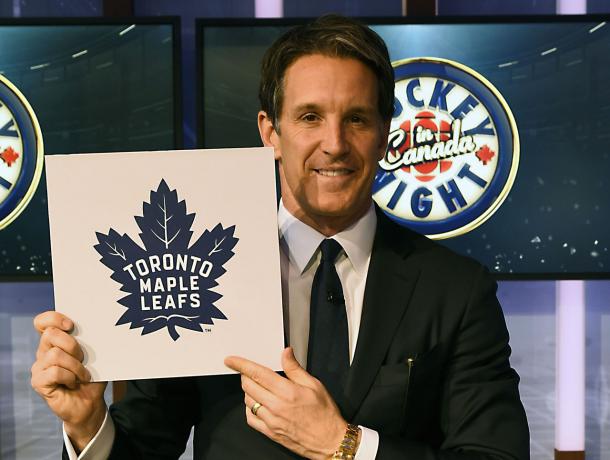 Shanahan gave that incarnation of the Maple Leafs, coached by Randy Carlyle, managed by Dave Nonis, and led by Phil Kessel, one season to right the ship. They didn't. Toronto finished second-to-last in the Eastern Conference.
Carlyle was fired mid-season in January, Nonis followed in April. Kessel was traded in July.
In control of the most powerful team in hockey, Shanahan came up with a plan that was meant to bring the Cup back to Toronto, albeit not for a few years. The plan has been nicknamed the "Shanaplan."
Step One: Find a new coach.
And boy did they. The Maple Leafs were finally able to use their deep pockets to their advantage in the salary-cap era, signing the best coach in hockey, Mike Babcock, to a record contract.
Step Two: Find a new GM.
There were rumours of Shanahan taking the ropes himself or appointing one of the Leafs' young executives, either scout Mark Hunter or analytics wiz Kyle Dubas. But in the end, Shanahan went for experience and brought in the man who drafted him as a player, Lou Lamoriello.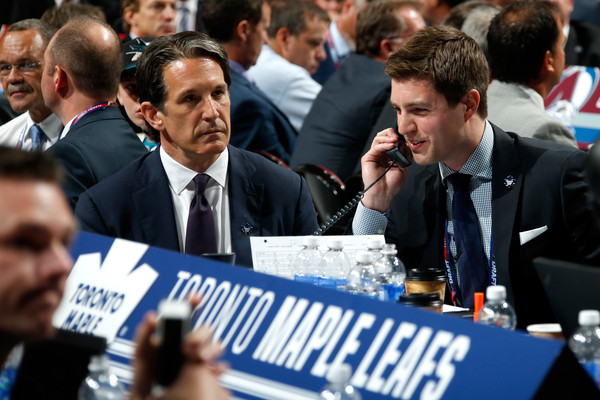 Step Three: Tank.
For the better part of 50 years, Maple Leafs' ownership was too afraid to let the team bottom-feed. The Leafs make too much money. Letting them suck would be a financial risk.
Instead, management settled for being mediocre and making money. When the Shanaplan was instituted, it included letting the team suck for a few years to collect draft picks.
It worked.
The Leafs finished last in Babcock's first season and were rewarded with Auston Matthews.
Step Four: Collect prospects.
Toronto has been notorious for drafting poorly over the years and trading away draft picks. Shanahan sought to stop that. With super scout Mark Hunter at the helm, the Leafs picked William Nylander eighth in 2014, Mitch Marner fourth in 2015, and then Matthews first in 2016.
Now Toronto has the most dynamic young offense in hockey.
Step Five: Play a system.
This is where steps one through four combines. As the team grows together under a solid leadership, they would learn to play good hockey. It is fair to say that it has worked so far.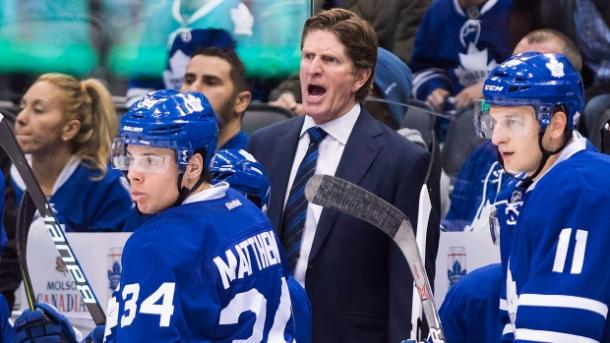 Under the Shanaplan, Leafs' Nation was told to expect years of pain, with a playoff appearance likely five years away. Cup contention was probably closer to eight years. This was 2015.
Now in 2018, the Leafs are considered legitimate Stanley Cup contenders. It only took two years, not five, to reach the playoffs. It has been suggested that the Leafs are in win-now mode after only three years. It is fair to say that the Shanaplan is way ahead of schedule.
Over the last few years, the mantra in Toronto has been "stick to the Shanaplan." But with the team so competitive already but facing a potentially tumultuous offseason, should they maybe consider hitting the fast-forward button?
What they need
Defense
Whenever there is a discussion about what Toronto needs to add, the first thing to come up is always defense. Defensive failures are often the causes of Maple Leaf losses or forces Frederik Andersen to carry the team from the net (which he does fairly often).
This is a defense prone to misplays and giveaways. In a hard checking playoff series, the Leafs' D-corps can struggle against top offenses and can be broken down.
On top of that, the Leafs' defensive unit is quite physically small. They are very fast and very skilled but are not great at shutting down aggressive opponent offenses. With the possible exception of Ron Hainsey or Roman Polak (when he's in the lineup), you won't see a lot of big hits from this defense.
A powerful top-four defenseman would go a long way for the Leafs. Morgan Rielly, Jake Gardiner, and Nikita Zaitsev provide more than enough skill, but all three can make mistakes and aren't the best at physically finishing off opponents.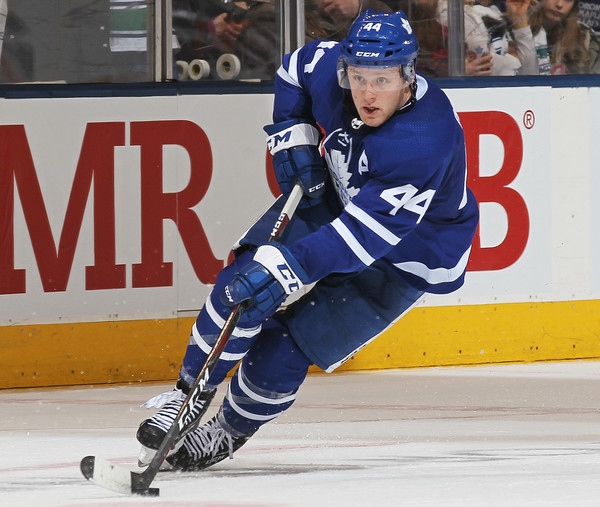 The problem for the Leafs here is that the market for defensemen, let alone the type of D-man that they need... is small. There has been a lot of talk about pursuing Drew Doughty in the offseason, as he would be a perfect fit for the Leafs' needs. However, there is no chance of a deal for him at the deadline.
Mike Green is considered the top defenseman available, but the 32-year-old comes with a hefty $6 million cap-hit and will be a free agent in July. Jack Johnson has requested a trade out of Columbus, but his play is erratic, and Toronto is looking for consistency.
With the New York Rangers promising to blow up their team, perhaps Ryan McDonagh could be available, but the cost could be high.
And then there's always Erik Karlsson, who may be on his way out of Ottawa. But the price for him is definitely too high.
Depth at centre
At the moment, the Maple Leafs are very strong down the middle through three lines with Auston Matthews, Nazem Kadri, and Tyler Bozak. However, Dominic Moore is a bit of a weak link of the fourth- line, a big downgrade from Brian Boyle last season. Last year, the Leafs' fourth line of Boyle, Kasperi Kapanen and Matt Martin was one of their strongest during the Washington series.-.!
Mike Babcock likes to roll with four aggressive lines and while Moore has his moments, they could use someone with a bit more punch on the fourth-line. Three different men, Moore, Eric Fehr and Frederick Gauthier, have played fourth-line centre this season. While Moore won the job, an upgrade is still possible and could benefit the team.
On top of that, speculation has been rampant that Tyler Bozak will not be wearing the blue and white come playoff time, meaning that they will need to bring someone in to replace him to just give the Leafs three strong centres, let alone four.
If Bozak stays, acquiring another centre becomes less of a priority. But if he goes, the Leafs have no one in their current line up who can fill his shoes and will have to look to the trade market.
Cap space
This is where the Shanaplan and the win-now mentality clash the most. This Maple Leafs' team is strong. This is a lineup that could potentially win the Cup. But keeping it together is going to be nearly impossible.
Right now, the Leafs are right up against the cap. And that's with Matthews, Marner, and Nylander on entry-level deals. So far, the team has benefitted greatly from paying the kids a pittance, but that is about to change.
Nylander is a restricted free agent this summer and will be looking for a big payday. Patrick Marleau is currently the highest paid player on the Leafs with at $6.25 million per year. Nylander can probably demand a contract in that ballpark, maybe even slightly higher.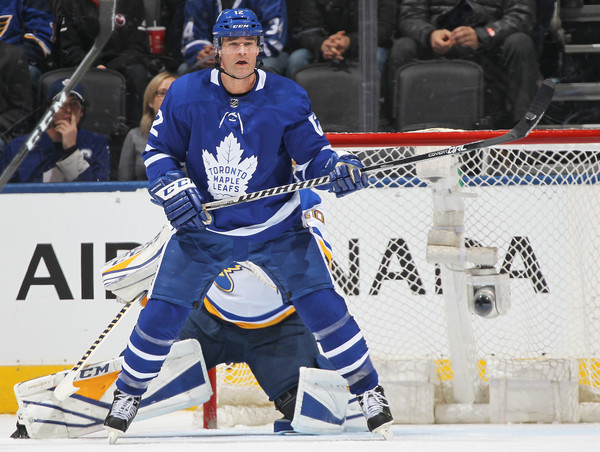 Marner and Matthews will be restricted free agents next season. Marner, like Nylander, will probably be looking for a contract around $6 million per year. But Matthews is another story. The face of the Maple Leafs will be looking for franchise player-type money, meaning he will likely hit double digits.
That means that between those three men, the team may need over $20 million in cap space to keep their core together.
The Leafs have a handful of players in the two to four million dollar category at the moment that they may consider shedding to open up space for Matthews and Co. The problem is that would involve getting rid of several key players, which would slow the rebuild. And rebuilding a team this good under the cap could be nearly impossible.
Sticking to the Shanaplan would mean making some deals to open up the cap space. But with the Cup potentially within reach and a bunch of key Leafs facing free agency this season, do they keep this lineup and go all-in this year?
What they can sell
James van Riemsdyk
The name most-often floated in Leaf land as on his way out the door is James van Riemsdyk. The net-front master is on pace to break 30 goals and is a free agent at season's end. The American winger has confirmed that he will not take a hometown discount to stay in Toronto.
JVR already makes $4.25 million per season and will likely expect at least that much in the offseason, if not more.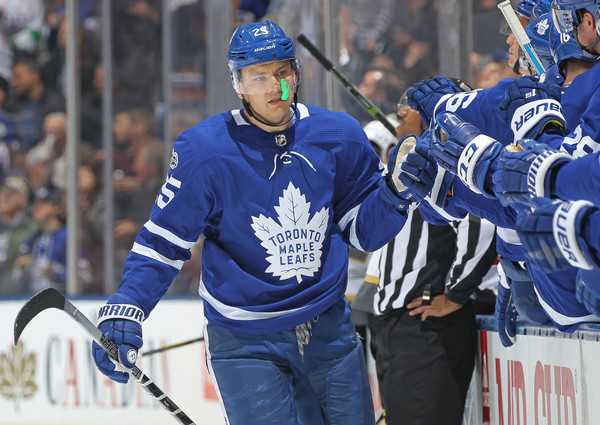 Considering the Leafs upcoming cap crunch, they may not be able to afford to keep JVR and all the kids in the upcoming season. Given the choice between van Riemsdyk and Nylander or Marner, the team will probably go with the kid.
If van Riemsdyk is going to leave anyway, the team may as well deal him and get something in return. Considering the strong season the winger is having, he may be able to garner the best return of anyone other than the kids, who it is highly unlikely to trade.
Tyler Bozak
Like his winger, Tyler Bozak is also a free agent at the end of the season and currently has a cap hit north of $4 million. Unlike van Riemsdyk, it may be slightly more likely that the Leafs can get him cheap.
By no stretch of the imagination is Bozak having a poor season, but the face-off specialist lacks the goal-scoring punch of JVR. He is unlikely to get a raise at season's end, making it more likely that Toronto can sign him.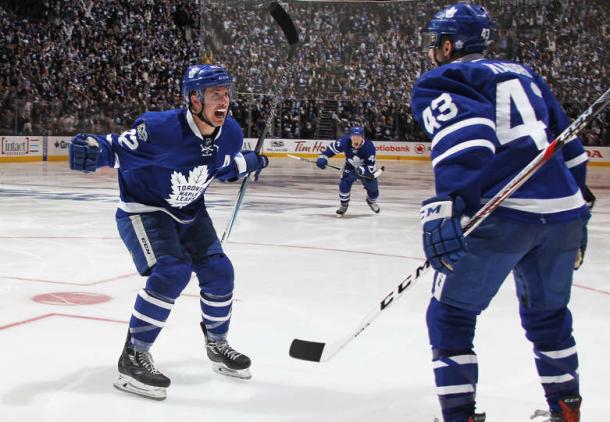 That being said, Bozak is a former first line centre who has been demoted over the past few years, albeit into a far more comfortable role, and if he's not going to get his payday from the Leafs he may look elsewhere.
He could be a good fit for a team looking to add some depth at centre. There has been a lot of talk about the Pittsburgh Penguins needing a good third-line centre. Like van Riemsdyk, if Bozak is not going to re-sign for cheap, Toronto may as well trade him and get something in return.
Leo Komarov
Another upcoming free agent, Leo Komarov is the most affordable of the three, with a cap hit currently just under $3 million. While Komarov remains an elite penalty killer, he is on pace for a career-low in points for a non-lockout season. He has also been demoted to the fourth-line.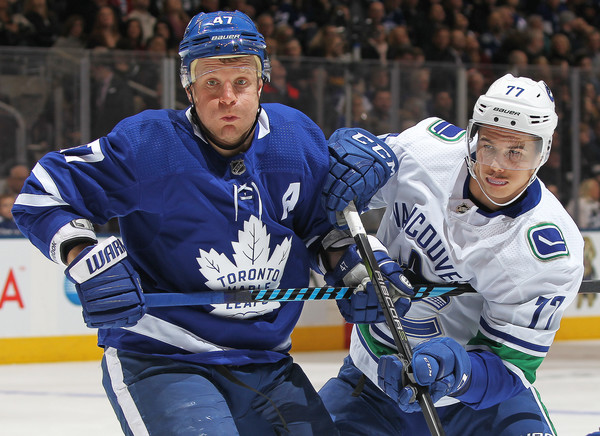 The odds are probably pretty good that the Leafs can resign Komarov for even less than they are currently paying him. It's also unlikely that the Leafs could get much in return in a trade, at least compared to Bozak or Komarov.
Komarov is also a big leader on this young Leafs' team. Still, as an upcoming free agent, the Leafs could be willing to deal him if they get the right offer.
Josh Leivo
The Leafs' third-round pick in 2011 is the only member of the team who has openly spoken about leaving. Having only appeared in 12 games this season, Josh Leivo has never really earned a spot in the lineup.
Earlier this month, Leivo openly complained about how little he has been playing. Out of fear of losing him on waivers, the Leafs have chosen to sit Leivo in the press box every night rather than let him play in the AHL, which would require putting him on waivers.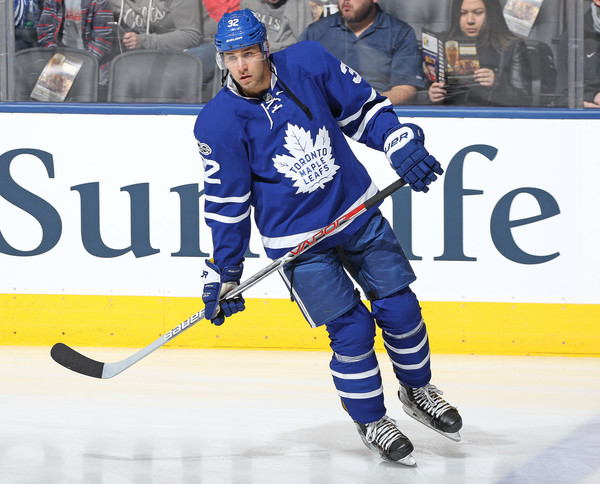 With Kasperi Kapanen having slipped up from behind him to claim a roster spot and with Matt Martin, who is higher on the pecking order, joining him in the press box every night, Leivo probably realizes that he will never be a consistent player in the Leafs lineup.
And he's probably right. However, the 24-year-old winger is probably good enough to crack an NHL lineup somewhere, so they may as well deal him and let him play elsewhere.
Matt Martin
Speaking of Kasperi Kapanen, after spending the first half of the season with the AHL's Toronto Marlies despite outstanding play in the 2017 playoffs, the 21-year-old who came over in the Phil Kessel trade from Pittsburgh has finally earned his place in the lineup on a nightly basis, currently playing on the fourth-line.
With the young Finn's emergence, veteran grinder Matt Martin has become the odd man out.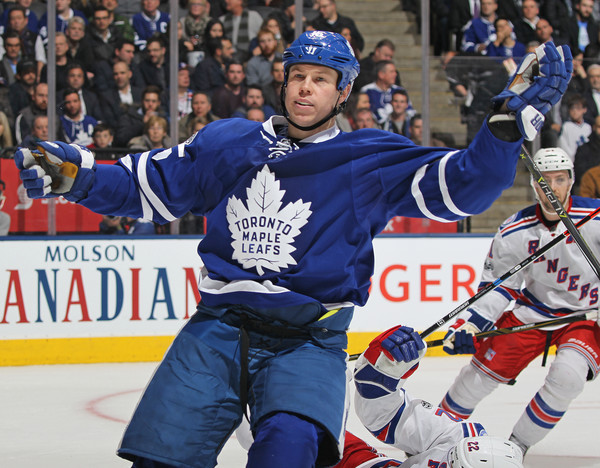 Martin has provided a lot of character and veteran leadership to this young Leafs' team, but his on-ice numbers have never been great, hence the more-productive Kapanen has taken his place.
Barring an injury or trade of a winger like van Riemsdyk, it is hard to see Matt Martin getting back into the Leafs lineup anytime soon. With a cap hit of $2.5 million, his could be a contract worth clearing out to make room for the future.
Swedish Defensemen
For all there is a ton of discussion about the Leafs improving their defense, they may not need a trade to do it. The Leafs currently have three top-notch Swedish defense prospects with the Marlies.
Andreas Borgman was a regular in the Leafs lineup until earlier this month and was fairly solid during that stint. 24-year-old Calle Rosen started the season with the big club and has been a driving force behind the dominant Marlies squad since being sent down in October.
And then there's 2017's 17th overall pick Timothy Liljegren, who played for Sweden at the World Juniors and has drawn comparisons to Nicklas Lidstrom.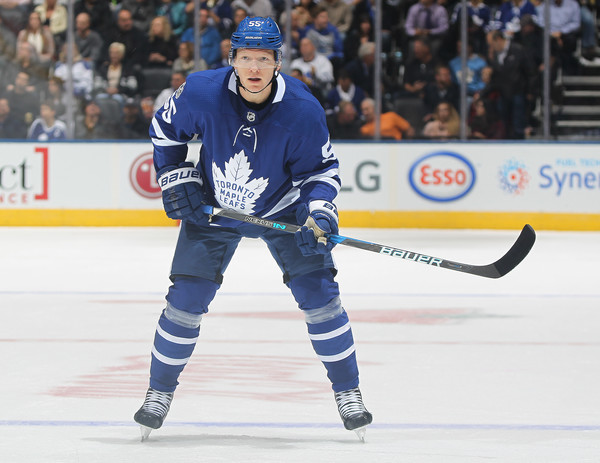 Even if all three prove to be NHL caliber defensemen and can crack the Leafs' lineup, there simply aren't enough spots for all three of them, as Morgan Rielly, Jake Gardiner, Nikita Zaitsev and Travis Dermott probably aren't going anywhere anytime soon.
Ron Hainsey has another year on his contract while Connor Carrick has been solid in his starts. Eventually, one of those young D-men is probably going to have to go anyway.
Likely outcome
It depends entirely on the mentality of management, but it is probably unlikely that the Maple Leafs will make any big deals at the deadline.
They've already traded Nikita Soshnikov to the St. Louis Blues, but that very well could be all Toronto does. They may make another few small trades like that, but a management team that has done everything right for the last three years is unlikely to break from the course dramatically to go all-in on a Cup run this year.
But they are also unlikely to risk their ability to make a run this season by doing something dramatic. Trading Bozak or van Riemsdyk is possible if the team really does not believe that they will re-sign them and won't want them to go for nothing.
But the Leafs offense is built on their relentlessness and dealing one of or both of them would mean blowing up one of their best lines and putting the entire offense at risk.
The trade deadline has gotten less and less interesting every year, and the Toronto Maple Leafs are unlikely to be the team to make it interesting this year.
Expect a quiet couple of weeks from the boys in blue.