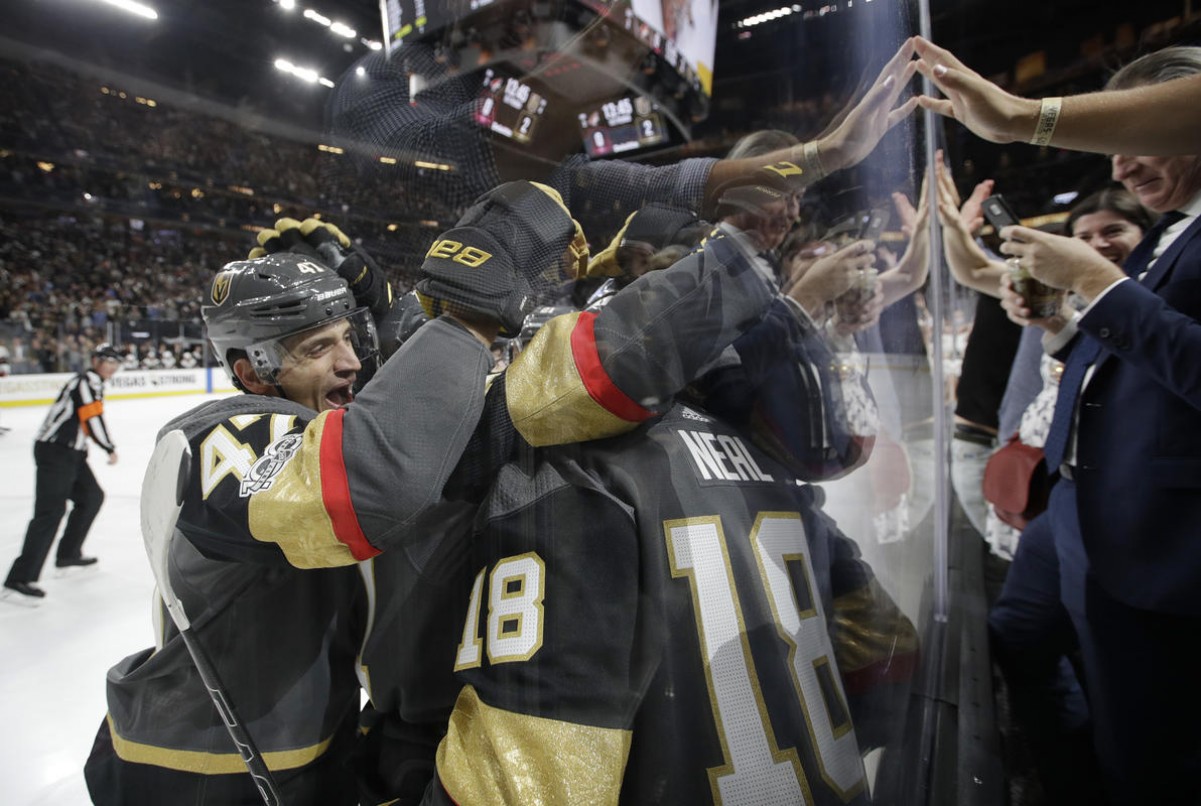 It is often said that to win a Stanley Cup you need a mix of five things; Talent, luck, goaltending, resilience, and a really good home rink.
Vegas has a plethora of resilience, a painfully good home rink, they have their fair share of luck and their goaltending is far from a problem. The one thing that they lack compared to other contenders is a superstar.
Their talent is solid, a top-six that is comparable to many others, a breakout sensation in William Karlsson, and a first line that is clicking on all cylinders.
The fact remains though, that Sidney Crosby is not on the Golden Knights. P.K. Subban isn't either. Erik Karlsson is nowhere to be seen. Connor McDavid is firmly based in Edmonton and Steven Stamkos is comfortable in Tampa Bay.
Each and every night the team on the other side will line up against the Golden Knights with a six, seven, eight, nine or ten million dollar man.
Vegas won't... and that is a blessing!
Potential playoff lineup
If Vegas were to stay in-house and opt to not trade with anyone at Monday's trade deadline their starting line-up for the opening night of the playoffs will be far from shabby.
Some would argue it is one of the more dangerous groups out there. There are intangibles factored into that, of course. The "something to prove" mantra has stuck with this group and it continues to impress.
Breaking it down, this team is very good. Yes, they are not flanked by the names of the Tampa Bay Lightning but impressive nonetheless.
Here is what it could look like come mid-April for the Vegas Golden Knights.
FORWARDS:
Jonathan Marchessault - William Karlsson - Reilly Smith
David Perron - Erik Haula - James Neal
Ryan Carpenter - Cody Eakin - Alex Tuch
William Carrier - Pierre-Edouard Bellemare - Tomas Nosek
Depth: Brendan Leipsic, Tomas Hyka, Stefan Matteau
DEFENSE:
Brayden McNabb - Nate Schmidt
Deryk Engelland - Luca Sbisa
Colin Miller - Shea Theodore
Depth: Brad Hunt, Jon Merrill, Jason Garrison
GOALIES:
Marc-Andre Fleury
Malcolm Subban
Depth: Oscar Dansk - Maxime Legace
That is a very strong group of players, that is comfortable with each other and able to produce.
Don't make a trade if you do not need to.
The scenario may never be replicated ever again
Not just in hockey, but ever again. Call it sentimental, call it unbusinesslike, call it what you want... but it could be argued this is the exact team which deserves to finish what it started.
It could be a way to not lose any of the picks that were obtained at the expansion draft. You don't derail the plans. You do risk losing some of the unrestricted free agents for nothing, but if you have a chance to compete for the Stanley Cup.. who cares?
This is purely based on sentiment and that is not how hockey works, but if sentiment could ever win over a GM, this might be the time.
In the playoffs, a universal concept has always been that you will go as far as your goalie can take you. Time and time again we have seen good teams get great goaltending and make it farther then they should.
If Fleury gets hot, he is as good as any goalie in the league. Let him do what he does, and in addition to that, you will in the next year need to make a choice on your goalies.
Let this team play things out. They deserve it. This team is special and we all know it. See how far they can go. Don't mess up a good thing.
Let the best story in the NHL play out.
Remember this team is in its infancy. There is zero reason to trade away your first-round picks, your few prospects or anyone you are unsure of.
Play on the storyline, and in turn, stick to your plan. If James Neal walks away... it's okay. If David Perron walks, it is okay. The goal at the beginning of the season was the build a fan-base and compete every night.
That should and still can be the plan.
Don't introduce the Vegas fans to the reality of losing a fan favourite. Let Fleury make the saves, let Engelland be the hometown hero, let Neal play for a contract. This team has been pure magic since day one.
There is no reason to think that would or will change.
This is based on sentiment and a watchful eye on the future. If this team is going to do the unthinkable in the playoffs... let them do it with the group that has gotten them this far. Next year, in two years or so on, then you can get into the reality of the league.
For now, do absolutely nothing.
If you were the GM, what would you do? Comment down below.