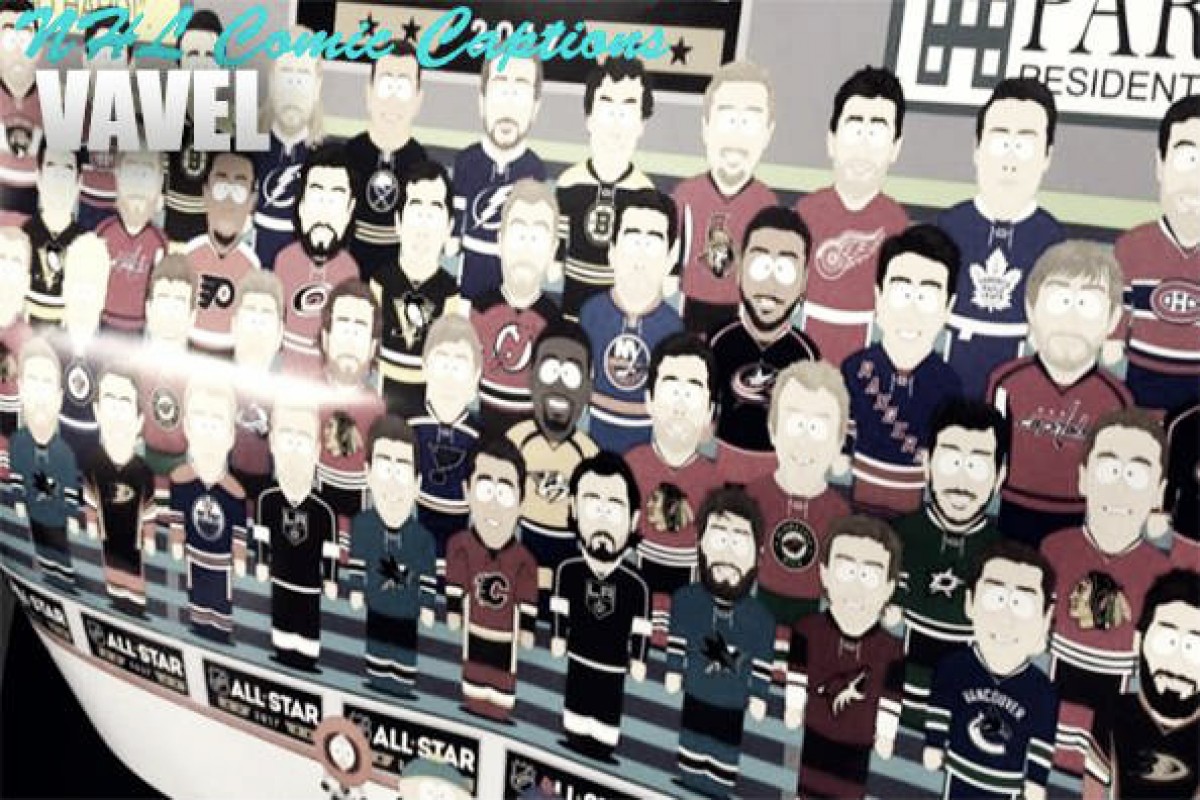 Here's NHL comic captions – Week 27 of the 2017/18 season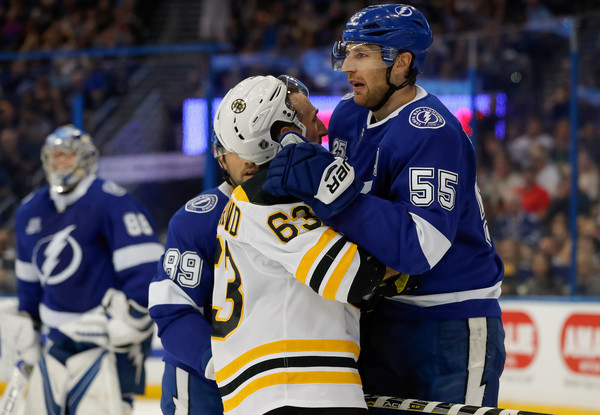 "Here, Brad let me get your helmet fixed, after I use my huge 6'5", 223lb frame on you... you're going to need it!" Braydon Coburn, defenseman - Tampa Bay Lightning
The Boston Bruins may have felt like they were bullied by the Tampa Bay Lightning after they dropped a golden opportunity to take a four-point lead in the Eastern Conference.
After a scoreless first period, the Lightning struck and struck not twice, but three times in the middle frame in a matter of 9:26 to put the hurt on the Bruins.
Brayden Point, Victor Hedman, and Chris Kunitz registered goals and the Bruins would never catch up... in fact they never even scored a goal. For them, that is highly unusual, since they were ranked sixth in the league in scoring when this game was played.
Andrei Vasilevskiy, the Tampa goalie had a lot to do with keeping the powerful Bruins off the scoreboard. He collected 33 saves and a shutout, which was his eighth of the season to go along with his 43rd win.
Can't beat good goaltending and it looks as if Vasilevskiy is warming up for the pending playoffs.
---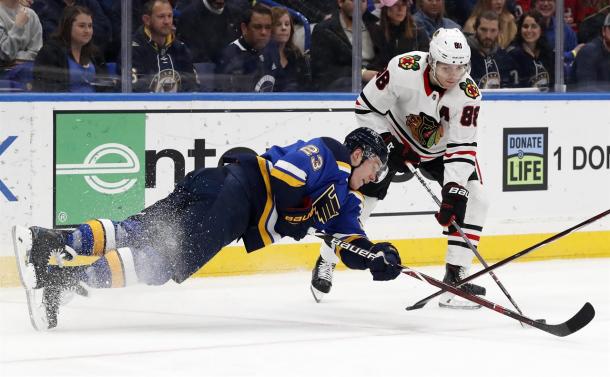 "You're not in Vegas at Cirque Du Soleil Dmitrij, so knock it off!" Patrick Kane, center - Chicago Blackhawks
Come to think of it, the St. Louis Blues could have perhaps used some circus acts to try and defeat the Chicago Blackhawks in this pivotal game which helped them from being eliminated from playoff contention... for now.
There's no love lost between these two franchises, so when one can stick it to the other... it's open season... so to speak.
The Blackhawks did stick it to the Blues in the earlier back-to-back game won by Chicago 4-3. That one put salt in the wound, and it's a definite conclusion that the rivalry between these two midwest cities is growing like a fungus.
St. Louis was it's own worst enemy, as even though they won this critical game, they had to defeat the Colorado Avalanche in a deciding game to qualify for the postseason, and that didn't happen.
So, the Blues are on the outside looking in, and the team will have regrets over the LONG hot summer months wondering what they need to do to get past this.
Now, Chicago could care less... they inflicted pain to their rival.
Mission accomplished!
---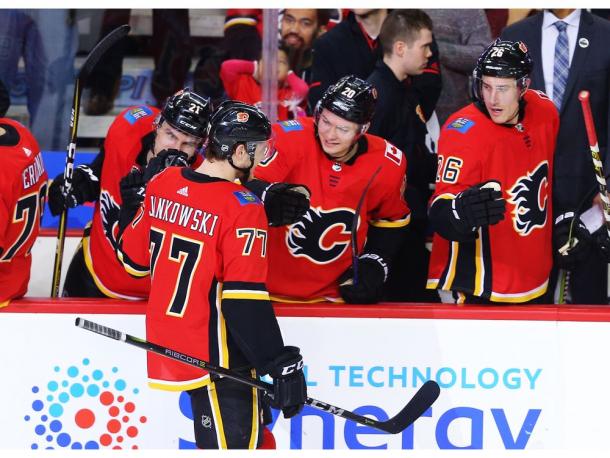 "I think Stoner is jealous that you got four goals in one game and he only had three in 82 games... yep, he's twisted about it!" Calgary Flames bench
The Calgary Flames were definitely twisted about giving the Vegas Golden Knights their worst defeat all season... even if it did happen on the last game, and Vegas didn't need the win.
Mark Jankowksi finished off the season in a bang, and wound up with 17 goals, eight assists in his initial NHL season.
"It was just one of those nights where the puck was finding me and going into the back of the net," Jankowski said. "I was playing with some pretty good linemates (Saturday) that could make plays and give me the puck in those situations."
"It was just one of those nights for me."
He scored on the rush, on the power play and shorthanded, giving us a future glimpse into what Jankowski can offer when all factors of his game are engaged.
What was really surprising was to see Marc-Andre Fleury give up six goals on 18 shots, and get pulled in favor of Malcolm Subban for the final period. Even someone like Fleury can have an off night, and it's better to get those out of the way before the playoffs begin.
It just was Calgary's night, and after not making the playoffs they at least finished the year respectably.
---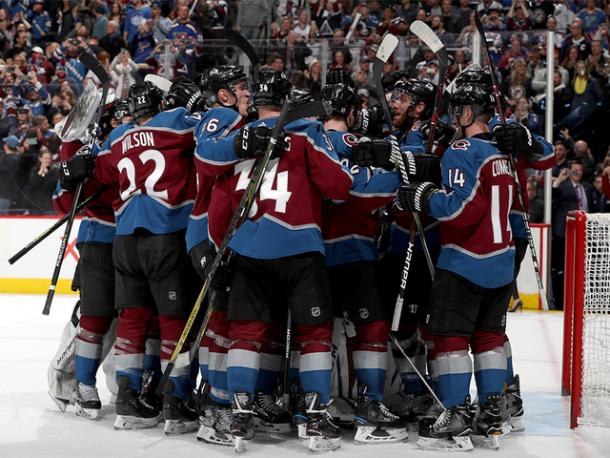 "They counted us out, especially after last season's debacle of a year... but we came back and made the playoffs! What a turnaround." Colorado Avalanche players
They were worst team last season in the NHL, not even close. The Colorado Avalanche gathered a whole 48 points, but this season was different. They nearly doubled that anemic total tallying 95 points for the 2016/17 season.
Now that's a turnaround!
Nathan MacKinnon scored his first goal in 10 games, Jonathan Bernier skillfully stopped 32 shots and the Avalanche earned the final playoff spot in the Western Conference with a 5-2 win over the St. Louis Blues on Saturday April 7, 2018.
It was truly a Cinderella story, and one not given enough attention. What happened to this team ever since they traded their star center Matt Duchene?
Lots.
November 5, 2017: Traded Duchene to Ottawa by Colorado as part of a three team deal in which Ottawa sent Kyle Turris to Nashville, Andrew Hammond, Shane Bowers, Ottawa's 1st round (protected) pick in 2018 NHL Draft and Ottawa's 3rd round pick in 2019 NHL Draft to Colorado and Nashville sent Samuel Girard, Vladislav Kamenev and Nashville's 2nd round pick in 2018 NHL Draft to Colorado. That deal was complex, but it appears very fruitful for the Colorado team.
Gabriel Landeskog, the captain of the team excelled this season without Duchene. He nearly doubled his point total from last season from a weak 18 goals, 15 assists to a respectable 25 goals, 37 assists.
Getting a player like Sam Girard in the Duchene deal also helped make the Av's a better team.
They put it all together in the last game, and St. Louis just couldn't overcome their previous losses which set up this dramatic end to the season.
Now, maybe the Av's shouldn't celebrate too early or briskly as they must now face the best team in the NHL in the Nashville Predators.
That is not an easy task... but then going from the laughing stock of the NHL last season to the playoffs this season was not a skip in the park.
The Av's could be the darling of the playoffs.
Don't count them out because they aren't.