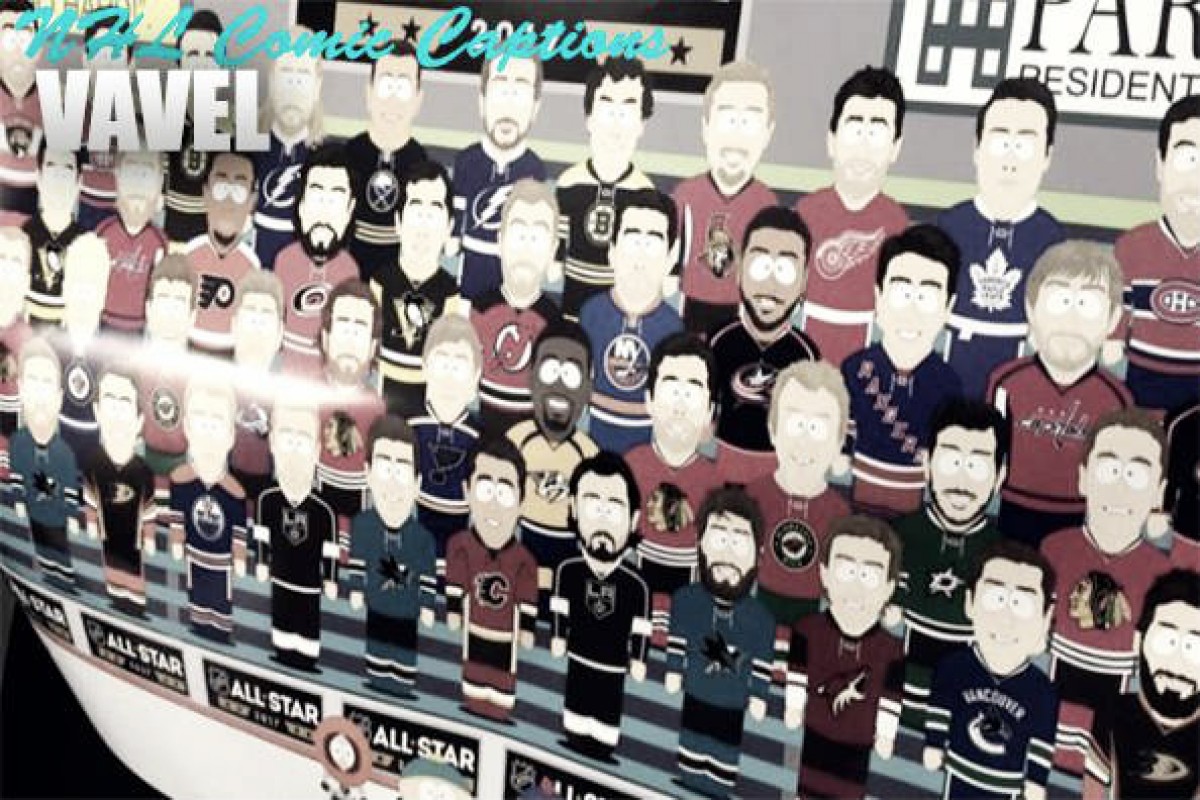 Here's NHL comic captions – Week 1 of the 2018 playoffs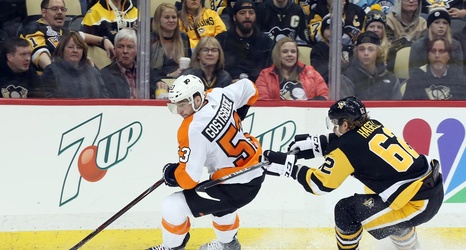 "Don't I wish it were 7-up... more like 7-0, unfortunately for us." Shayne Gostisbehere, defenseman - Philadelphia Flyers
In the Eastern Conference matchup of the defending Stanley Cup Champion Pittsburgh Penguins vs the Philadelphia Flyers, it was billed as the "Battle of Pennsylvania."
Well... it wasn't much of a battle in Game 1 of this interstate rivalry, as the Penguins cleaned up handily and dispatched the Flyers 7-0.
That's right 7-0.
And, of course if you can't stop Sidney Crosby your chances of beating the Penguins is next to slim... or none.
He gathered his third career hat trick in 149 playoff games, second only to Mario Lemieux who did it in 107 games. And, it was a natural hatty as he scored once in the second period and twice in the third stanza to pace the Penguins.
Matt Murray also collected his third consecutive shutout dating back to last year's Cup run.
It wasn't much of a game for the Flyers.
Flyers' starter Brian Elliott was pulled at 9:01 of the second period after allowing five goals on just 19 shots.
"It's a loss," Elliott said. "That's all it is at the end of the day."
That may be true, but a loss in a seven-game series is not how you want to start out the playoffs.
Back to the drawing board for the Flyers.
---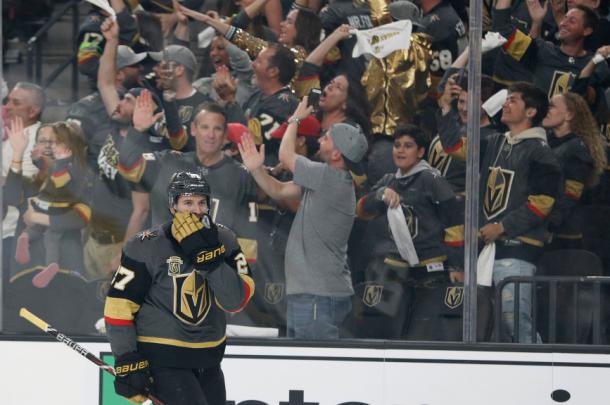 "Oh my gosh... we've done it, we not only got into the playoffs we won our first playoff game! I'm speechless." Shea Theodore, defenseman - Vegas Golden Knights
Shea Theodore scored the only goal of this tightly fought defensive battle at 3:23 of the first period as the Vegas Golden Knights debuted in the playoffs... and won their first playoff game.
If there's anymore 'firsts' for this expansion team (yes... they are an expansion team) then they may need to adjust the size of the record books.
Vegas can light it up offensively, or play a tight checking defensive style and with an outstanding goalie like Marc-Andre Fleury you always have a shot to win a close game. He came up with 30 saves as he shut out the Los Angeles Kings to take a 1-0 series lead.
This is playoff hockey and the physicality always picks up. These two teams do not like each other as indicated by the 127 total hits registered by the two teams. William Carrier of the Golden Knights led both teams with 10 hits. He also bested all players with a 75.0 Corsi for percentage.
The surprising Golden Knights are the buzz of the NHL and for good reason. They had an excellent season, and by some accounts could have been satisfied with just making the playoffs, but not these Knights.
They want it all, and they're off to a good start!
---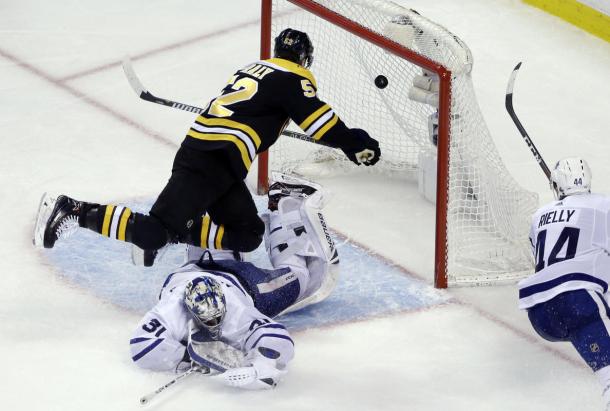 "Hey Frederik, that was my Peter Pan move... like it?" Sean Kuraly, center - Boston Bruins
The Boston Bruins flew into Game 1 of their playoff series against the Toronto Maple Leafs with lots of confidence and results.
Kuraly commented on his goal, which displayed both agility and finesse to score.
"It's not really my style," said Kuraly, who had to resist hitting the puck before it fell below the level of the crossbar to avoid being called for a high stick. "To go from 100 mph and hitting everything that moves and (wait) in front of the net, it can be a challenge."
Indeed... and the Boston Bruins were definitely up to the challenge for Game 1, winning 5-1.
Toronto made the mistake of testing the Bruins power play and that didn't go well for them as Brad Marchand, David Backes and David Krejci each scored a power-play goal.
Your special team's play must excel if you want to win in the playoffs and Toronto needs to work on that.
"Obviously, our penalty kill wasn't good enough," Leafs' head coach Mike Babcock said. "We took too many penalties in the third, and the third was no contest."
Boston is a very explosive team and helping them by giving them power plays is like playing Russian roulette.
---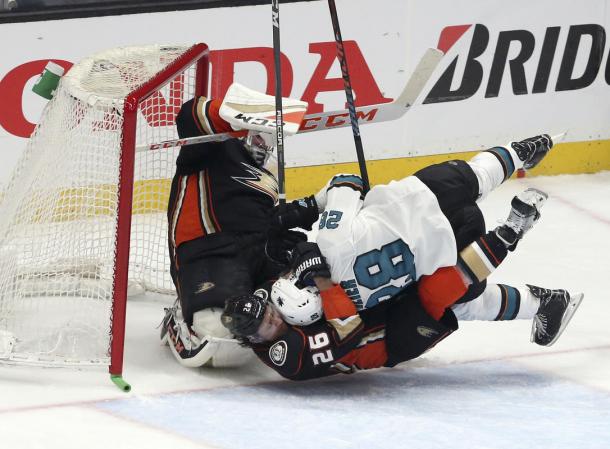 "Ok you guys, you've already knocked off the net from its moorings... and what the heck are you doing in MY goal crease anyway?" John Gibson, goalie - Anaheim Ducks
The San Jose Sharks and the Anaheim Ducks started their "freeway" series and the Sharks got the better of the scoreless Ducks taking Game 1 easily 3-0.
This game marked the first playoff game for Evander Kane in 574 NHL games... in other words, his entire career. So, he celebrated by scoring two goals. His play has been nothing short of spectacular since he joined the Sharks six weeks ago via a trade deadline deal.
He had 14 points in 17 games at the end of the season, and looks to be a key player for the Sharks in the playoffs.
"It was nice to finally get out in the playoff atmosphere, and it was fun to finally get my first playoff win," Kane said. "It's nice to contribute. That's my job. I feel confident in my abilities. I don't think it was my best game, but I'm never going to be mad when we get a playoff win and I get to contribute."
Another contributor to the success in this game was Martin Jones who came up big with 25 saves and a shutout.
The Ducks lost their home-ice advantage and gave up too many penalties, giving the Sharks the man advantage seven times.
"You can't afford to take seven minor (penalties) and give the opposition an opportunity to practice their power play," Ducks coach Randy Carlyle said. "It takes any momentum that you had building in the game. It flips everything in their favor."
---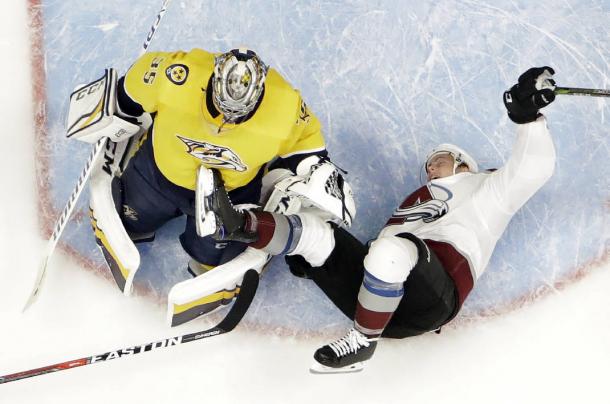 "Really Tyson! This is not the time or place to be taking a nap!" Pekka Rinne, goalie - Nashville Predators
It seems like the Colorado Avalanche would like to take a nap after the Nashville Predators took Game 2 from them 5-4. Both teams were playing very physical hockey as they were each assessed seven penalties in the rough game.
Kevin Fiala had a goal and an assist, and Viktor Arvidsson, Ryan Johansen and Austin Watson each scored a goal. P.K. Subban and Mattias Ekholm each had two assists for Nashville, which has won 12 straight over the Avalanche.
To round out the Avalanche scoring, Nathan MacKinnon had a goal and an assist, while Gabriel Bourque and captain Gabriel Landeskog each added a goal for Colorado.
In the end, the Av's kept it close, but the experienced Nashville squad prevailed.
To illustrate their dominance, the Predators kept Colorado from taking a shot until Nathan MacKinnon put one on net at 9:48, and Pekka Rinne smothered that.
Mackinnon's goal was an example of why he is being touted as a MVP candidate. His strength and speed are amazing.
---