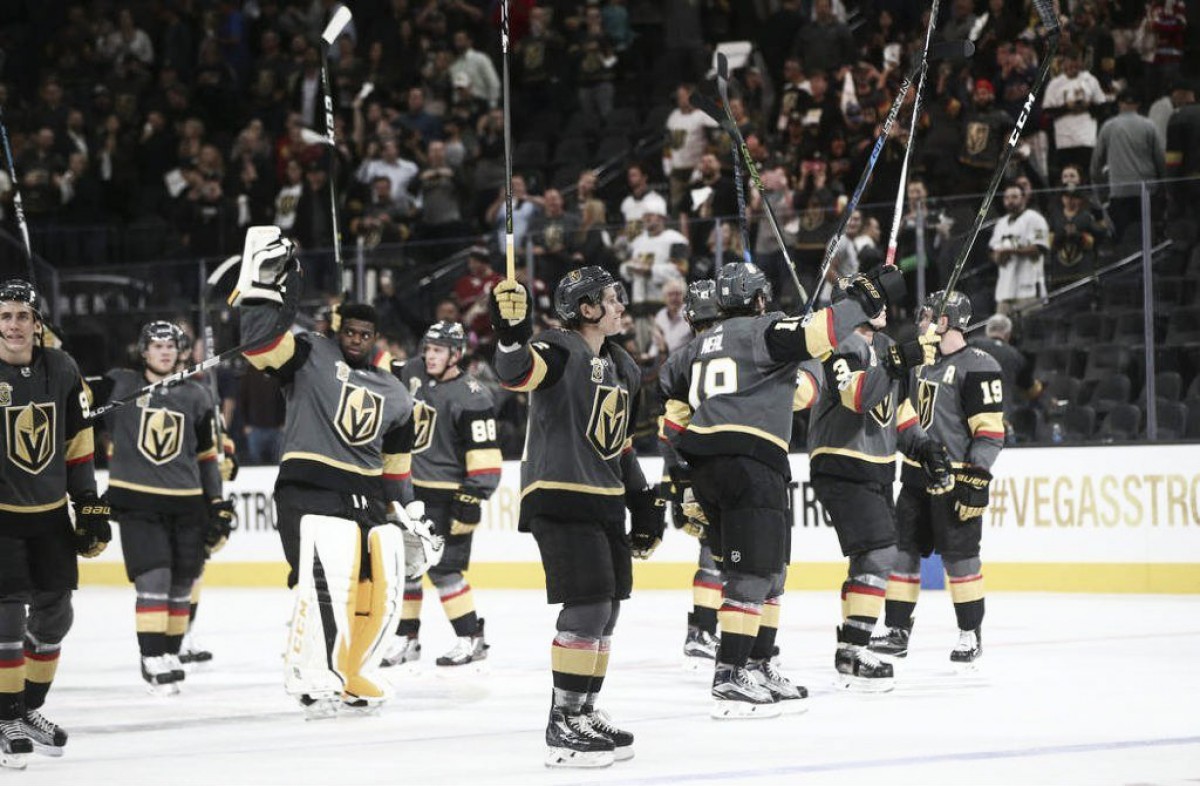 It's not a fairy tale, and it's not something most hockey experts can explain but the Vegas Golden Knights in their initial NHL season won the Pacific Division and finished third overall in points in the Western Conference.
But... that's not all.
They not only made the playoffs, but have advanced through the first two rounds defeating both the California rival teams Los Angeles Kings, and San Jose Sharks.
Wait... isn't this a group of misfits?
Exactly.
The 31 NHL teams were told to protect no more than 10 skaters and a goalie, which wound up leaving some pretty darn skilled players available for the new Vegas team to snatch up.
And that they did.
General manager George McPhee worked some magic, but claimed he wasn't trying to select players which would allow him to go even close to their phenomenal success they've attained this first season.
McPhee also worked deals to NOT choose a particular player in return for draft picks in hopes of building his team up for the future.
The future seems to be NOW!
Take for instance the way he acquired the super-talented William Karlsson. Lots of cap challenged teams had players with bad contracts that they wished to unload.
The Columbus Blue Jackets were one such team who wanted to dump the contract of the retired David Clarkson. So McPhee decided to take on that contract in exchange for two high draft picks, plus selecting center William Karlsson.
At the time it seemed like a logical decision for Columbus based on Karlsson's lack of production with only 15 goals in 162 NHL games.
Wrong.
Karlsson stepped up with 43 goals, 35 assists for 78 points. He was a dreaded sharpshooter who had an amazing 23.4% shooting percentage which tied him for the best in that category in the league. He led the NHL in +/- with a +36. He scored 0.95 points per game, and pretty much dominated the scorecard for his new team.
Misfit? I don't think so.
A similar situation got the Golden Knights their star goalie, Marc-Andre Fleury. The Pittsburgh Penguins sent a second-round draft pick to Vegas with the stipulation that they select the mature goalie and his huge cap hit, instead of a younger player on their Stanley Cup-winning roster.
Fleury may not be a spring chicken, but he's one heck of a goalie.
Just take a look at his numbers thus far in the playoffs.
He is tied with Braden Holtby for the most wins in the playoffs with an 8-2 record. He possesses the best goals against average with a stellar 1.53. His .951 save percentage is tops of all playoff goalies, and of his 10 games, four have been shutouts.
Hard to top that.
More 'misfits'
Another important part of the success this year for the Golden Knights has been Jonathan Marchessault. The former Florida Panthers' forward was left unprotected and the Vegas team grabbed him.
To illustrate just how fortunate the Vegas club was, the Panthers actually traded another hidden gold mine in winger Reilly Smith to the Golden Knights in exchange for them taking Marchessault!
What have both of these 'misfits' done?
Plenty.
Marchessault had 27 goals, 48 assists for 75 points, including six power-play tallies, and six game-winning goals. He was second on the team with a +/- total of +36. Along with the Blue Jackets blunder of allowing Karlsson go, the Panthers have got to be scratching their heads for passing on a player like Marchessault.
Smith contributed very well to add to the forwards who have really blossomed in the desert of Vegas. He threw in 22 goals, 38 assists for 60 points, including four game-winning goals, and seven power-play goals. His 13.6% shooting percentage shows he knew how to hit the back of the net.
David Perron is another player who has excelled on the front line for Vegas. He came from the St. Louis Blues who could have probably used his offense as they failed to qualify for the playoffs due to a weak offense.
He had 16 goals, 50 assists in just 70 games. He had 17 power-play assists to show his playmaking ability. His 12.8% shooting percentage also shows he knows how to get shots on net, and that's a valuable asset.
Eric Haula came over from the Minnesota Wild and added to an already talented group of forwards. He was second behind Karlsson in goals with 29, and he added 26 assists for 55 points. He also was second behind Karlsson in shooting percentage with a 16.6% success rate.
Defense additions were solid
Every successful NHL team needs good goaltending and a defense that will keep them in games and support their goalie.
Vegas struck gold again in this area.
They managed to pick up Colin Miller from the Boston Bruins and his possession style of play was infectious as the Golden Knights were a team who were skilled in maintaining control of the puck, and were fast to loose pucks to take advantage of turnovers.
Miller not only collected 10 goals, 31 assists for 41 points, he also led the team in hits with 165, and penalty minutes with 53. Of his 10 goals, five were of the man-advantage variety, so you know who was on the power play unit shooting from the point... that would be Miller.
Another defenseman who has fortified the blue line is Nate Schmidt. If the Golden Knights and the Washington Capitals meet in the Stanley Cup Finals, (hey, it could happen...) Schmidt may be facing his old team.
He added stability on the blue line with five goals, 31 assists and was a +19, which for a defenseman is excellent. He also gave his body up for 121 blocks which was third on the team.
Everything considered, this is one outstanding expansion team
The statistics, the excitement, the overall performance of the Vegas Golden Knights in their premier season is something to behold. This writer witnessed a November 25, 2017 game in Arizona where the Vegas team struck and struck fast and deep in a 4-2 win.
They managed to score three goals (including a short-hander) in 1:42 to send the Coyotes howling for cover.
It was no coincidence that the above-mentioned players were instrumental in the win. Karlsson had a goal and an assist. Marchessault had one goal, two assists, while Haula pitched in with a goal and Smith registered an assist.
It's pretty cut and dry if you can't stop these key players you will have some sustained difficulty in beating them.
The Los Angeles Kings and San Jose Sharks learned that well in their first and second round losses to this upstart expansion team in the playoffs.
Fleury has been stunningly awesome.
Marchessault has 4-G, 7-A. Smith has 1-G, 10-A. Karlsson has 4-G, 6-A.
Every time it is mentioned that "oh Vegas will crash and burn", they come back and play good quality hockey... and WIN!
So, does this mean the Cup will come to Vegas?
It could.
And certainly up to this point the sky is the limit for this team. The downfall may be if that happens, will they be able to sustain that lofty goal in years to come?
It is conceivable, as they have built a nucleus of a team with all the ingredients necessary to be a top-flight team for a few years. They have draft picks and money to spend.
So, why not?
They will now need to use some of their projected cap space money ($24,833,334) to retain the services of such UFA players as James Neal, David Perron, and RFA's William Karlsson (get out the checkbook Mr. Bill Foley), William Carrier, Colin Miller, and Shea Theodore.
Can you picture the Cup coming to Vegas?
In an already circus-like atmosphere (have you seen a Vegas pre-game ceremony?) imagining how the entertainment capital would welcome a Cup in their inaugural season is like imagining what it would feel like to win a huge jackpot at one of the Vegas casinos.
Euphoria would prevail, and in the aftermath of this city still healing from the tragic shooting of late last year, there could be no other formula to bring happiness to a city yearning to move on from sadness.
VEGAS BABY!!
What surprised you the most about the amazing first-year performance of the Vegas Golden Knights? Let us know in the comment section below.