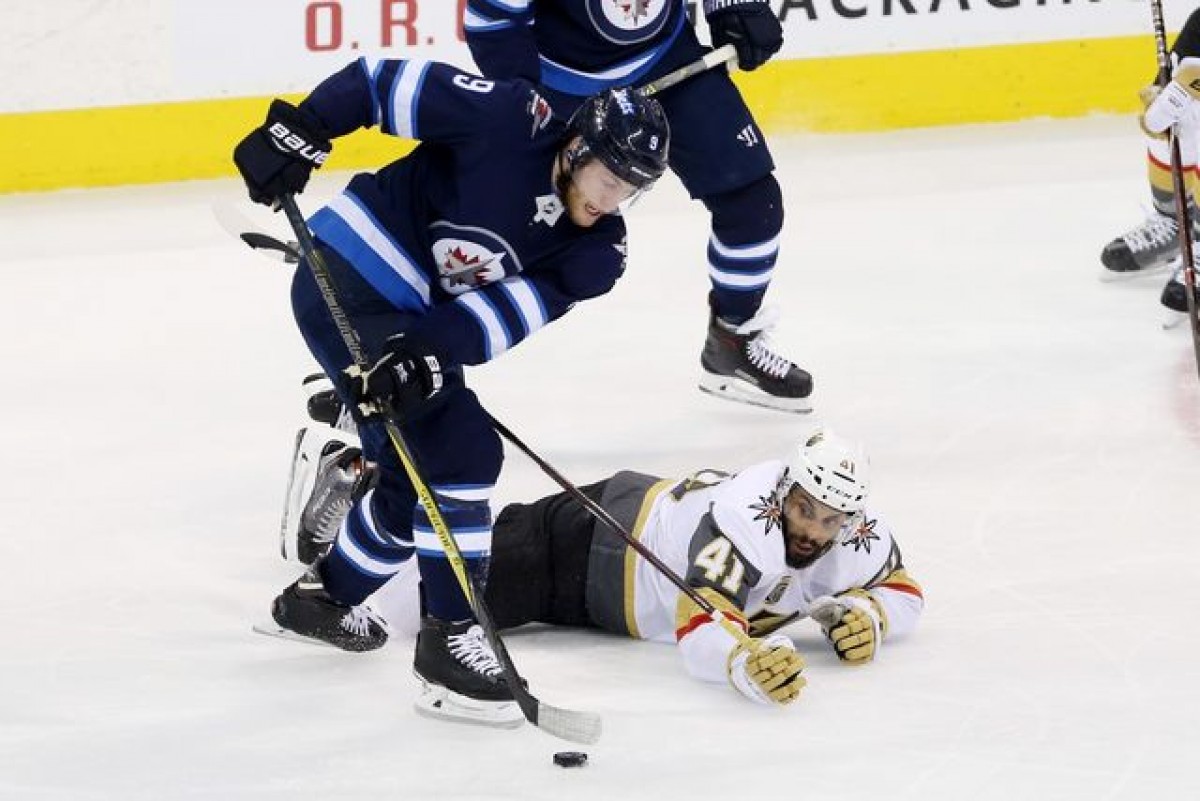 The Winnipeg Jets played one heck of a first period. Their goal a minute into the game should have been stopped, but do you really blame any goalie who can't stop a Dustin Byfuglien shot coming in at full speed with a screen?
The Winnipeg Jets are 8-1 in the playoffs when they score first. That's got to worry the Vegas Golden Knights' club a bit.
This game could easily be looked at with a blind eye and say Marc-Andre Fleury finally cracked. Begging to differ, I hardly think Fleury had much of any chance on any of the goals scored. This does raise the question though; can the Vegas Golden Knights win a game where Fleury doesn't stand on his head?
Winnipeg's fast start
Winnipeg came out flying. Absolutely flying. One would argue that Vegas looked rusty. Realistically for the first 10 minutes, they looked overwhelmed.
This resulted in three goals, the second of which was linked to a controversial call.
Fleury has to make one of those stops, but looking back, which goal would you consider to be stoppable without a remarkable save. Patrik Laine played like the beast he is and the crowd got into the game very quickly.
The first period spiraled out of control quickly, only to be saved by a Brayden McNabb goal.
The controversial call came mid period with a goal interference call that seemed as obvious as humanly possible. Fleury was clearly impeded. That isn't even a question. However the goal stood and was the turning point of the game.
Fleury, usually stoic and drama free, was visibly upset about the call after the game saying that you never know what is (goalie interference) and what isn't.
It is of note that Vegas has been at the wrong end of the goalie interference call three straight times in these playoffs. It is not a surprise that eventually some frustration will rise with the calls.
The rest of the game
To be honest, the rest of the game was pretty slow. Pretty boring when it comes to playoff hockey. It looked like Winnipeg was trying to avoid getting scored on, rather than score, and Vegas just couldn't get going.
Winnipeg was the better team for 95 percent of the game, no questions asked, but this game was strange.
If you are Vegas and are looking for positives, note that for a game in which Winnipeg controlled, they hung around. They didn't get blown out. Fleury did not spiral out of control. Ryan Reaves didn't take a stupid penalty. They kept their cool pretty well and the panic level in the dressing room after the game was non-existent.
Fleury settled in a bit more, although his stat line doesn't show it, this was not a loss based on goaltending whatsoever.
If you are Winnipeg, you really don't care how you won the game, because in the playoffs it makes zero difference how you do so. Their first period was magnificent, and that was the end of the story.
Moving forward
Vegas needs to win a hockey game on the road to take this series. It comes down to that. Plain and simple. If Vegas has been good at anything this year it has been at keeping things really plain and really simple.
They have fought off doubters all year, and they may be the only team in league history that as things move forward in the playoffs, the pressure releases more and more. If they can steal Game 2 in Winnipeg on Monday night, things get very very interesting again.
Next game is not a must win in any means, but if you are looking to circle the most important game of the Golden Knights' season, Monday night would take that prize.
Fleury needs to be a bit better, Vegas has to be a bit faster, they need to stay out of the box, and they may need a little magic. If any team has a little magic in them... it is Vegas.
No need to panic, yet. However things can get out of hand really quickly if they are down 2-0.
Their backs would be against the wall.
Game 2 goes Monday.
Is Vegas on their way out? Do they still have come magic left in them? Comment below.