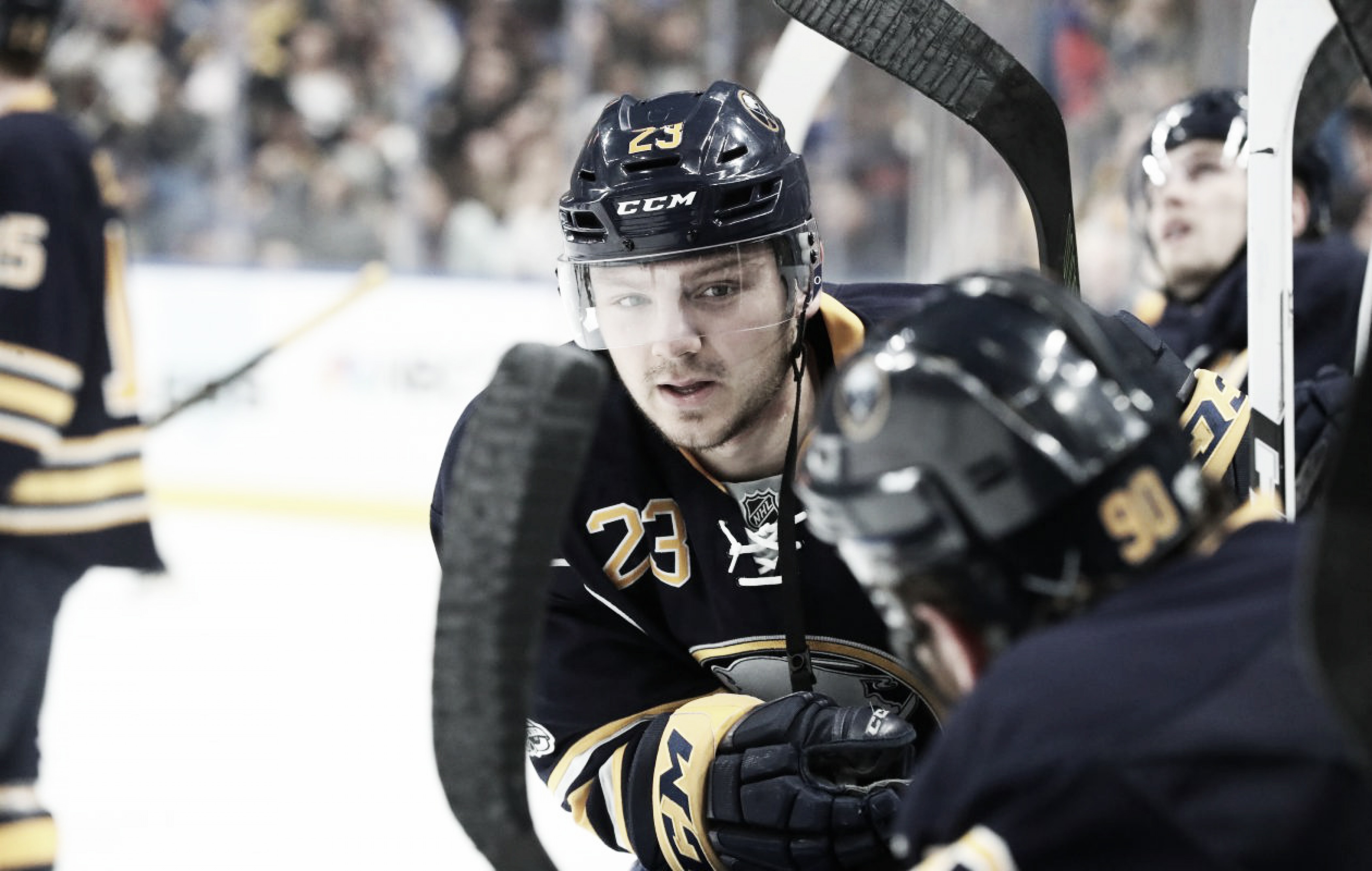 The Buffalo Sabres are jumping for glee as restricted free agent Sam Reinhart finally signs a contract after about a six-month holdout. The Sabres GM Jason Botterill said that talks were consistently ongoing and that it was always positive. But with two preseason games down, the fans became restless.
There wasn't really a doubt that Reinhart would sign but with the contract situation that seems to be getting worse just across the lake in Toronto with William Nylander, it became a constant concern for the media and fans.
Botterill was asked if it was a difficult negotiation in regards to Reinhart's contract, "No not at all, both sides understood that at the end of the day, both sides wanted Sam part of our group here and sometimes it takes a little longer to go through the entire process."
That was all put to rest though it on September 20th, two days after the second preseason game, when Reinhart was given a two-year deal worth $7.3 million. This is a fantastic deal for the Sabres money wise and it truly is a "prove it" bridge deal for Reinhart who came alive in the next half of the 2017/18 season.
Why is this good?
Well, this is a great contract for the Sabres. It's only for two years and when the contract is up, Reinhart will still be a restricted free agent with Buffalo still having his rights. Which means that Buffalo can have exclusive negotiations with him.
This contract also makes Reinhart show that his point per game stretch in the next half of the 2017/18 season wasn't a fluke after he had a terrible start to that season. This contract gives two years to show the Sabres that the second overall pick used on him was worth it.
Botterill has this to say about that point, "I think it's a situation where all our young players have more to prove, whether it's Eichel, Ristolainen or Sam, players that have been in the National Hockey League. I think it was a great step for Sam last year in the second half and our job is to carry it into this season."
This contract allows more time for Reinhart to grow and flourish with Buffalo and it also gives Buffalo an out. A two-year contract allows Buffalo to drop Reinhart if he can't live up to the hype that he created and trade him to give him a "change of scenery."
What's next for Reinhart and the Sabres?
With the signing of the contract, Reinhart joined the Sabres immediately hoping to jump back in and gel with his teammates. Sam Reinhart got to play with his teammates until camp started and for the week and a half that it took for him to work out his contract he went back to Vancouver to work out with the UBC Thunderbirds.
Reinhart had this to say about it, "It was probably one of the most challenging week in a half I've been a part of. The best thing I did was come in early and be around the guys because now it just feels like I missed a few days."
Reinhart played in his first game this preseason on September 22nd against the Toronto Maple Leafs. Reinhart looked good in his preseason debut with two assists as the Sabres dropped the game 3-2. He was also the first star of the game.
In his second game, Reinhart scored his first goal of the preseason off a beautiful feed from Jack Eichel.
The Sabres will play the second last game of the preseason against the Pittsburgh Penguins on September 26th at 7 P.M. E.T.
What do you think of Reinhart's contract? Tell me in the comments below!