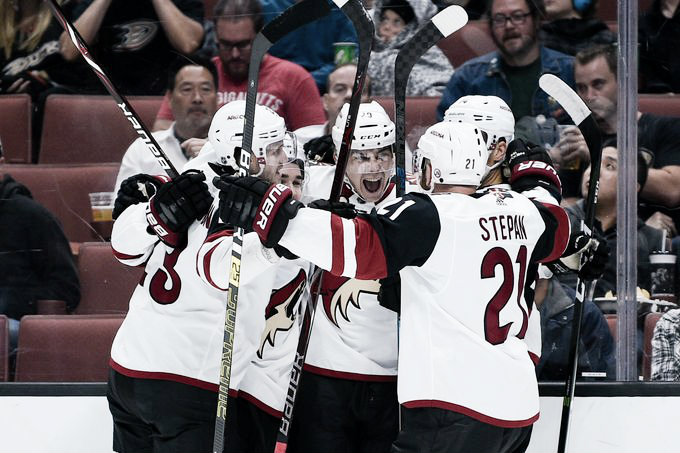 Dylan Strome arrived in this game.
He was certainly inspired after scoring his first goal of the season. What made it even more special was it was his team's first goal of the season too.
After what seemed like an endless scoring drought, the Desert Dogs finally got one by the red goal line after a grueling 137:33 of goose eggs on the scoreboard.
It helped get the Coyotes off to an eventual 3-2 win decided in a shootout.
Strome played his heart out
He was winning faceoffs like a ten-year NHL veteran and WANTED to be out on the ice when it counted. With an impressive faceoff performance of 69.2 percent (27 wins, 12 losses) overall and 68.4 percent in the offensive zone (13 wins, six losses), Strome is helping his team get possession of the puck.
As the old saying goes... you can't score if you don't have the puck.
When center Derek Stepan took a penalty at 3:54 of the second period, head coach Rick Tocchet didn't want to send Brad Richardson out there to double shift on the second penalty kill unit, so he called Strome's number and told him to out there and win the faceoff.
He did.
And the result was a short-handed goal by Brad Richardson at 5:24 to get the team a 2-1 lead.
Strome played his best game of his Coyotes' career and Toccket definitely noticed it. Who was out on the ice near the end of the game?
Dylan Strome.
The youngster is performing well and many thought he either needed to do that this season or something's got to give.
Game came down to a shootout
What may go unnoticed (but not by this writer) was Antti Raanta's performance in net. He got crashed into again, but survived and stood tall on many key saves to preserve the victory for the Coyotes... their first of the 2018/19 campaign.
Raanta came up big and he's showing that he can be a starting NHL goalie.
Saves like this will assure anyone who may doubt Raanta's skills.
Game winner came down to a shootout
Whenever coach Tocchet needs a good boost, he calls on the unpredictable Nick Cousins.
He came through again, this time on a pretty fake to get the Ducks' goalie John Gibson to look silly trying to stop Cousins' multiple moves as he approached the net.
Raata did the rest stoning the shootout shooters from Anaheim on all three attempts to get one by him.
This was a BIG win for the Coyotes, who didn't want to duplicate their last season's lack of performance by not winning in their first 11 games.
The monkey is off their respective backs now, and they can concentrate on getting both Alex Galchenyuk and Christian Dvorak back from injured reserve to stock up the center ice position.
But, it seems one center who won't be relinquishing his spot is Dylan Strome.
And if he continues to play like he did last night, he deserves to be in the starting lineup night after night.
Welcome to the NHL, Dylan... we've been patiently waiting for you. We knew you'd find your way, it just took a little longer... no biggie.
What were your observations about the Arizona Coyotes' first win of the new season? Is Dylan Strome here to stay? Let us know in the comment section below, and make sure to give us a follow on Twitter (@VAVELNHL_ENG) for more updates!