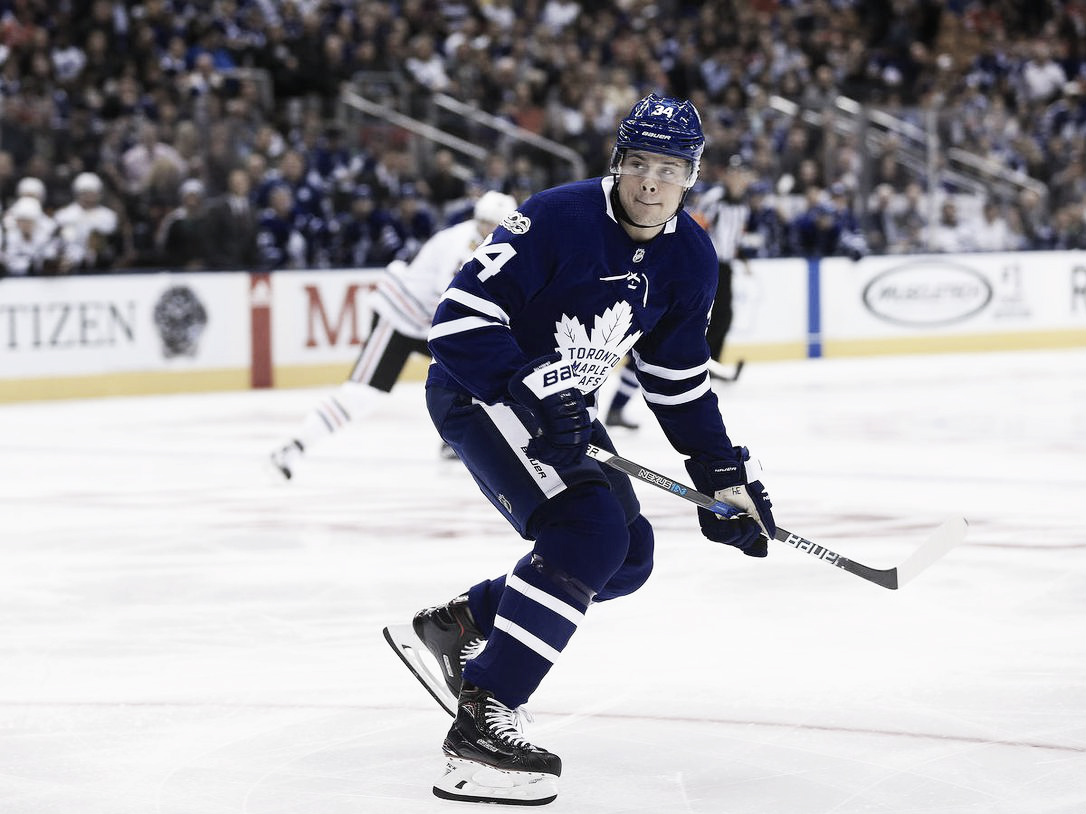 The Toronto Maple Leafs were dealt a huge blow on Oct. 29, when one of their young superstars was placed on injured reserve after hurting his left shoulder two days earlier.
Star centerman Auston Matthews was sidelined after the Maple Leafs' 3-2 win over the Winnipeg Jets on Oct. 27.
The team announced that the former first-overall pick will sit out for at least four weeks after taking a clean hit from Jets defenceman Jacob Trouba in front of Winnipeg's net early in the second period.
Matthews' injury comes amid the Maple Leafs' strong start to the 2018/19 season. The 21-year-old leads the team in scoring with 16 points (10 goals, six assists) in 11 games played this year.
Toronto dropped a 3-1 decision to the Calgary Flames on Oct. 29 in their first game without Matthews, who has said he doesn't need surgery.
Latest of several injuries
Matthews played all 82 games of his rookie campaign in 2016/17 and helped the Maple Leafs return to the Stanley Cup Playoffs after a decade of mediocrity. He also won the Calder Trophy that year as the NHL's top rookie.
Matthews put up 63 points (34, 29) in 62 contests during his sophomore season. He missed 20 games, including 10 for a right-shoulder injury and another six with a concussion.
The California native who grew up in Scottsdale, Arizona hurt his back in 2017/18, as well.
Matthews' latest ailment is the second shoulder issue in the current calendar year.
Impact on the team
Matthews being out again makes for a huge test for the Maple Leafs, who made a huge splash in free agency by signing former New York Islanders franchise player John Tavares to a seven-year, $11-million contract.
Tavares, 28, has 13 points (seven, six) in 12 games with Toronto this season. He'll likely be placed in an even larger role than his current spot on the second line by head coach Mike Babcock in Matthews' absence.
Higher expectations may also be placed on veteran forward Patrick Marleau, who's capable of playing down the middle. The former San Jose Shark has mustered a mere one goal and four assists in 11 games so far, although he's had productive seasons in the past.
Another key Maple Leafs player who has left more to be desired to date is Nazem Kadri, who's recorded three goals and seven total points in 12 games. It goes without saying he'll see more ice time with Matthews out.
Two guys who may not move much from the Maple Leafs' bottom six are centermen Par Lindholm and Frederik Gauthier, another former first-round selection.
The elephant in the room
One issue nagging the Maple Leafs in addition to Matthews' injury is the contract talks with William Nylander.
TSN hockey insider Darren Dreger reported on Oct. 29 that the two sides remain far off on money and term for the 22-year-old, who was believed to be seeking $8 million per year on a long-term deal.
The Maple Leafs have reportedly countered with a $6-million offer with fewer years for Nylander, who was picked eighth overall in 2014.
Perhaps Toronto may be under more pressure to sign the winger and bolster their offensive depth with Matthews on the sidelines, but either way, the clock is ticking.
Nylander posted 61 points (20, 41) in 2017/18, but as a restricted free agent, he has little more than a month to ink a new deal with the Maple Leafs or sit out for the rest of the season if he doesn't sign by Dec. 1.
Dreger told TSN Radio 1050 Toronto that the Maple Leafs should consider trading Nylander if a deal isn't reached soon.
What do you think? How might Auston Matthews' latest injury affect the Maple Leafs? Should Toronto address the William Nylander situation while their talented centerman is out? Let us know in the comments section below!