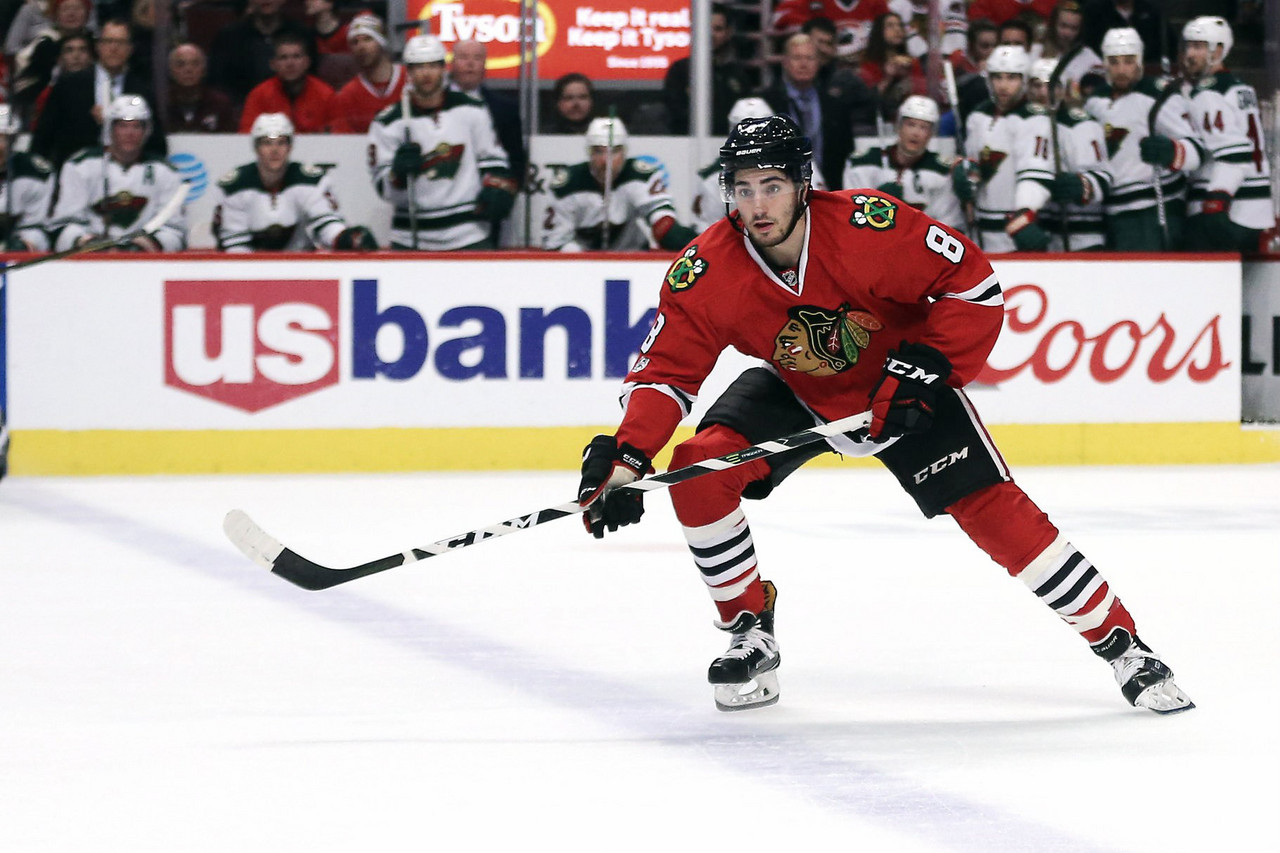 There just seems to be this trade connection going on with the Arizona Coyotes and the Chicago Blackhawks. After this trade which sent center Dylan Strome and left wing Brendan Perlini packing for the Windy City, the Coyotes will have four former Blackhawks' players on their roster. In return the Desert Dogs received right-handed shooting center Nick Schmaltz.
Don't think that some of these former players can't enlighten the Coyotes' management team about a certain player if they are considering a trade.
Both teams are struggling lately
The Chicago Blackhawks are throwing everything into the blender to see what comes out. Not only did they fire their head coach Joel Quenneville, they are now mixing it up with their roster in hopes to play more like their olden days when they won several Stanley Cups.
Make no mistake about it they got two potentially productive forwards and only gave up Schmaltz in return. On paper it looks like the Blackhawks got the better of the trade.
But, don't forget that both Perlini and Strome have been big disappointments now in their third seasons with the Coyotes.
Strome has only managed 0.34 points per game, while Perlini is not much better at 0.38 points per game.
Schmaltz comes in much higher with a 0.56 points per game and we all know how President of Hockey Operations/GM John Chayka likes his analytics. The numbers don't lie. Schmaltz is the better player of the three.
What does Schmaltz bring to Arizona?
Besides his statistics Chayka had this say about the newest member of the Coyotes:
"Nick is a dynamic forward with top line potential. We feel he can be a core player of our team now and in the future. He's a good complement to our evolving forward group and a rare combination of speed, skill, and creativity."
There's no doubt that Schmaltz will miss playing with Patrick Kane, but don't forget he now has Clayton Keller who emulates Kane's game and can work some magic together if they are line mates.
It certainly sounds like Chayka indicated that Schmaltz will be on the Coyotes' top line. Will head coach Rick Tocchet toy with the idea of playing Alex Galchenyuk on the left wing with Keller on the right side and Schmaltz at center?
It could be an offensively formidable line, and right now the Coyotes are really struggling scoring. They've been outscored 11-2 in their last two lopsided losses to the Colorado Avalanche and the Calgary Flames.
The saga of Dylan Strome ends
There was writing on the wall that Strome's days were numbered. The overall third pick of the 2015 draft just wasn't performing up to expectations and Chayka went shopping (and he even beat the cyber Monday event tomorrow) with his favorite trading partner in Chicago.
To the Coyotes' defense they were very patient with Strome, and gave him every opportunity to produce. In the end, he may not be NHL material, but now it's the Blackhawks' issue to contend with and resolve.
Who knows he could wake up now and realize this is the NHL and if you don't produce… you're gone.
Sending Perlini too is a mystery
Granted Perlini was not doing much either, and he does have size at 6'3", 211lbs. He just wasn't getting it done either and perhaps a new team will inspire him to be a better player.
It just seems that giving up two young players for one in return is a bit lopsided. Unless Chayka knows something we don't know, the pressure will be on Schmaltz to show just what kind of player he truly is.
With Perlini being just one of three true left wings on the team it is interesting that he was traded away. Unless Chayka has something else up his sleeve of magic tricks it will be intriguing to see who fills in on left wing. Nick Cousins has filled that spot previously when needed and he may be called upon again.
Final thoughts
We will need to see how all this works out. For now, it appears that the Blackhawks wanted to shake things up and perhaps weren't interested in receiving just one player in return for a quality player like Schmaltz.
For the Coyotes there were indicators that head coach Rick Tocchet was not pleased with some player's performances and now we know at least two of them are gone now.
I think he got his point across and this may shake up the Coyotes enough to get them out of their four-game losing streak.
It looks like Schmaltz will make his Coyotes' debut on Tuesday night when the Coyotes clash with a premier team in Minnesota and then travel to Nashville for a game on Thursday night.
Let's see what this Schmaltz guy is all about.
Tell us what you think of yet another trade between the Arizona Coyotes and the Chicago Blackhawks. Let us know in the comment section below and sure to follow us on Twitter (@VAVELNHL_ENG) for more updates.