 The Monster Energy NASCAR Cup Series is back in action this weekend after one last weekend off, as they will hit the track at Darlington Raceway on Sunday night for the Bojangles' 500. This is one of the final races before the Chase for the Cup, which is NASCAR's playoff event, stretching over 10 races, culminating at Homestead-Miami Speedway.
Race Info
Green Flag: Sunday, 6:00 p.m. ET
Television: NBC, MRN Radio
Racetrack: Darlington Raceway
Distance: (367 Laps, 501.3 Miles)
Defending Winner: Martin Truex Jr.
Storylines
Two to go:
There are just two races left before the Monster Energy NASCAR Cup Series Playoffs, putting an increased amount of pressure on drivers who have yet to record a win this season. Among those who are winless is Matt Kenseth, Dale Earnhardt Jr., and Clint Bowyer. Joey Logano has a win, coming in April at Richmond, but it was later ruled encumbered, meaning that he is unable to use it for playoff qualification, essentially leaving him winless.
If the playoffs were to begin this week, Kenseth and Jamie McMurray would be the last two drivers in, while Bowyer would be the first driver out.
Truex looking to sweeten the pot:
Truex Jr. is coming into the weekend in pretty good shape, as he has four wins this season, and is looking to become the first repeat winner at Darlington in 11 years. Truex also has something else to race for, as he leads Kyle Busch by 101 points in the standings. If Truex can finish the race with a lead that is more than 61 points, he will clinch the regular season title and the 15 points that come with it. He currently has 35 playoff points, putting him 15 up on Busch, who is second with 20 points.
Rookies look to tame the track too tough to tame
NASCAR's young guns are entering this weekend looking to make a splash at Darlington, led by Chase Elliott, whose father Bill won five times in his storied career at the track. Elliott has two prior races at Darlington, finishing 41st in 2015 and 10th in 2016. Fellow rookie Erik Jones has some momentum, coming off a career-best second-place finish two weeks ago at Bristol, extending his streak of consecutive top-10 finishes to 10 races. Both of them can secure a spot in the playoffs by picking up their first career wins.
Throwback weekend:
It has become a tradition for the fall race at Darlington to be celebrated as throwback weekend, and this year is no different, as a lot of drivers will be sporting throwback paint schemes, including Aric Almirola, who will be racing in a 43 car that looks like the one Richard Petty drove. Austin Dillon will be sporting a paint scheme that will make old-time fans think of the legendary Dale Earnhardt Sr.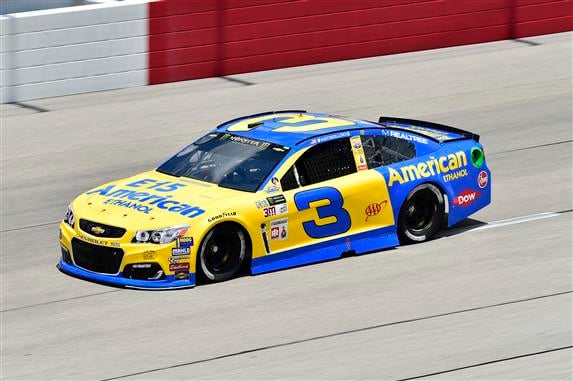 Trophy time:
Earlier this week, NASCAR unveiled the new trophy that the winner of the playoffs will get. It weighs 68 pounds and is 37 inches tall. It also features all 23 Monster Energy NASCAR Cup Series tracks and a hand-formed series seal.
Looking ahead:
The regular season will conclude next weekend at Richmond International Raceway and the Federated Auto Parts 400. Following the race, we will know the 16 drivers who will race for the Monster Energy NASCAR Cup.