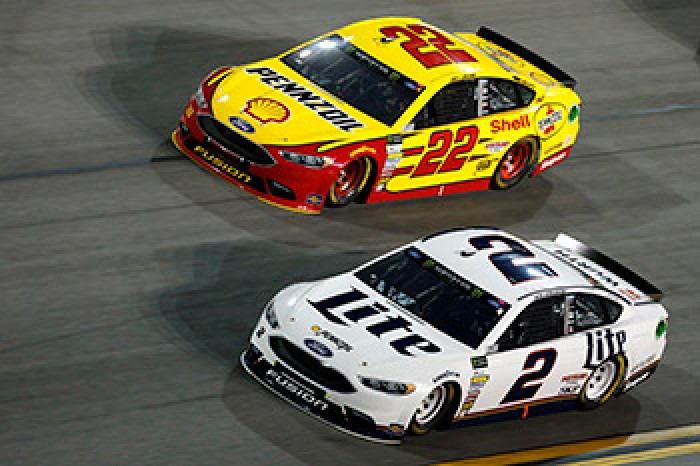 The NASCAR Monster Energy Cup Series is just three short weeks away, and only two weeks until the Advance Auto Parts Clash kicks-off Speedweeks and Team Penske – having expanded to a three-car team – will be looking to bring the trophy back to Ford.
Looking at the drivers
Brad Keselowski
2017 was considered a poor season for Penske's former champion. However, the statistics show that he won just one less race, had one less top five finish, and one less top 10 than he did in 2016 – and lest it be forgotten, he made it to the final four showdown in Miami.
So is he really riding the crest of a slump? Not really. The problem for the Michigan native is that he sets such high standards, that anything less than race wins and championships are considered a failure by himself.
By his own account, he fully expects Ford to struggle in 2018, with them being the only car not to have had a recent body and model upgrade.
But it may prove to be a ploy by Brad to keep the pressure of himself and his teammates.
It will still be a major surprise if Keselowski is not in the play offs come September, and you certainly would not bet against him again battling it out for the title at Homestead.
Joey Logano
One driver who cannot dispute that 2017 was a major disappointment is Joey Logano.
Having started the season with high hopes of walking away as the inaugural Monster Energy champion, his potential dream season quickly turned into a nightmare.
He picked up just one win all season – a win that was encumbered due to technical irregularities, dashing any hope of it giving him a place in the post-season scrap.
He managed only 23 lead lap finishes (63.9%) – which included 4 DNFs – and managed a mere 17 top 10 finishes, which translates to only 47.2%.
Joey needs to find his form of 2015 – when he had six wins, 22 top 5s and 28 top 10s – but has failed to live up to the hype subsequently.
Another season of failure will lead to questions being asked and decisions to be made by team owner Roger Penske.
Surely the tide will turn for Logano, and do not bet against him making it to the latter stages of the play offs this season.
Ryan Blaney
In a season of change, where Penske went to a three-car team, Ryan Blaney may well prove to be the ace in the hole for Ford.
To say that Blaney over-achieved last season in the 21 Wood Brothers Ford – a team with a close affiliation to Penske – would be an understatement.
For the majority of the season he looked a champion-in-the-making, and it is surely just a matter of time before we see Blaney holding the trophy aloft.
Having a top team behind him, and a car that can match the youngsters potential, can only be a winner for both Blaney and the team.
2017 only brought a solitary win, but he also had a further four top 5s and 14 top 10s. Factor in the fact that he was racing up front in most races, and but for often being in the wrong place at the wrong time, he could have had many more victories.
The upcoming season could prove to be a career defining season for the son of former NASCAR driver, Dave Blaney, and he would be an extremely good outside tip to make it to the Final Four, and once there, it is all to play for.
The Team
2018 is a very important year for Team Penske.
They have expanded to a three-car team, and have gone all-in on the talented Ryan Blaney to fill the third seat.
Owner, Roger Penske, will be hoping that his gamble pays off, and will also be expecting to have at least one of his trio in the Final Four showdown at Miami, and will be hopeful of having more.
One thing that will be high on the agenda for Penske in 2018 will be to re-establish themselves as the top Ford team – that accolade went to the Ford rookies of Stewart-Haas Racing last season.
Although it may not rank high on most people's agendas, in a sport where the manufacturer and sponsorship is key, you can bet that it will be priority number one for Roger Penske, for whom second-best is never an option.