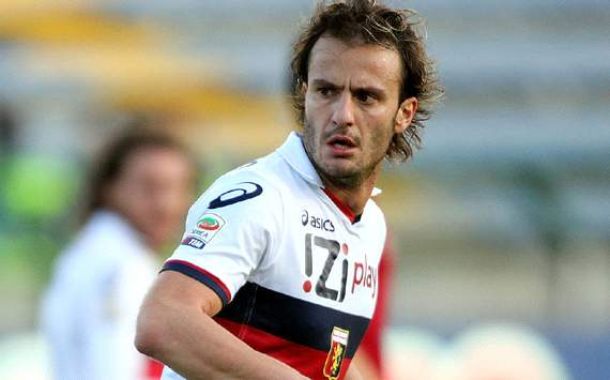 Toronto FC's president, Tim Leiweke, wasn't kidding when he said he would spend the big bucks in the upcoming January transfer window.

Gianluca Di Marzio is reporting that Toronto has made a $6 million offer to Genoa for the services of Alberto Gilardino. The deal, which would pay Gilardino $7 million over three years, would make the Italian forward the club's seventh Designated Player in eight years. Converted to Canadian dollars, that's $8.5 million to Genoa and $10 million in wages for Gilardino.

His agent, Beppe Bozzo, was in New York last week. He was also in Toronto during Toronto FC's 1-0 win over the Montreal Impact at BMO Field.

At 31 years old, Gilardino fits the criteria set out by Leiweke for a new Designated Player signing. He's also a big enough name to appeal to Toronto's large Italian community. A $19 million offer would be hard for Genoa to ignore. Leiweke was a major component in bringing David Beckham to the Los Angeles Galaxy back in 2007.

Di Marzio suggests, in his report, that Beckham may be brought on to help with the deal, with the former English footballer giving a call to Gilardino to help sway his decision making.

Jermain Defoe is also reportedly on Toronto's radar. Ryan Nelsen told TSN, "To get a guy like Defoe for the MLS, I cannot think of many that are more suited.

"It would be incredible," Nelsen continued. "If you look around the world and try and think of a realistic player that complements a league like ours, never gets injured, doesn't drink, can play high, low, score all sorts of goals."

Nelsen remained coy at the end of the Montreal Impact match, teasing reporters with talks of a successful scouting trip to Europe a few weeks ago. While Gilardino and Defoe are recurring names, another new name, Fabio Quagliarella, has also come up. One reporter at the game, who spoke with Bozzo, said Toronto were interested in both Gilardino and Quagliarella.

A potential deal could be done as soon as January, if Nelsen has his way.

"We want them in as soon as possible," said Nelsen, on potential DP signings for the club. "If we have to pick A and B and A is coming in January and B is coming in August, it's January."

"Look, the team wants to get into the playoffs," Nelsen explained.

With Gilardino looking to break into the Italian World Cup squad for the 2014 FIFA World Cup in Brazil, a move to Toronto FC may not be a realistic one in January, but may become a reality in the summer, post-tournament. Toronto FC are reportedly ready to spend up to $26 million for two DPs, but Leiweke told supporters he was seeking more funding, too.

Toronto FC finished in 17th place last season, second-last in the Eastern Conference, ahead of D.C. United. This year was Nelsen's first year as head coach of the Canadian club. Toronto is set to part ways with its current DP signing, Dutch forward Danny Koevermans, who remained sidelined throughout the year with an A.C.L. injury.